Published on February 22nd, 2016 in: Current Faves, Music, Music Reviews, Reviews |
By Tim Murr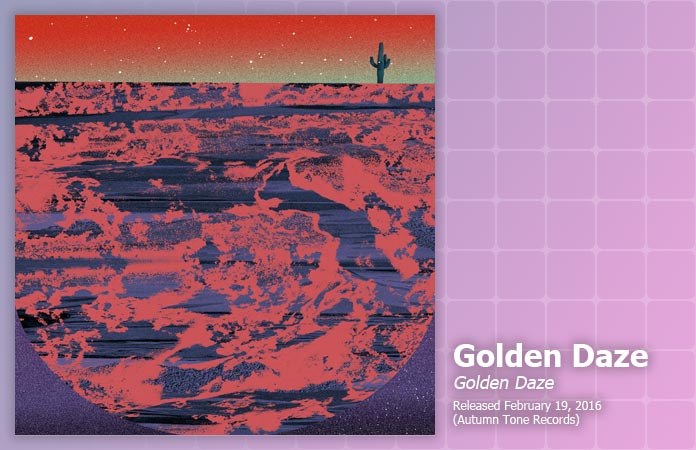 Shoegaze or Dream Pop was a genre I always liked in theory, but was never really able to embrace back in the early 1990s. So I don't have a terribly wide frame of reference for reviewing Golden Daze's self-titled debut, but leaving the album on hours-long loops has been a very enjoyable experience. Does this mean I like shoegaze and dream pop now? I guess so!
Golden Daze is a duo from the Midwest, who later settled in L.A. and now make dreamy California pop music. The songs are pretty and kind of ethereal, like the Beach Boys on cough syrup. They make their minimalism sound full, especially in headphones where you can really let the music wash over you.
The opening track "Ghost" sets the pace and tone for a positive and engaging journey through a beautifully haunted California. The album has kind of a cinematic, romantic, early-evening feel to it. There's also a lack of pretension or self-consciousness. The songs bounce along in an idealized California carefree way. (This is pretty much the antithesis of my favorite California albums that engage the darker, drugged out, post-Manson side of Cali, like Flesh Eaters, X, Black Flag, and Gun Club.)
There is a same-ness to the tracks, but rather than feeling repetitive, it gives the album more of a meditative feel. That's another reason I think listening to it on headphones is better; you can definitely hear the subtle layers and intricacies. It makes a difference; when I was listening alone or with my headphones on, the lushness of the songs really came to life, but when it was on with a room full of people it faded into background, like white noise. Not unenjoyable, or distracting, just not insistent on your attention.
The guys behind Golden Daze, Ben Schwab and Jacob Loeb, have a lot going for them in the way they pull all these influences from the 1960s to the '80s together and create an alchemy that sounds timeless, especially on stand-out tracks like "Ghost," "Never Comin' Back," and "Salt."
Golden Daze was released on February 19. You can download the album on the band's Bandcamp page, you can order the LP or CD from Autumn Tone Records, or purchase on iTunes.