Published on February 19th, 2016 in: Current Faves, Music, Music Reviews, Reviews |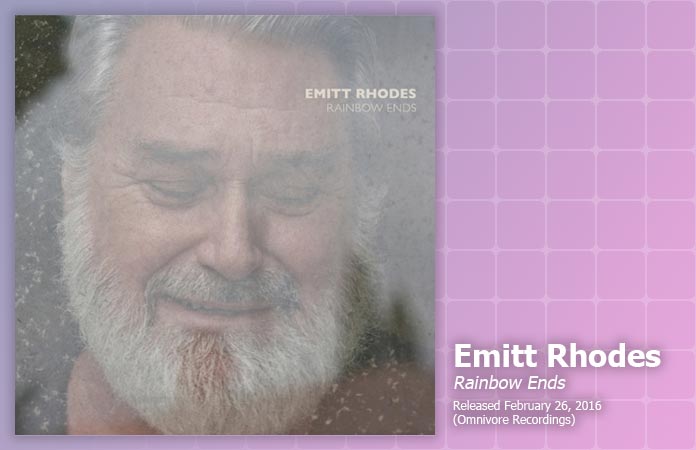 Where do we begin with Emitt Rhodes? He began gaining notoriety as the leader of 1960s band the Merry Go Round, who had the hits "Live" and "You're A Very Lovely Woman." In 1971, he released his critically acclaimed eponymous debut and the reputation as a "one-man Beatles," so pure were his power pop hooks (and the fact that he wrote, produced, and recorded his album in his studio). He released Farewell To Paradise in 1973 and then… radio silence. Bad deals, shady contracts, it's not a new story.
What is new, however, is that Emitt Rhodes has a new album, his first in 43 years. On Rainbow Ends, Emitt Rhodes is no longer a "one-man Beatles;" instead, he's joined by a pantheon of indie/power pop artists that make up his band: Jason Falkner and Roger Joseph Manning, Jr. of Jellyfish, Joe Seiders of New Pornographers, Rooney's Taylor Locke, and producer/musician Fernando Perdomo (who recently produced Cait Brennan's brilliant Debutante). Joining the mix: Aimee Mann, Susanna Hoffs, Jon Brion, Wilco's Nels Cline, and Pat Sansone, among others.
Rainbow Ends has a melancholy streak a mile wide. The songs are full of heartbreak–distance, unfaithful hearts, the pains of being in love with someone who doesn't love you–but the lyrics are wrapped in pretty melodies and delicious harmonies. The lyrics of opener, "Dog On A Chain" are just crushing, "You ain't no good / I hear her say / Under her breath as she turns away / I'll take the car/I'll take the house/I'll take the kids and then I'll turn you out." It doesn't get easier from there. Aimee Mann supplies distinctive harmony vocals, and Roger Manning's Mellotron and clavinet add a rich punch of texture.
Emitt Rhodes's vocals have a lovely, world-weary edge to them, with a passing resemblance to a Warren Zevon's. "I Can't Tell My Heart" has a Zevon-esque dark edge to the melody and a pain-wrapped performance. There's real emotion behind his voice. It hurts. "If I Knew Then," too, is a broken-hearted song. It's a little jazzy, a little bluesy, with a delightful bass line from Fernando Perdomo, and a pounding piano riff from Manning. "What's A Man To Do" is breathtaking. Rhodes' velvety voice, the effectively subtle drums, an icy slash of synth, these things give the sadness of the lyrics some room to breathe and just be… sad. The intimacy of his vocals of "It's All Behind Us Now" is remarkable. It's an easy, effortless sounding performance, and the track is undeniably catchy, thanks to a bumping bass and ear worm Rhodes piano line.
Is it a coincidence that when Emitt Rhodes sings "wall" in "The Wall Between Us" it sounds like the word "war?" Surely not. The track feels like a late-period Beatles tune; nervous-making strings, graceful harmonies, power-pop goodness and a tidy guitar solo from Jason Falkner. The throwback synth of "Friday's Love" gives the song a Yacht Rock vibe (but only in the best way). With a swoon of harmonies, it's stunning and evocative, with a feeling of familiarity.
When you take some of the finest musicians working and put them in a band together with a killer singer/songwriter, it's straight-up magic. An older and wiser Emitt Rhodes has made a truly stunning return with Rainbow Ends. It's moving and heartfelt and completely timeless. It really is an instant classic.
Rainbow Ends will be released by Omnivore Recordings on Feburary 26.