Published on February 18th, 2016 in: Current Faves, Feminism, Music, Music Reviews, Reviews |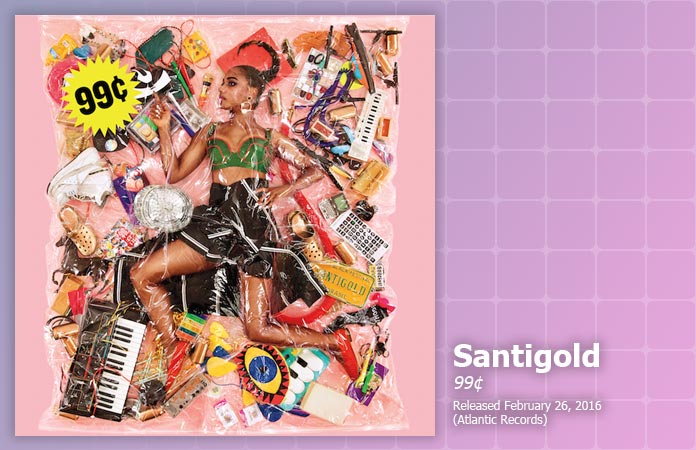 Santigold's follow up to 2012s dark Master Of My Make-Believe, is 99¢, a brighter, single-packed outing. She's joined by a passel of new collaborators, including Rostam Batmanglij, Zeds Dead, Haze Banga, and Sam Dew. Her new tracks are inventive and fresh, exploring the current commercial nature of our culture. "We have no illusion that we don't live in this world where everything is packaged. People's lives, persona, everything, is deliberate, and mediated. It can be dark and haunting and tricky, and freak us out, but it can be also be silly and fun and we can learn to play with it," she says.
The opener, "Can't Get Enough Of Myself (Featuring B.C.)" is Santigold's version of a girl-group song, chirpy with dazzling, sunny synths, It could be Mindy Lahiri's theme song, an ode to digging on yourself. "If I was a gambler, I'd put money on myself," she sings. Frankly, it's awesome to hear a song that is so self-affirming when women are often told that if you have self-confidence you need to reign that shit in because you don't want to sound like a bossy bitch. With rapid-fire lyrics over handclaps, it's a great song.
In fact, the first half of the album is stellar. "Big Boss Big Time Business" lays down a a mesmerizing groove and lush bass, peppered with playground chant lyrics. The jittery, kaleidoscopic "Banshee" has candy-colored, swirling synths and handclaps that erupt into a sleek, fiery chorus. The repeated, muted refrain of "c'mon" becomes hypnotic. The back-up vocals of "Chasing Shadows" have a Bollywood feel. A slow groove built around a piano riff, the track has speedy verses that melt into a hooky, dreamy chorus.
But then… "Who Be Lovin Me (Feat. ILOVEMAKONNEN)" is the aural equivalent of seeing a really beautiful woman with a schlubby dude. You can't understand the attraction, and perhaps it's a whistle only dogs can hear, but ILOVEMAKONNEN's annoyingly tuneless crooning and lackluster rapping threaten to overtake the track. It's dreadful. When Santigold shows up with her harmonies and spitted raps it feels like a glorious reprieve.
Luckily, things pick back up with the glittering, Berlin-like "Rendezvous Girl." It's propulsive and icy cool, a New Wave throwback that soars. It's polar opposite is "Outside The War," a song that would be a perfect track in a YA dystopia movie where the main characters walk though a burned, smoking forest. It's a dark track with heavy, hushed guitar and knife slashes of synth. The hooky melody of "Who I Thought You Were" bears a weird resemblance to "Born In The USA," but with bopping synths and cheerleader chants. The space gospel of "Run The Races" is lovely. Santigold's vulnerable, elegant delivery on the verses is stunning. Her voice is wonderfully versatile; she can be gorgeous or strident.
While 99¢ is an examination of our temporary, packaged culture, some of the tracks have real staying power. Santigold's made a more accessible album than her previous (brilliant) effort, still as brash and inventive, and catchy as can be.
99¢ will be released on February 26 via Atlantic Records.
Tour Dates:
3/21: Houston, TX @ House of Blues
3/22: Dallas, TX @ House of Blues
3/24: Denver, CO @ Ogden Theatre
3/26: Salt Lake City, UT @ In The Venue
3/28: Tempe, AZ @ The Marquee Theatre
3/29: San Diego, CA @ House of Blues
3/31: Los Angeles, CA @ Hollywood Palladium
4/2: Las Vegas, NV @ The Foundry
4/3: Anaheim, CA @ House of Blues
4/4: San Francisco, CA @ The Masonic
4/6: Portland, OR @ Wonder Ballroom
4/9: Seattle, WA @ Neptune Theatre
4/11: Vancouver, BC @ Vogue Theatre
4/13: Calgary, AB @ Flames Central
4/16: Minneapolis, MN @ Mill City Nights
4/17: Chicago, IL @ Concord Music Hall
4/19: Cleveland, OH @ House of Blues
4/20: Columbus, OH @ Newport Music Hall
4/22: Nashville, TN @ Marathon Music Works
4/23: Charlotte, NC @ The Fillmore
4/25: Tampa, FL @ The Ritz Ybor
4/26: Fort Lauderdale, FL @ Revolution Live
4/28: Atlanta, GA @ The Tabernacle
4/30: New York, NY @ Hammerstein Ballroom
5/1: Philadelphia, PA @ Theatre of the Living Arts
5/3: Boston, MA @ House of Blues
5/4: Baltimore, MD @ Baltimore Soundstage
5/6: Silver Spring, MD @ The Fillmore