Published on February 12th, 2016 in: Americana, Current Faves, Music, Music Reviews, Reviews |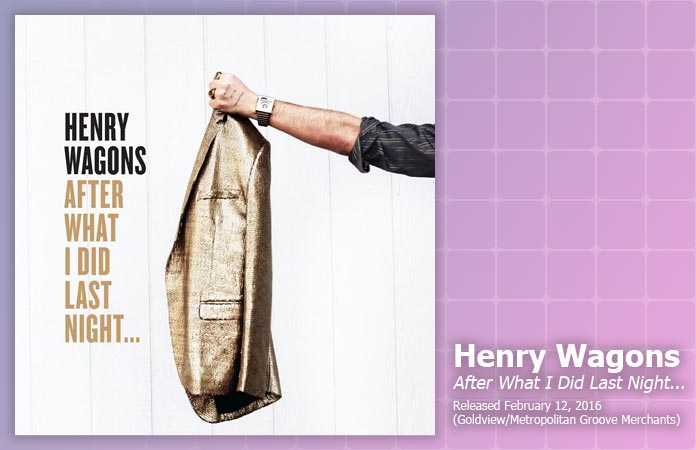 If Nick Cave had taken his Johnny Cash obsession even further, he might have been Henry Wagons. Henry Wagons, too, is from Australia, and bears more than a passing vocal resemblance to Mr. Cave. Henry Wagons has a rumbly, rich baritone voice, and a penchant for country-rock. But Henry Wagons has a wicked sense of humor to his lyrics as well as a sometimes surprising heartfelt bent.
On his first full-length solo album, After What I Did Last Night, Henry Wagons surrounds himself with some of Nashville's finest players who help bring his boozy, woozy version of Americana to life. The tracks have the trappings of Americana, like Chris Altmann's outstanding steel guitar on "Cold Burger, Cold Fries," but there's often a twisted oddness to the lyrics (Justin Townes Earle described Wagons "like Dr. Seuss meets Conway Twitty" which is completely correct). "Cold Burger, Cold Fries" is hilarious and remorseful, an I-got-too-drunk-and-made-bad-choices song, with the observation about his girl who is quite cross with him, "'Cause I know you're a mess like me / And you must be a little bit hungry."
Take the eccentric, crooked waltz of "King Hit." It's a murder ballad without the murder, a skewed carnival shuffle, both Tom Waits-like and Nick Cave-like. Wagons sings it in a drunken preacher delivery, which is perfect for such a filmic song (but filmic in a Coen Brothers way). "Cowboy in Krakow," too, has a cinematic quality, a dark snippet of life on the road that ends in a most unexpected way.
The flip side of "Cowboy In Krakow" could be the sunny "Santa Fe," surprisingly bright after the drinky noir. It's charming; a road trip song like something from a Vetiver album, a 1970s AM radio song filtered through modern sensibilities. It's a total departure, but a tribute to Henry Wagons's versatility. On a side note, the way he pronounces "Fe" as "fee" is adorable.
"Anything You Want" is a clever come on (if the song "Mockingbird" wasn't from a parent to a child, it might be "Anything You Want") with a laid-back groove, and barroom piano from Skylar Wilson. "Melbourne" wraps up the life on the road thread that winds through After What I Did Last Night. The accouterments of country are here: fine pedal steel, fiddle, and woeful vocals. The relief of being home after a tour is palpable, and I quite liked this: "Just gotta watch me some Bridesmaids / and a sleeping pill or two."
Henry Wagons' steps away from his brand of honky tonk are refreshing, and again, a fine way to show his versatility. "As Long As I Breathe" is an unbelievably sweet ode to parenthood, rich and heartfelt. The weeper "Only Child" is a ballad about being, of course, an only child. It's crushing and poignant. These two songs are like those late night, been-boozing-all-night-and-now-we're-getting-confessional conversations, very revealing and honest.
With his solo debut, After What I Did Last Night, Henry Wagons has made one hell of an album. It's cool, appealing, and full of swagger. Here's hoping that Henry Wagons makes a lasting impression on the Americana scene; it can surely use his off-kilter, bold sensibilities.