Published on February 8th, 2016 in: Current Faves, Music, Music Reviews, Reissues, Retrovirus, Reviews |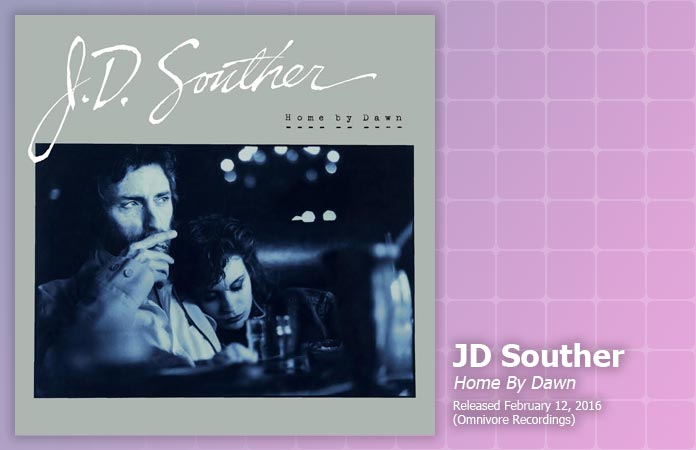 The third of Omnivore's expanded reissues of JD Souther's criminally overlooked solo albums, Home By Dawn, is an unusual album. The things that make his previous albums, John David Souther and Black Rose work are there: his incredible lyricism, gift for melody, and warm vocals. These things have to share space with a particularly 1980s sounding production. Songs are slicker than they need be, and while the writing is, as always, brilliant, they suffer. A bit. But keep in mind, this is JD Souther we're talking about, and he's got this.
The '80s-sounding production makes the rollicking, rockabilly flavored title track crisp and overly bright. It's an '80s take on a '50s style, with sharp and smart lyrics. Souther sounds relaxed and like he's having fun here, as he does on the bonus track "Pretty Girls All Over The World." The slow grind, barroom blues number is entertaining, and Souther's vocals have a delightful, off-the-cuff feel.
JD Souther excels at ballads. "Go Ahead And Rain" shows off Souther's appealing voice (that magic ratio of huskiness and heart). The song falls into that weird place between country and rock but, as the liner notes point out, Home By Dawn was released shortly before Garth Brooks took that formula and made it popular. (But JD Souther did it better.) In fact, the Dixie Chicks covered Souther's "I'll Take Care Of You" on Wide Open Spaces. His version appears here twice. It's a song that's both earnest and open-hearted, with simple guitar and piano. It is tear-jerking and stunning in its simplicity. The demo version is even simpler and more wrenching. It is deeply splendid.
It's not a JD Souther album, I find, without his interesting friends joining in. Waddy Wachtel, again, plays guitar, and co-wrote "Night," which fairly rocks. It feels like a '50s song but not a retro pastiche. Eagles (as you recall, Souther co-wrote all your favorite Eagles tracks) Don Henley and Timothy B. Schmit pitch in on background vocals for "Bad News Travels Fast" and the result is a muscular, loose track that sounds an awfully lot like the Eagles. I had to look up the word "parvenu," so thanks for that, JD Souther!
Some of Souther's finest work comes with Linda Ronstadt. "Say You Will" is a bubbly and upbeat duet with a percolating guitar part. It's charming and delightful. Better still, is their duet from Urban Cowboy, "Hearts Against The Wind." Their harmonies are incredibly tight and furiously gorgeous. It is a painfully lovely, endlessly relistenable song.
While there is an undeniable '80s slickness to the production of Home By Dawn (it's all trebly and shiny, and Souther himself admits in the liner notes that he thought they had "overcooked it" with the digital effects in production), that doesn't obscure the fact that Souther has an undeniable gift for melody and lyrics. His lyrics are honest and relatable, throwing in thoughtful turns of phrase and clever insights into the human condition.
It's a damn shame that JD Souther's solo albums didn't burn up the charts (in fact, this was his last album for 24 years). However, it's exciting that Omnivore has reissued these overlooked gems, so that Souther can find a new audience that has finally caught up to him.
Home By Dawn will be released by Omnivore Recordings on February 12.