Published on February 5th, 2016 in: Current Faves, Music, Music Reviews, Reviews |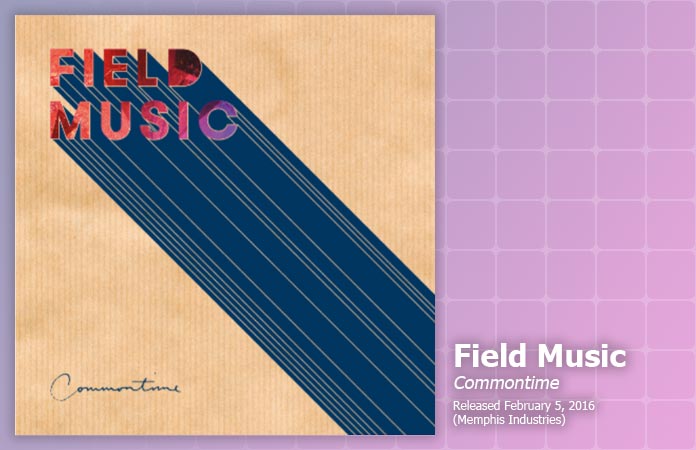 At this point, we can safely state that the 1980s musical revival is in full flower. New Romantic, Goth, New Wave, Industrial, Shoegaze, Dance Pop… some version of all of these can be found in nearly everyone's Spotify playlist. What of those other subgenres from the '80s, those bands who didn't really fit into any category? That's where Field Music comes in.
The brainchild of brothers Peter and David Brewis, Field Music has just released Commontime, their first album in four years, and it's lovely. It's pop, but it's not power pop, and although it doesn't sound like any of the styles mentioned above, it feels like the '80s all over again.
With smooth blend of winning hooks, sweet harmonies, and unexpected layers of instrumentation, Commontime has the bouncy enthusiasm so often missing from recent incarnations of pop music that evoke the Reagan and Thatcher years. It's not cynical or nihilistic, but it's not fluff, either. I like cynical and nihilistic as much as the next black-clad child of the '80s, but sometimes even I need to lighten up.
There's lively saxophone and piano in opening track "The Noisy Days Are Over" and jittery guitar and a sinuous bass groove in "Disappointed." This is the kind of music that is instantly appealing, and you'll find yourself singing along before you're even certain of the correct lyrics.
Yet there's also just enough of a wistful edge found here to keep things from being too sugary, such as the off-kilter keyboards of tracks like "But Not For You" or the staccato rhythms of "I'm Glad" and "Same Name." "Trouble At The Lights" is the epitome of this kind of nervy, uncomfortable sound on the album, featuring a spare, spooky intro that culminates in a wall of guitar and harmonies at the end.
The lush orchestration of "They Want You To Remember" and "It's A Good Thing"–both of which begin as synth-heavy tunes–and the elegant McCartney-esque "The Morning is Waiting For You" are charming, as is the gentle and gorgeous album closer, "Stay Awake." Despite the variety of sounds found on Commontime, they all blend beautifully within the album as a whole. At 59 minutes, however, the album might be too much of a good thing. Perhaps saving a few tunes for an EP or single B-sides might have made it that much more compelling.
Despite this slight shortcoming, Commontime is a wonderful surprise, and will fit nicely next to your XTC, Haircut 100, Blow Monkeys, Split Enz, Level 42, and Kaja albums.
Commontime was released by Memphis Industries on February 5.
Tour Dates:
Feb 25 Newcastle, The Cluny
Feb 26 Newcastle, The Cluny
Feb 28 York, The Duchess
Mar 03 Cardiff, The Globe
Mar 04 Exeter Phoenix, Exeter
Mar 05 Rescue Rooms, Nottingham
Mar 10 Brudenell Social Club, Leeds
Mar 11 Manchester, Band on the Wall
Mar 13 Glasgow, CCA
Mar 18 London, Islington Assembly Hall
Mar 19 Southampton, Engine Rooms
Mar 20 Brighton, The Haunt
Mar 24 Washington DC, DC9
Mar 25 Philadelphia, Johnny Brenda's
Mar 26 New York, NY, Rough Trade
Mar 27 Boston, MA, Great Scott
Mar 29 Seattle, WA, Crocodile
Mar 30 Portland, OR, Doug Fir
Apr 01 San Francisco, CA, Independent
Apr 02 Los Angeles, CA, The Roxy