Published on February 4th, 2016 in: Current Faves, Music, Music Reviews, Reissues, Retrovirus, Reviews |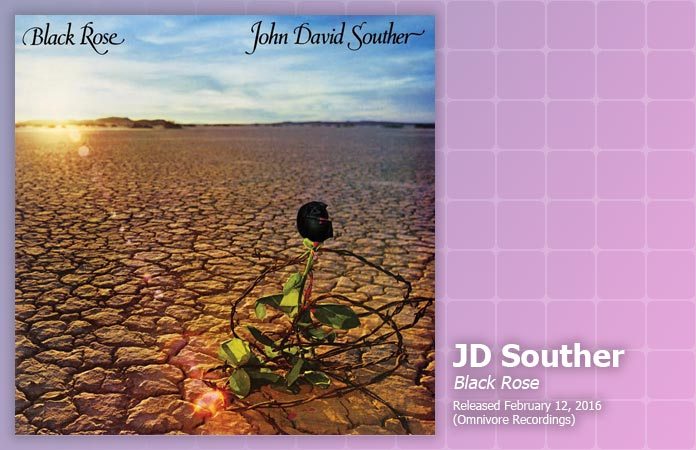 Thank you, Omnivore Records, for reissuing JD Souther's albums. The recent reissue of Souther's debut, John David Souther, was like reading a blueprint for Americana music. Souther's follow up album, Black Rose, shows an artist broadening his horizons, marrying jazz with rock and coming up with something unexpected but very effective.
Omnivore's lovingly curated packaging features Souther's handwritten lyrics, as well as illuminating liner notes, including an in-depth interview with Souther. His answers are quite candid, explaining why his short-lived band Souther, Hillman and Furay was so short-lived; how a cutting remark from Joni Mitchell was the catalyst for Black Rose; and how a lack of discipline nearly derailed the making of the album. It's thoughtful stuff, and the kind of insight that comes from age and distance.
With the opening track, "Banging My Head Against The Moon," Souther establishes that Black Rose has a much different vibe than John David Souther. Bright and trebly with a tropical feeling, it's an energetic, poppy song with a nimble bass line. The lineup of backing vocalists is just insane: David Crosby, Art Garfunkel, and Andrew Gold (Gold is an MVP on Black Rose, appearing on numerous tracks).
Souther's lyrics are peppered with gems, like "Think I'm gonna be lurking / with intent to loom." Or this one from "If You Have Crying Eyes:" "I can see by the look on your face that you're hurt / I guess you wouldn't be here if you weren't." That slices directly to the bone, doesn't it? It's a sort of duet with Linda Ronstadt (she's credited as singing harmony), and Souther's own vocals are soulful and heartfelt. He reaches the edge of his range, and just keeps going.
Souther's version of his own oft-covered "Faithless Love" is gorgeous, but the strings and woodwinds feel superfluous. If it was just him and an acoustic guitar, it would be devastating. The huskiness in his voice is incredibly appealing. In the bonus tracks, another version of the song is included, this time Souther performs it live when opening for the Eagles in 1976. It's a lovely, powerful (yet restrained) performance, and simply Souther with an acoustic guitar. The way it should have been in the first place.
Souther's vocals on the admirably spare "Silver Blue" are raw and stunning. It benefits from jazzy but discreet double bass from jazz great Stanley Clarke. JD Souther's desire to bring more disparate influences and sounds to Black Rose come to fruition on thhis track, as well as on "Doors Swing Open," a fascinating song with jazz bass and drumming, that is still, legitimately, a ballad.
What begins as a straightforward, "come back, girl" song ("Baby Come Home") changes key, edges up in darkness, and becomes more dramatic–like a trip into the subconscious–before returning to the lighter, "come back" mode. It's inventive and clever, with slide guitar from Joe Walsh, and that middle third is really fine. "Simple Man, Simple Dream" has a heaviness to it, as well. "What if I fall in love with you / Just like normal people do / Well, maybe I'd kill you / Or maybe I'd be true." The character is struggling against his (self-created) circumstances.
The title track boasts tight harmonies from Glenn Frey, Don Henley, Ned Doheny, and Souther that sound straight out of Steely Dan. The credits in the liner notes point out which guitarist is in each channel (Waddy Wachtel and Danny Kootch, for those keeping score at home).
This trip though Souther's impressive back catalogue is delightful. While Black Rose marks a departure from John David Souther, as a second album it makes sense. Peter Asher's production is lush and rich, and works extraordinarily well with Souther's vision. Souther's crack wordsmithery and ear for melody, as well as his utterly pleasing voice, make Black Rose a fine rediscovery.
Black Rose will be released by Omnivore Recordings on February 12.