Published on February 3rd, 2016 in: Reviews, Science Fiction, TV, TV Reviews |
Some of the best episodes of The X-Files were the Monster of the Week shows, where the mythology is forgotten about for a moment and we get to focus on a separate case. It makes sense that we would get one of those episodes in the mini-series, and here it is.
Mulder and Scully investigate a case with multiple victims, and those who survive claim the perpetrator is a monster. It's a typical X-Files setup, with a creature living in the woods of the Pacific Northwest, but there are a couple of differences. It's not a werewolf. It may not really be human at all.
And that's as much as you get because of my strict "no spoilers" policy, and maybe that's all you need. It's the weakest episode so far, taking Mulder's crisis of faith and turning it into a 20-minute long comedy routine. Scully doesn't fare much better, referencing her alleged immortality, but not taking it any further than that. Oh, well. It's not a mythology episode, and I was a fool to think we would have six action-packed arc shows. I suppose the next segment will feature Leonard Betts and Eugene Tooms arm wrestling.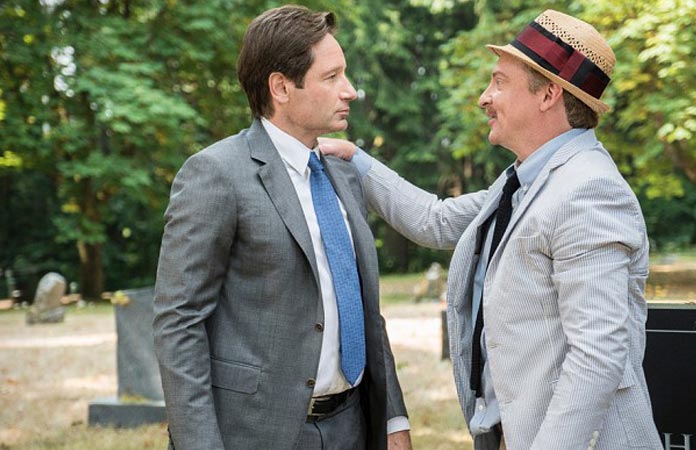 Let's break it down!
The Good
–Nice tribute to Kim Manners, who wrote and directed for the show before passing away. You can see his name on a gravestone in the episode. In fact, there are a lot of references to older episodes.
–Scully cleavage. Gillian Anderson remains one of the few remaining plausible cases for the existence of intelligent design, and we get to see a little bit of those blueprints tonight.
–No worries, the eye-candy is even, as we get to see Mulder in a pair of red bikini briefs. He's coily.
The Bad
–Nice to see Rhys Darby in a meaty guest spot, but why was he dressed like Carl Kolchak, the Night Stalker? Shouldn't he have been wearing three small cameras, too? It not explained, and maybe it shouldn't be. Let's just count it as another one of the weird decisions this episode makes.
–Speaking of weird decisions, why the snarky jokes about transgender people? For a show that is trying so hard to show how they can modernize an old concept, they took a step back with talk about genital mutilation and lot lizards.
–Mulder's ringtone is the theme for the show? No, it's not. Please go back and dub something else in. Anything. I don't care. That's like having Mulder sit down to watch an episode of Californication.
Will The X-Files get back on track next week? I certainly hope so. We're halfway through the mini-series at this point, and I'd keep an inbred amputee under my bed just to see some killer bees and black oil again.