Published on February 3rd, 2016 in: Current Faves, Music, Music Reviews, Reviews |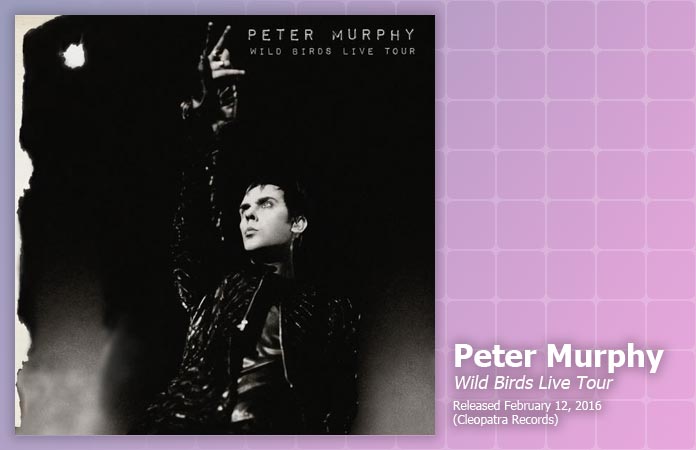 There's a joke: Old Goths never die, and if they did, how could you tell?
While Robert Smith is arguably the queen of the Old Goths, their king is certainly Peter Murphy, the former lead singer of Bauhaus, who has found himself in the strange position of Gothic Tom Jones, selling out shows filled with swooning plus-sized women wearing the same black dresses they wore in 1985, while their husbands huffily cross their arms and wonder when Anthrax will tour again.
Eh, what do you do? It's a living. Murphy is not lacking in talent, and the double-live album, Wild Birds Live Tour, catches him after the release of his fifth studio album, Cascade. There are no Bauhaus songs to be found here, no half-hour long retreads of "Bela Lugosi's Dead." Murphy cherry-picks through his solo catalog, coming up with a solid set that plays to his strengths and pleases the fans.
Live albums are tricky things. They expose the artist for what they are. Mistakes and flaws are all right there in the open for all to hear. If a singer has been relying on studio tricks to get by, the live album is where they get called out. Screw-ups like this can be easily fixed by producers and technicians, but fixing a mistake ruins the point of recording a live album. It's a paradox, and a decision must be made which direction to take: sweeten it up or let it go.
On this set, Murphy lets it go. He doesn't drop the pitch of the music down a step so he can more easily reach the right notes like a lot of aging rock stars. Murphy's pushing it on some of the songs. His voice cracks and goes raspy. It's not a perfect performance by any stretch.
But it's a human performance, and that's what makes it magical. Sometimes, guitars are out of tune. So is Pete. There are times, especially at the end of "Hit Song," where you just want to give the man a bottle of water and warn him not to blow his voice out.
If you're a fan, you know these songs. This may as well be a greatest hits album. The set relies more heavily on the Deep album than any of the others, even including a nice acoustic version of "Marlene Dietrich's Favourite Poem." Even from Bauhaus days, Murphy has been known for a degree of slickness in the studio. This live performance captures a hint of rawness Murphy doesn't usually allow to be seen.
Filled with crowd pleasers, Wild Birds Live Tour is a great look at His Royal Gauntness at a high point of his professional life without Bauhaus. It is a little rough in spots, but all the better for that raw meat and truth.
Wild Birds Live Tour will be released by Cleopatra Records on February 12.