Published on February 2nd, 2016 in: Music, Music Reviews, Reissues, Retrovirus, Reviews |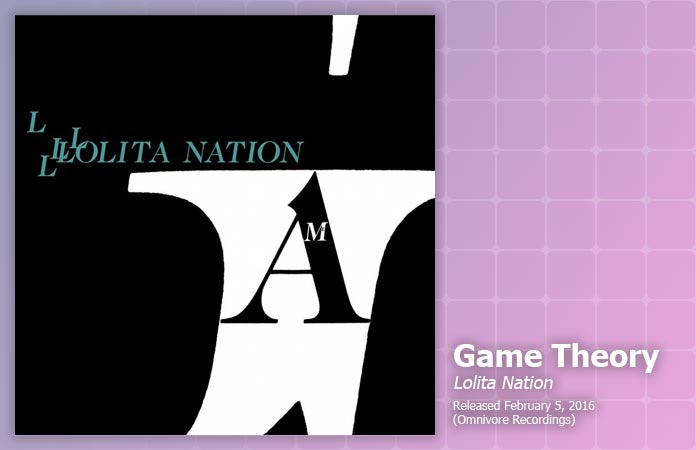 Since its release and quick deletion, Game Theory's third official LP, Lolita Nation, has carried with it a mystique. Is it because it's the third album, as producer Mitch Easter has suggested, or because it's been impossible to find and prohibitively expensive for so long? Now that Scott Miller's magnum opus is widely available, will we discover that this is actually an average album for the era and subgenre? Happily, Omnivore's long-awaited reissue reveals an idiosyncratic and breathtakingly ambitious release by a cult-favorite songwriter and band who deserved a greater place in the 1980s college-rock firmament.
Lolita Nation represents the apotheosis of Game Theory's work up to 1988. All the things listeners loved about the band and about Miller's songwriting have grown and developed. The jangly riffs and sunny melodies are a strong, memorable presence in the album: songs like "We Love You, Carol and Allison," "Look Away," and "The Real Sheila" have a prominent place in Lolita Nation's running time. As Miller's ability at crafting a melody has ascended, he has excelled at contrasting the accessible, sunny parts of his music with darker, more mature lyrics.
If Real Nighttime and The Big Shot Chronicles examined the foibles of post-graduate life in the Reagan era, Lolita Nation explores the missed opportunities, failures, and resignations of adult life. These come through in both implicit and explicit subject matter. While the aforementioned "We Love You" had been written for a wedding, lyrics like "time's gonna be a luxury now in the responsibility empire" dot the musical landscape. The epic first side closer "The Waist and the Knees"–which later became the source of Miller's notorious "no one twisting his arm" sample from later Loud Family albums–devolves into a reading of a surreal contract. The song's presence on the band's first album for Enigma seems telling. While his gift for precocious epigrams still comes through, Miller's lyrics reflect a subtler, more ambiguous perspective.
The more ambitious soundscape on Lolita Nation also reflects Miller's mature mindset. Working with a tight band, Miller's confidence extends to songs that bridge the six-minute mark and take the pop format to its logical extreme. The aforementioned "Waist and the Knees" slides from a standard-sounding slice of '80s pop into a cacophonous call-and-response before fading out on a boomeranging three-note guitar riff. The album is punctuated with spoken-word bits from guitarist Donnette Thayer, and part of the album's last quarter is a sound collage that serves as a medley from Game Theory's previous albums. While this seems strange and unapproachable when described, the album takes listeners on a journey that makes these aspects work.
Though Lolita Nation got little promotion on its initial release and appeared on the walls of used record stores when it appeared at all, it's hard not to hear it in light of all the bands that came after Game Theory. Ted Leo's melodic skill, heartbreaking candor, and dense arrangements seem to borrow from it, as do the New Pornographers' ear candy, pop-music metacommentary, and ambitious arrangements. May this reissue inspire many more bands.
Lolita Nation will be reissued by Omnivore Recordings on February 5. This two-disc edition includes new liner notes from Okkervil River's Will Sheff, interviews with the band and original album contributors, and previously unseen photos.