Published on January 22nd, 2016 in: Current Faves, Feminism, Music, Music Reviews, Reviews |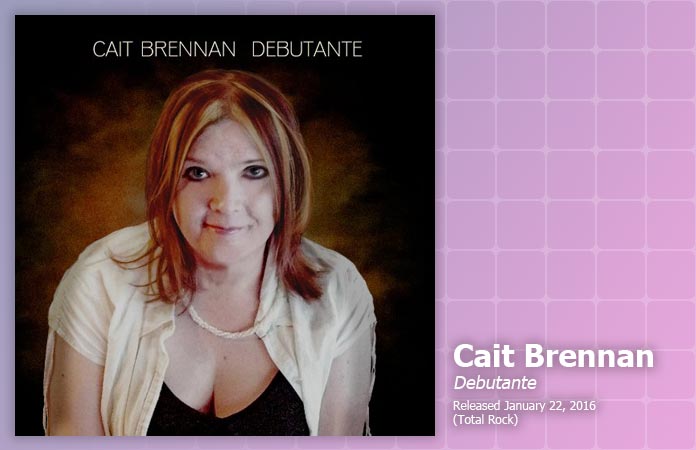 When Sloan's Jay Ferguson was writing "Waiting For Slow Songs," he may have been writing about Cait Brennan, but didn't even know it. "'Cause you write the saddest songs / turn around and make it a singalong / the heart scratch melody / means there's more than this for you and me." Cait knows a heart scratch melody and knows how to swaddle a sad song in the prettiest, most glorious melodies and harmonies, and make it furiously catchy. I've had Cait Brennan's Debutante on my iPod for quite a while now and every time one of the tracks pops up, I immediately need to rewind and hear it again. Simply put, Debutante is the kind of record that artists dream of recording. It's been a long time coming.
Cait Brennan has an instantly recognizable voice, and, paired with her sugary power pop proclivities, makes the kind of music that stops me in my tracks. With an undeniable gift for writing hooky delights, she's an heir to the throne of the greats: ELO, Nilsson, the Sweet, Rundgren. Her influences are all over her songs and Debutante is a sparkly kaleidoscope of AM Radio, 1970s pop, and confessional lyrics. It's delightful.
Cait also has an one of the best pure rock voices you're likely to hear. Marry that to an insane range and so-sweet-they-melt-in-your-ear harmonies, and then add them to the sundae of glorious melodies and whip-smart lyrics and you've got yourself a mixed metaphor. But you've also got a stunning debut. There's not a filler track on Debutante. They're all keepers.
"Good Morning And Good Night" has a timeless quality and if you didn't listen to the clever clever (and timely) lyrics, you'd think it was a track right from the golden days of power pop radio. Shiny, delicious harmonies, a swaggering beat, and Cait's wonderful voice make it infinitely relistenable. The bass line is a standout. "Lines" is both bittersweet and sweet with a fine dose of muscularity. The fuzzy, chunky guitar pairs well with Cait's luscious harmonies, and the honesty as she sings "So many lines upon my face" hits like a freight train to the feels. It made me tear up.
There are so many standout tracks on Debutante. Early single "Dear Arthur" has a fantastic melody with a lovely, curious chorus. It's beautiful and sad, dreamy and stunning. "I Want You Back" is a galloping, driving go away/come back song (but mostly come back), with a delightful organ solo, raw vocals, and a garagey feel. The Beatlesesque treat of "Father McKenzie" is a piano-driven dancehall classic, timeless and magical. It's a favorite track, like a shining pearl of delight. Longtime fans of Cait are familiar with the utterly charming "Madame Pompadour," a start/stop, tasty-harmonied, rambunctious-ear-worm of a track. It's stellar, and furiously enchanting. "Meet Your Remaker/Harmony Lies" exists out of time; it's anthemic, a linking arms and swaying song that bursts into the charging, charismatic "Harmony Lies," with, of course, otherworldly harmony and smart, quite fun lyrics.
Debutante is one hell of a debut album. From the high fructose, upbeat balladry of "Once Upon A Nevermind" to the rich and soulful "Showman" (as a quick aside, you just don't hear the word "defibrillators" enough in lyrics), Cait Brennan has made a glimmering record full of heart and hope and harmony. It's a timeless album; joyful, clever, and wonderful. You owe it to yourself to hear her.
Debutante was released on January 22 by Total Riot and can be purchased on Amazon.