Published on December 29th, 2015 in: Current Faves, Movies, Music, Music Reviews, Reviews, Soundtracks and Scores |
By: Tyler Hodg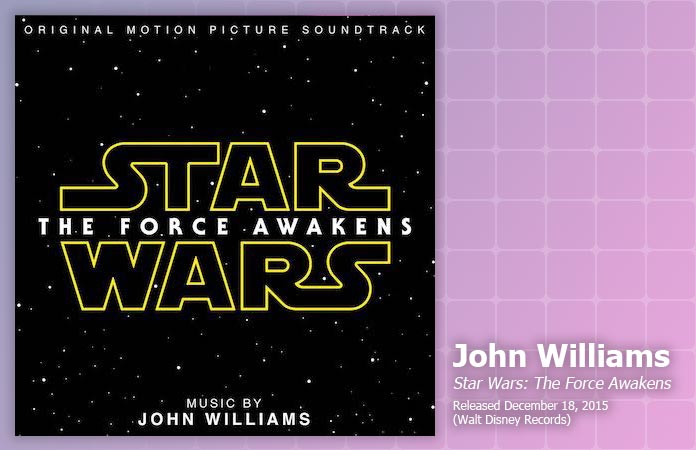 Finding a franchise that has produced the same number of memorable musical themes as Star Wars may be a difficult task. The sounds of the films have become iconic pieces in pop culture and remain classic tracks after nearly 40 years.
The release of the latest film in the series, Star Wars: The Force Awakens, has John Williams returning to his role as lead composer and conductor. The career of the 83-year-old is nothing short of legendary, so it comes as no surprise that the soundtrack for the seventh film is out-of-this-galaxy good.
Perhaps there is no theme that can eclipse the status of the series' opener. For many Star Wars fans, it's a symbol of childhood innocence, wonder, and exploration; in fact, the song is so powerful, it has the ability to cause a flood of emotions with the first note. Very few souls on this planet are unable to sing the tune, which is an attest to the brilliance of all that worked on the franchise.
The latest film has many callbacks to the original trilogy, but also serves as a reinvention of sorts. This same feat is accomplished by its score, with many unforgettable passages making their way into the music: "Torn Apart" and "The Jedi Steps" both include a brief moment of "Binary Sunset."
There is not a single sour note in the compilation, and new songs like "The Attack on Jakku Village," "Rey's Theme," and "March of the Resistance" are instant stand-outs. The score feels fresh in a non-intrusive way, and can be placed shoulder to shoulder with the songs we know and love.
Unconscious allegiances to old tracks may force (no pun intended) listeners to claim that the score lacks anthems. This simply isn't the case, as "The Rathtars," "Farewell and The Trip," and all the previously mentioned pieces embody what makes Star Wars great.
On the physical side of things, the packaging for the soundtrack is visually impressive. With a raised logo on a backdrop of space and stars, the cover is simple and elegant. Additionally, the booklet included in the package features stunning images of important events in the film, and characters such as Kylo Ren, Rey, Finn, and Luke Skywalker himself.
The Force Awakens is a worthy addition to the Star Wars franchise, as is its soundtrack. A combination of new and old sounds, the score emanates emotion in a way that is nearly impossible to replicate. The entire package is outstanding, with the artwork on par with the music itself, and proves to be a must-own for any fan of the series.
The original soundtrack for Star Wars: The Force Awakens was released December 18 through Walt Disney Records.