Published on December 15th, 2015 in: Holidays, Music |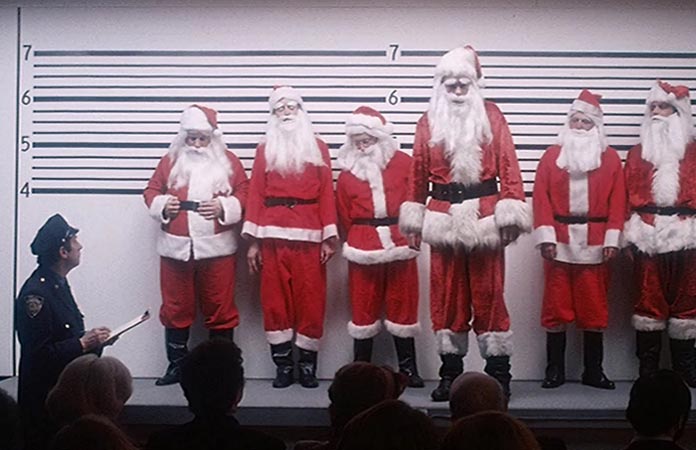 If you have to leave the house at any point between November 1 and Christmas Eve, chances are good that you're going to have to hear the same, tired, annoying, and cloying holiday songs over and over again.
Don't worry; I'm not going to tell you to cheer up or anything. I do, however, have some musical suggestions for you to put on your iPod so that you don't have to endure the billionth repeat of "Wonderful Christmastime," but which will still allow you to maintain that air of cool, annoyed resignation that is the only way to get through the holiday season.
Seattle band Dirty Sidewalks have just released the shoegazey track "It's Xmas (And Everyone Is Miserable)" which is everything its title suggests and more. If you like Jesus and Mary Chain and/or Black Rebel Motorcycle Club, you're gonna dig this one. It's best listened to wearing sunglasses and a black leather jacket. Cigarette: optional.
There's also the groovy Psych-Out Christmas compilation that Cleopatra Records released a couple of years back (review), including Len Maxwell's "Christmas Monster Party," and such esteemed bands as Quintron and Miss Pussycat, The Fuzztones, The Vacant Lots, and Iggy Pop… covering "White Christmas," of all things. It's not your grandfather's Christmas, that's for sure (even though Iggy is old enough to be a grandfather, now that I think of it).
The universe is divided on whether or not Wham's "Last Christmas" is actually a great tune or incredibly annoying, but it's hard to argue against the merits of this Fall On Your Sword cover with Electric Six's Dick Valentine on vocals, especially accompanied by this hilariously weird video. Bonus points for the Jarvis Cocker spoken-word section and sax solo.
If that's not enough Dick for you, try Electric Six's nasty, nasty cover of "You're A Mean One, Mr. Grinch" from a few years back.
If synthy dubstep is more your scene, try this Coins tune with vocals from Dan Tract, "Christmas Fist Pump."
After all that excitement, you might need to take it down a notch, so put on Jonathan Coulton's depressing, yet totally realistic, "Christmas Is Interesting."
What could be more dismal than Type O Negative at Christmas? And by "dismal," I mean, damn good. Check out "Red Water (Christmas Mourning)," which will surely dampen the twinkle in the eyes of even the cheeriest Santa Claus.
Not dark enough? How about "This Holiday Season" from Porn Orchard, featuring eerily convincing Peter Murphy and Tom Waits impersonators.
Not weird enough? There's always Shallow Gravy's experimental take on The Beatles' fan club single from 1967 "Christmas Time (Is Here Again)," featuring the cast of The Venture Bros. and a particularly emotive reading of William S. Burroughs's "Junky's Christmas" by Colonel Hunter Gathers and Shore Leave's interpretation of Jimmy Stewart's "Beau," among other dark delights.
Shallow Gravy, "Christmas Time (Is Here Again)"
Don't say we never gave you anything for Christmas, dear readers.