Published on December 8th, 2015 in: Current Faves, Holidays, Music, Music Reviews, Reissues, Retrovirus, Reviews |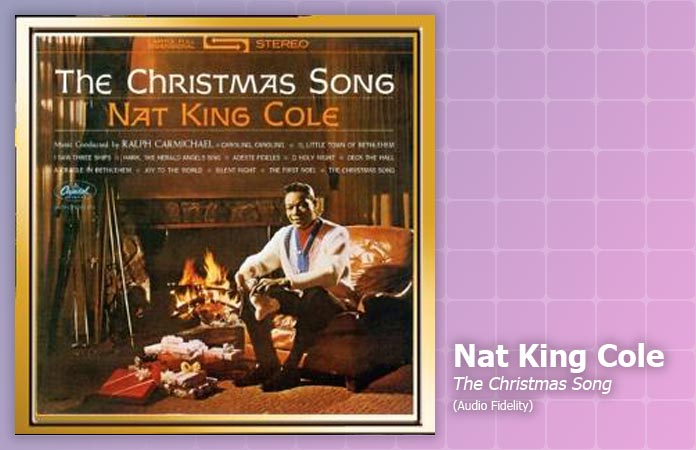 Nat King Cole's album The Christmas Song is a masterpiece. Year after year, Cole's dulcet tones fill the airwaves, kindling warm feelings of nostalgia through his tracks. The songs on The Christmas Songs are (save one, the little-heard "A Cradle In Bethlehem") classics, and Cole's performances are easy, understated treasures.
Audio Fidelity has reissued Nat King Cole's classic album as a hybrid SACD, playable on both SACD players and regular CD players. The sound quality is remarkable, warm, and lush, and The Christmas Song is a perfect album to take advantage of the SACD technology (though, to be honest, I didn't listen to it on SACD. I don't have a SACD player).
The title track, with its sumptuous strings and Nat King Cole's even more sumptuous vocals hits all the important beats for a Christmas song. There's simmering nostalgia, heartfelt singing, and palpable warmth, capped by a whimsical, brief guitar riff from "Jingle Bells." "The Christmas Song" is deeply lovely and was penned by Mel Torme. The lonesome violin echoing the vocal line of "O, Little Town Of Bethlehem" is an unexpected touch. Cole's voice here is velvet, with such roundness to his tone, as it is on "Caroling, Caroling." There, the strings are joyful and the percussion bright. His voice is wonderfully nuanced, as on "Adeste Fideles" where Cole glides subtly to a new note. The music is vast and rich with chiming bells. It's gorgeous.
Many of the classic carols on The Christmas Song are downright jaunty. "Deck The Hall" (as it is written on the cover) boasts a chorus of 20 singers and a massive orchestra. It's brief and lively, as are most of the tracks on the album. The longest one clocks in at a mere 3:08 and several are under two minutes. This gives the album a feeling of fleetness that more artists could benefit from embracing. "I Saw Three Ships" has a very deliberate delivery, like Cole is tiptoeing verbally on the a capella track (I had never noticed that it was a sea shanty until today. Now I will never un-notice).
Nat King Cole was a stylist, as he shows on "Hark, The Herald Angels Sing." He takes liberties with the melody, dropping in syncopation here and there. It's wonderful. His performance of "Silent Night" is stellar, ranging from his rich bottom tones to his hushed verses, to the way his voice soars so incredibly. The way Cole hits "o night/divine" so effortlessly on "O Holy Night" is stunning. The chorus is a bit bombastic, but alone, Cole is amazing.
Nat King Cole's The Christmas Song is absolutely timeless and classic. The wonderful thing about Christmas standards, I believe, is the way that they can be rearranged and reimagined by different artists. Cole's versions are the gold standard of Christmas songs, impossibly lovely and moving. They're classics for a reason.
The Christmas Song is available now from Audio Fidelity.