Published on December 4th, 2015 in: Current Faves, Music, Music Reviews, Reissues, Retrovirus, Reviews |
By Hanna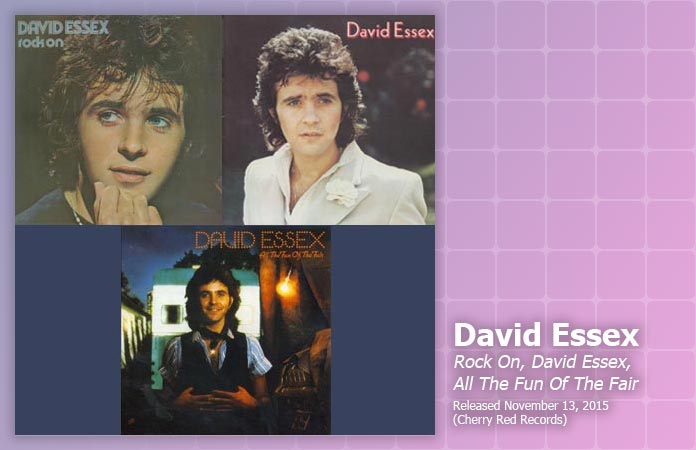 With his own jukebox musical and sold-out comeback shows, David Essex has no need of a revival, though by now his career is so long that there are always parts of it that could use extra attention. A documentary from Alan G. Parker is slated for release soon, which is a good enough reason for Cherry Red to re-release Essex's first three albums on CD: Rock On (1973), David Essex (1974), and All The Fun Of The Fair (1975). All three reissues are fairly straightforward, with the original album art, some informative liner notes by Phil Hendriks, and a couple of interesting bonus tracks.
David Essex started rather unsuccessfully in music in the 1960s, and then focused on a career in musical acting. From 1973 onward he entered mainstream acting and music with two leading film roles and a nascent glam rock career which is represented by these three albums. This choice propelled him into the mainstream and he has stayed there ever since.
While you'd expect that certain something which makes a singer and actor into a household name to be simple to understand, both his film roles and his music from the early 1970s are not simple at all. The two films, That'll Be The Day and Stardust, are strange and sometimes uncomfortable, and his first three albums are also strange and sometimes uncomfortable.
That'll Be The Day and Stardust successively tell the story of the rise to stardom of fictional musician Jim McClaine, played by David Essex in both films. He starts out as a no-chance sleazy fairground worker, is saved from that life by his success as a beat singer, and then balloons out into a theatrical icon, whose image and ideas are so overblown they cannot be sustained. These two films can therefore be seen as a comment on the pop music of the time–especially glam rock–which is presented as better than the music of the early rock 'n roll period in that its ideas are more political and complex, but also as worse because of its excess and hypocrisy. Both films are full of references to earlier and current musicians of the time, even starring a number of them (e.g., Keith Moon, Ringo Starr, Marty Wilde).
Based on this, whatever glam rock persona Essex decided to launch in tandem with these films would be expected to be critical and referential, using the same cultural touchstones, but the choices David Essex made in his nascent musical career are far weirder.
These three albums posit him as a kind of shadow of pop, lurking in a weird experimental byway of the glamorous main road. With a different set of aesthetic references from the campy nostalgia of a lot of other glam rock acts, these albums are more sinister and surprising. They also use a lot of electronics, and a style of production ranging between extremely minimalist to orchestral. While most of the songs are by David Essex, all three albums are produced by Jeff Wayne, whose influence shows a lot in the expert avant garde arrangements.
Rock On (1973)
The debut album, using the name of the first song David Essex wrote. It's a mixture of fairly conventional songs and very strange experimental ones, with the emphasis on the strange ones.
The opening track, and second single "Lamplight," is chaotic and dramatic, with bursts of jazz and layering of vocals that only just harmonize. "Rock On" itself is similarly odd, discordant, and minimalist, using nonsensical references to early rock 'n' roll and 1950s culture. It's built around a beautiful bass line by Herbie Flowers, with little other instrumentation to distract from it. Other tracks in this style are "Streetfight" and "Ocean Girl." On these songs, David Essex uses a conversational and drawling style of singing which is quite different from the typical voice he uses in musical theater.
We All Insane" is (predictably) insane, but interesting because it's David Essex's manifesto on choosing a rock career. He declares that he's going to make it on his own and that "he's really going to shock you," which is probably true, in that I'm sure nobody expected an album that sounded like this.
But there are also are some conventional songs, too, mostly ballads. "On and On" and "Sept 15th" use a restrained singing style and a light touch in their production to create a sense of intimacy, and "Bring In The Sun" has an epic, orchestral build similar to that found on Cockney Rebel's The Human Menagerie of the same year.
There are three cover versions on the album. "Turn Me Loose" is straightforward rock 'n' roll, with David employing a more crooning style of singing. The cover of Simon and Garfunkel's "For Emily, Wherever I May Find her" is, frankly, creepy sounding. "Tell Him No" is sad and subdued compared to the original by Travis and Bob.
Rock On is a constant surprise. It's neither particularly poppy nor retro, and it doesn't sound like mainstream glamrock. It's experimental and unpredictable, even the cover versions. Though its musical style is distinct, there seems to be no underlying concept, which makes it a bit difficult to follow.
David Essex (1974)
David Essex is similar in feeling and sound to Rock On. It features excellent session musicians in Herbie Flowers and Chris Spedding, and goes further with the futuristic, electronic-influenced sound.
Some songs have a cheeky, retro-cabaret feeling, though. "Gonna Make You A Star" is jaunty, and David Essex seems to be mocking himself in it ("Is he more, so much more than a pretty face? I don't think so!"). "I Know" is in the same musical style, "There's Something About You Baby" is a sweet ballad, while "Miss Sweetness" is a fun pop song but with discordant harmony parts in odd places.
"Window" is jarring and unsettling. Towards the end there's a sample of a child screaming and saying it's scared, which is the feeling this song creates. "Good Ol' Rock 'n' Roll" spends half of its time as a dystopian funk song and half as the most epic rock song outside of a Meatloaf album and has all the guitar parts, all the sax parts, and all the background singing. "America" and "Dance Little Girl" sound like futuristic soul parodies. "Stardust" is to me the star of the album, orchestral and sweeping. The 7″ mix included as a bonus is an even better edit than the album track.
David Essex continues where Rock On left off. It has all the characteristics of its avant garde rock sound, but, like Rock On, has no strong aesthetic concept to hang its experimentation on. Perhaps because the albums were released more or less along with That'll Be The Day and Stardust, the films provided a context.
All The Fun Of The Fair (1975)
All The Fun Of The Fair is the crown of David Essex's early albums, and perhaps of his whole musical career. It is here that he finally establishes a firm image through his songs. The main characteristics of his music are expanded to include a thematic cohesion. All The Fun Of The Fair is almost a concept album, revolving around the idea of life as a dark fairground which is both attractive and exciting, but also scary. This idea of the uncanny fairground pervades British culture (for example in Papa Lazarou from The League of Gentlemen, or the Hitcher in The Mighty Boosh), especially as relating to ideas of transformation. According to the liner notes, this album was accompanied by an elaborate in-theme stage show which later formed the basis of the jukebox musical of the same title.
The album opens with the track "All The Fun Of The Fair," which is exactly what you'd expect of a disturbing circus number, introducing a mythology of Jack the Lads and other creepers lurking around to unnerve you. It folds around the album, opening it and closing it with a reprise. The following track, "Hold Me Close," is a complete contrast; conventional, happy, and poppy. It revives the retro-cabaret style of "Gonna Make You A Star."
"Circles," "Rolling Stone," and "Watch Out (Caroline)" also hearken back to the previous two albums, and are in the tense, futurist style of "Rock On" and similar songs. "If I Could" is a ballad that expresses the longing for a perfect love and describes a world in which life is simpler and idyllic. "Won't Get Burned Again" is a straightforward rock song, sounding like something off Lou Reed's Transformer. "Coconut Ice" is a distorted reggae song and just presents a nice, if strange, groove. "Here It Comes" again is a rock 'n' roll epic, fast-paced and orchestral, a tribute to a lost love. The reprise of "All The Fun Of The Fair" rounds out the album.
Two bonus tracks are included; single mixes of "Rolling Stone" and "If I Could." The former is slightly less long and weird than the album version; the latter has more instrumentation and a string arrangement.
All The Fun Of The Fair is varied and interesting, tying many musical styles and ideas together with a strong central concept, which isn't present in every song but still provides unity.
---
In retrospect, it seems almost incomprehensible how these three albums could have established David Essex as a mainstream artist. It's true that around 1973 and '74, there was a lot of weird stuff in the mainstream, even within the glamrock genre, like music by Sparks, Tubular Bells, or (the also Jeff Wayne-produced) War of the Worlds, so perhaps in context it wasn't as surprising.
Listening to these three albums in isolation, they seem experimental and difficult to understand, especially without a stage show to help place them. There is a highly distinct style to them; on the one hand, a mixture of cheeky, sweet pop songs, and on the other, electronic and orchestral bombast. The fairground element introduced in All The Fun Of The Fair is visually and thematically strong, and provides a helpful context for the music.
David Essex's other albums are also easily available in re-issue, making his work now accessible to those who had gaps in their collection or who have been introduced to his work recently. For anyone not interested in the rest of his career, these albums are difficult to access. This makes them interesting to everyone, but an especially great choice for people who are into cult music or anything avant garde, who perhaps hadn't thought of him before. There are more accessible songs on every album though, so they're not that alienating. They also hold up really well, and they reward re-listening.
For my money, these three albums represent the best work of David Essex's career, and they should be revived and revisited all the time.
Rock On, David Essex, and All The Fun Of The Fair were reissued by Cherry Red Records on November 13.