Published on November 23rd, 2015 in: Comedy, Current Faves, Netflix Reviews, Reviews, TV, TV Reviews |
By Tyler Hodg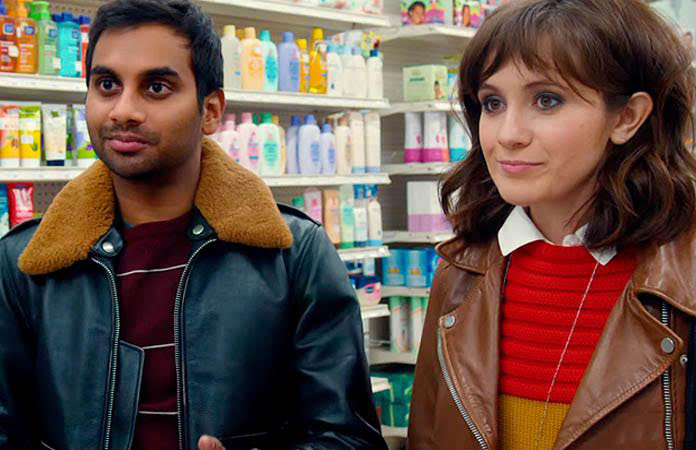 The latest Netflix show to be garnering high praise is Master of None, a comedy co-written by and starring the severely underrated Aziz Ansari. Through a ten-episode season, Ansari looks to break out from his Parks and Recreation shadow and prove he isn't a one-trick pony.
Well, to be honest, this quest is completed in only one episode.
Ansari plays Dev, a near middle-aged man contemplating the prospect of having children. After a close call thwarted by swift action to purchase Plan B, Dev begins to have second thoughts about his philosophy on life without children. Those around him seem to be happy in the world of parenting, so why wouldn't he be happy, too?
Dev himself is essentially an over-sized kid. The character gets excited about juvenile children's toys and bouncy castles, but is not apprehensive about taking on responsibility in everyday life. In fact, at one point, Dev plays the role of babysitter for his friend's children in a hilarious sequence of events: going to the park, dealing with the crazy shit kids say or do in public areas, and even having to accompany one child into the bathroom.
The direction and dark visual style open up the series to the prospect of some intense dramatic moments, which is where the show needs to go. Not that the comedic moments don't work, I just feel that the realistic tone calls for more intense, vulnerable moments.
Aside from the terrible acting by Eric Wareheim as Dev's best friend Arnold, all aspects of Master of None feel genuine. What direction the show goes in terms of an overall story arch is only determined by continuing on with the proceeding episodes, but based on "Plan B," Master of None looks like it may turn into one of the coolest comedies around.