Published on November 13th, 2015 in: Current Faves, Music, Music Reviews, Reviews |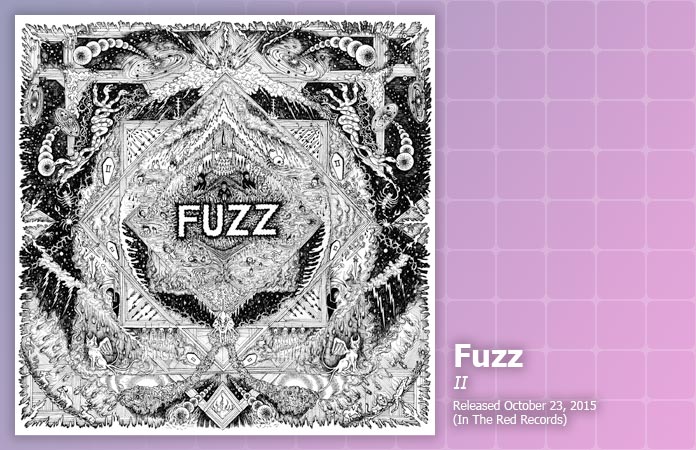 The first album from Fuzz (review) was a stoner rock delight, all guitar solos and epic jams. The latest, the succinctly titled II, is more of the same, but bigger, better, and more bodacious. Since then, member Ty Segall has released his most accomplished album yet (2014's Manipulator) and the effects of an astonishing improvement in songcraft shows on this album. If you like epic jams or if you want some serious hooks mixed with your stoner rock, Fuzz is just what you've been waiting for.
On II, Segall takes up percussion duties, while Chad Ubovich of Meatbodies plays bass and Charles Moothart (of Segall's touring band) handles guitar. The three switch off between vocals, too, sometimes within the same song. This, along with the continuous shifts in time signatures, gives the music an urgency at which the previous album only hinted, while the synths on the album add a sweet sheen of psychedelic polish.
Ubovich's bass solo at the beginning of "Let It Live" is so good it makes your chest hurt, and it's followed up with an equally compelling guitar melody and Segall's angelic sneering. The chorus features the deftest touch of ethereal harmonies, which pushes the track into something pretty and not just meaty, especially when the string section competes with the rhythm one for fastest riffage. Best of all, that last whiny guitar that sputters off at the end? It's picked up in the next track, "Pollinate" so you get a giddy, give-it-to-me now kind of tease, one that doesn't fully pay off until the song is nearly over, resulting in a kind of delirious ecstasy.
"Bringer of Light" is an ironic title for a deceptively sludgy track; the bass hangs low, while the guitar and Segall's vocals operate at a shrill, piercing level full of tension and little release. "Pipe" is so much like a missing Black Sabbath song—even down to the staccato Ozzy Osbourne vocals—that it's uncanny. Then drums, bass, and a serpentine guitar come in slowly, and totally reminiscent of The Doors, for "Say Hello." Fuzz is sneaky, because the song gets even heavier and more jammy until it ends in a massive crescendo of riffage.
The delicate opening guitar of "Burning Wreath" is next, and you may be wondering if this is the same album, or even the same band. Soon the heavy yet heavenly vibes come in, sounding like a sonic cousin to Tricky's Woo's "Winter" at times. The incendiary punk rush of "Red Flag" explodes like a volcano erupting, followed by the filthy "Jack the Maggot," both proving that Fuzz isn't your grandma's stoner rock band.
It ain't over yet! "New Flesh" features groovy, grotesque lyrics and a stunning series of melodies, with vocals like vintage Tyrannosaurus Rex. If you're thinking that Charles Moothart is one of the greatest unsung, up and coming guitarists, you're completely correct. Instrumental track "Sleestak" starts like Redd Kross's "Standing in Front of Poseur" but swiftly moves into a pummeling beat that doesn't let up, with beeps and bloops that sound like a sci-fi movie.
"Silent Sits the Dust Bowl," includes more swoony strings and a propulsive beat but feels almost lost next to the insanely epic album closer, a bona fide, 13-minute jam session called "II" that the band wisely placed at the end of this (perhaps) already (too) long album.
Still, you can't blame the dudes from Fuzz for wanting to strut their stuff. Their talent seems to know no bounds and it's heartening to hear such obvious improvement from one album to the next.
II was released by In The Red Records on October 23.
Tour Dates:
Fri. Nov. 13 – Washington, DC @ Black Cat
Sat. Nov. 14 – Philadelphia, PA @ Underground Arts
Sun. Nov. 15 – New York, NY @ Bowery Ballroom
Mon. Nov. 16 – Cambridge, MA @ The Sinclair
Tue. Nov. 17 – Montreal, QC @ Fairmont Theatre
Wed. Nov. 18 – Toronto, ON @ The Hoxton
Thu. Nov. 19 – Detroit, MI @ PJ's Lager House
Fri. Nov. 20 – Chicago, IL @ Thalia Hall
Sat. Nov. 21 – Omaha, NE @ The Waiting Room
Sun. Nov. 22 – Denver, CO @ Bluebird Theater
Mon. Nov. 23 – Salt Lake City, UT @ Urban Lounge