Published on November 12th, 2015 in: Culture Shock, Current Faves, Music, Music Reviews, Retrovirus, Reviews |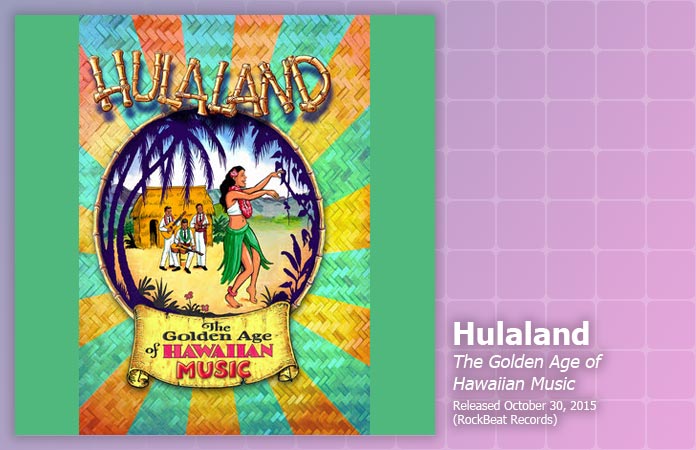 I don't know that a lovelier box set than Hulaland: The Golden Age Of Hawaiian Music has ever crossed my desk. Four discs of carefully curated tracks (105! 105 tracks of Hawaiian music! Your luau could go on for ages!), collecting a vast range of music from the 1920s to the '70s, are housed in a gorgeous, hardbound book. The book serves as liner notes, written by James Austin, as well as a collection of memorabilia from a time when the States went tiki crazy, and reproductions of vintage sheet music covers from the Hawaiian heyday. It's compulsively readable, showcasing notable Hawaiian musicians, a brief history of the ukulele, and all kinds of lagniappe wrapped in a candy-colored package. It's worth the price of admission alone.
The music, though, is fantastic.
The four discs cover different time periods. Disc 1, entitled "From Hollywood To Honolulu 1931-1957" is a selection of songs from the early popularization of Hawaiian music. In addition to native Hawaiian artists represented, there are tracks from such diverse artists as Jo Stafford, Louis Armstrong, Ethel Merman, and Dorothy Lamour.
Disc 2, "Splendor In The Grass Shack, 1958-1974" builds on the theme and the subsequent tiki madness, with well-known purveyor of exotica Martin Denny, along with The Ventures, the theme from Hawaii Five-O, some Hawaiian-themed commercials, and an Hawaiian take on the  Peter Gunn theme. It's bananas.
Disc 3, "Hawaiian Classics 1927-1940" covers (mostly) traditional music played by native Hawaiian musicians.
Disc 4, "Contemporary Hawaiian Music," does just what it says on the tin, but with a curious focus on novelty-esque tracks, like "Yiddish Hula Boy (Becky, I Ain't Coming Back)" from Janet Kelin and the Parlor Boys, and Sourdough Slim and Robert Armstrong's "Everybody Does It In Hawaii."
There is much to love on Hulaland. There are definite ear worms, like the furiously catchy chorus of "Yaaka Hula Hickey Dula" (from Felix Mendelssohn's Hawaiian Sisters with George Barclay) or Jo Stafford's jazzy take on "Hawaiian War Chant," where she nimbly drops the lyrics. Or Dorothy Lamour's "My Little Grass Shack," in which her voice is like velvet and the chorus just melts in her mouth. It's glorious. If yodeling is more your style, check out Slim Whitman's "Hawaiian Cowboy," a song that sounds as bright as the sun. If hip shaking is where it's at, Rudy Wairate and His Hawaiian Minstrels have just the thing with "Rock & Roll Breezes," a fetching number with a wandering bass line.
There are acts that are well represented on Hulaland. Andy Iona and His Islanders team up with Louis Armstrong ("On A Little Bamboo Bridge"), and turn in some spellbinding tracks on their own. "Vana Vana" is sung strictly in Hawaiian and is quite propulsive. Their take on the perennial "Hawaiian War Chant" is softly muted, rich in harmonies, and the friendliest sounding war chant you might ever hear.
Disc 2 is delightful from beginning to end. It's chock full of exotica, like Bobby Christian's "Caravan," a moody, atmospheric instrumental, The Ventures' slinky "Taboo," and Robert Drasnin's jazzy and spare "Tambuku." Earl Grant's "House of Bamboo," too, is jazzy, but also faintly ridiculous. Anna Valentino's "On A Tropical Island" popped up recently on Croydon Municipal's Popcorn Exotica, and it's an enchanting, swooning thing.
The commercials added, reflecting the time that America went Hawaii crazy, are marvelous. A Coke commercial about surfing, a Newport cigarettes ad complete with slack tuned guitar, a C & H commercial (that you can almost visualize upon hearing), and an ad for Hawaiian Delight, a frozen fruit salad (hooray for pawpaws!), are included, each a bit marvelous. Also fascinating is the inclusion of the "Hawaii Five-O" theme, urgent with fierce but tight drumming and shiny bright horns. It's stunning, really.
There's a definite vintage quality to the tracks of Disc 3, with a bit of noise on the transfer. Sam Alama's "I Went To Hilo" feels almost psychedelic with the slack-tuned guitar and yodeling. "Oua Oua" from Kanui and Lula is appealing rhythmically, sung in Hawaiian, and the performance is wildly charismatic. It's powerful. Sam Ku West's "Huehue (Hawaiian Hula)" showcases incredibly skilled ukulele playing, as does Jim Bob's lightning-fingered uke on "Sweet Georgia Brown." It's wonderfully impressive. Sol Hoopi's Quartet's "I Like You" is fast moving and utterly charming. Clara Inter (Hilo Hattie) sings "Ukulele Lady" in lovely warm tones and pronounces "ukulele" in a most interesting way.
Disc 4 goes heavy on contemporary artists The Joy Buzzards and Ken and Bob. The tracks are hit and miss. Ken and Bob's "Hapa Haloe Hula Girl" is folky and witty, spare with ukulele and guitar and delightful. When paired with Elaine Hoffman on "Pidgin Hula English," it's cringeworthy. Ken and Bob's tracks are not exactly novelty songs, and their level of musicianship is top-notch, on "Tiger Shark" in particular. When I began to find their brand of music tiresome, they pulled me right back in with "Waltz Don't Run," the Ventures classic done in waltz time. Magical.
The Joy Buzzards are amazing. Their "Someday Sweetheart" is brilliant, throwing in unusual instrumentation (is it a theremin? A cello? A banjo?) and fine vocals. Their instrumental "Moana Chimes" is gorgeous, with a splendid, crisp guitar sound.
Hulaland is a great starting place for what could bloom into a full-on obsession. The music is outstanding: rich, lush, exotic (of course), sometimes cheeky, with often mind-blowing playing. Hulaland  is a superb collection of great tunes in a glorious package, perfect for kicking off that luau you've been meaning to have.
Hulaland: The Golden Age of Hawaiian Music was released by RockBeat Records on October 30.