Published on November 11th, 2015 in: Canadian Content, Concert Reviews, Current Faves, Music, Reviews |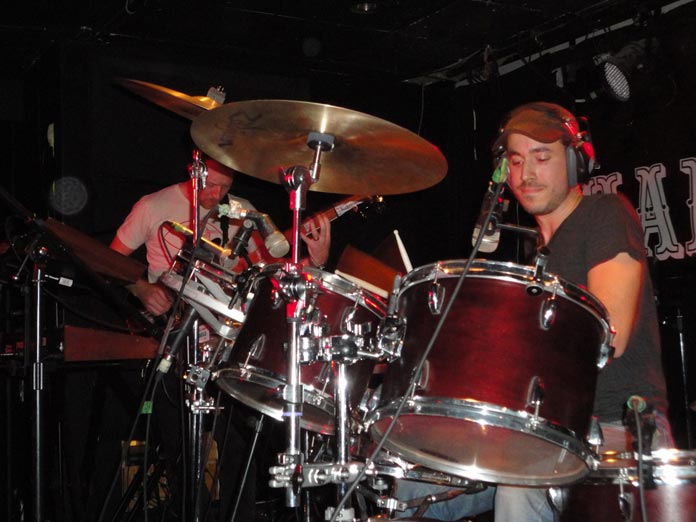 November 7, 2015
Toronto ON
You might think that two normal-looking guys with short hair wearing jeans and T-shirts and playing music with no vocals would make for an exceedingly boring evening, but you'd be wrong. Zombi is anything but pedestrian.
Unfortunately, I missed the first band of the night, Flesh Trade, but was able to catch most of Pinkish Black's set. Another duo (drummer and synth player) like Zombi, and like Zombi, they craft eerie and unsettling tunes.
Never having seen Zombi before, I wasn't sure what to expect, especially at a place like the Hard Luck with its tiny stage and seeming lack of spooky atmosphere. Despite no fancy light shows or fog machines, Zombi was impressive, to say the least.
For those who haven't heard the band, it's high time you changed that. Since the early part of the millennium, the duo has been creating instrumental music inspired by the soundtracks of John Carpenter, Lucio Fulci, and Dario Argento films. Yet their music also contains a distinctly prog rock element that feels straight out of the late 1970s and early 1980s. They've released just a handful of albums, but they also opened for one of their biggest inspirations, Goblin, on the Italian prog rock/horror score legends' first ever North American tour in 2013.
Zombi's latest album, Shape Shift, shows that they are still as unclassifiable as ever, but the album's numerous catchy tracks indicate that the band might be poised to increase their presence amongst music fans who aren't horror fans, especially with a performance like the one they brought to Toronto.
Despite the plethora of machines and a rather intimidating series of cords snaking all over the small stage, the set was tight and engaging. There was an organic quality to the music, which might surprise those who think of Zombi as "just a studio band." It helps that both Steve Moore and A.E. Paterra are gifted and passionate musicians who play off of each other in an invigorating way. The intensity of Paterra's drumming is fierce; the bag of sticks he keeps beside him to compensate for broken or tossed ones is testament to that. Moore switched between his distinctive heavy metal style bass playing (with a pick, no less) and various keyboards, sometimes playing both at the same time as well as operating a Roland Foot Controller. Even to someone who doesn't play an instrument, Zombi is a genuinely fun band to watch in action.
Even with all of this technical wizardry, Zombi never feels like a band that relies on technical wizardry. There's immediacy in their live performance, which makes the studio recordings almost seem dull by comparison. This is not a dig at their production skills, but rather an indicator of the limitations of recording techniques for such dynamic music.
Essentially, if you like Zombi, you can't miss them on this current tour (or ever). And if you haven't picked up Shape Shift yet, what are you waiting for?
[TABLE=41]
Tour Dates:
11/11 – Brooklyn, NY – Saint Vitus
11/12 – Philadelphia, PA – Boot & Saddle
11/13 – Baltimore, MD – Floristree
11/14 – Pittsburgh, PA – Cattivo
11/15 – San Antonio, TX – Housecore Horror Festival