Published on November 2nd, 2015 in: Book Reviews, Books, Current Faves, Music, Reviews |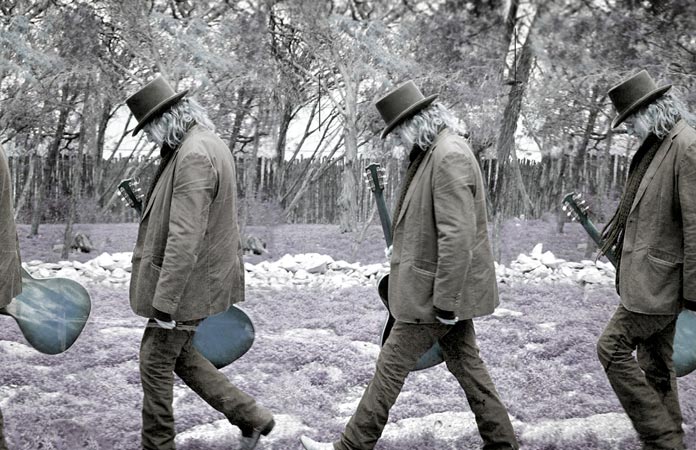 Nineteen pages into Ray Wylie Hubbard's book, A LIfe… Well, Lived. I had teared up, laughed hard enough to snort, and planned on buying his back catalogue of music (which is extensive). Hubbard is a natural raconteur, and his memoir is loaded with witty, honest, closely observed stories that span his lifetime. A Life… Well, Lived is written in an non-linear fashion: there are straight-up autobiographical chapters, stream of consciousness stories written with a lack of respect for the constraints of "proper" punctuation and capitalization, plus his filmic song lyrics. Hubbard has a literate, biting style of writing, and it is incredibly enjoyable. Buckle up, it's a hell of a ride.
It's not a comedy, but Ray Wylie Hubbard's book is often hilarious. His writing is descriptive and vivid, from the uproarious story of his baptism as a child, to his appearance on Jimmy Fallon's show. He writes conversationally and humbly; he's not out to self-aggrandize. In recounting buying a jacket for an appearance (a "cool, mandarin suede jacket") he says, "I may be old, but I'm gonna be old with a cool jacket."
There are so many highlights in A Life… Well, Lived. Hubbard's story of the Texas Redneck Games is horrific and hysterical. The tale of Lucky Tubb, missing CDs, and an assembly line was a corker. A wild tale of being kidnapped by Willie Nelson's roadies introduced me to a fact that I didn't know I needed to know, but am glad I did: they called Willie's bus "The Time Tube." The story is a tale of excess, like many of the stories in the first half of the book.
But A Life… Well, Lived also deals with Ray Wylie Hubbard hitting the bottom and finding redemption. He recounts getting involved with Alcoholics Anonymous and the encouragement he got from Stevie Ray Vaughan. He writes about his spiritual awakening through the Twelve Steps, but is never proselytizing. He's just honest about his truth.
Ray Wylie Hubbard offers his observations on the changing nature of the music business, and recounts the kind of deal that makes people walk away from the business altogether. It's infuriating that people will treat artists so appallingly. He also reveals some secrets to the universe, but those things are not to be revealed in a review.
His wife, Judy, adds a chapter at the end that is pretty amazing. She, too, is witty and gritty, and in reading her chapter, their marriage makes perfect sense. It's delightful to read about these two wonderfully matched people finding each other, and sticking together through thick and thin.
Ray Wylie Hubbard is quite a character. He's had a rich, varied life, and his stories are fascinating. A Life… Well, Lived is like sitting down with an old friend, the kind that spins stories that you wish were your own (but are secretly glad they aren't).
A Life… Well, Lived was released by Bordello Records on November 2.