Published on October 20th, 2015 in: Current Faves, Music, New Single |
By Tim Murr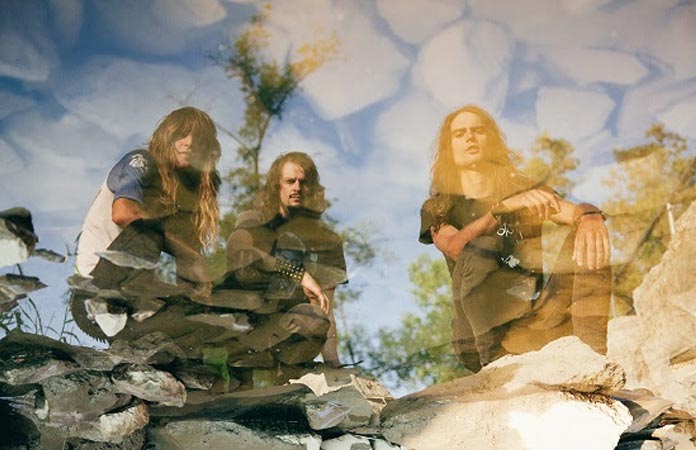 Photo Credit: Brittany Deck / BKHphoto
Cauldron's fourth album, In Ruin, will unload on January 8 of next year from The End Records, but to tide you over, the band has released the album's first single "No Return/In Ruin," an infectious head banger that demands heavy rotation.
Cauldron was formed by front man Jason Decay after his previous band, Goat Horn, broke up in 2005. After an indie EP, the band signed with Earache, where they released three albums and another EP.
If you're unfamiliar with Cauldron and a fan of old school metal, then you're in for a treat; their music is melodic, whiplash-inducing, and hard to ignore. Cauldron harkens back to straight up solid 1980s metal, but they still maintain a very contemporary feel (they're not merely a throwback act!). Want proof, check the YouTube clip above!
For more on Cauldron, visit the band's website or Facebook page.
Tour Dates (subject to change):
Jan 05 Gramercy Theatre New York, NY
Jan 06 The Backstage at Championship Bar Trenton, NJ
Jan 07 Trickshots Clifton Park, NY
Jan 08 The Webster Underground Hartford, CT
Jan 09 Palladium Upstairs Worcester, MA
Jan 10 Foufounes Montreal, QC
Jan 11 Salle Multi Quebec City, QC
Jan 12 RITUAL Ottawa, Canada
Jan 13 Hard Luck Toronto, Canada
Jan 14 The APK London, Canada
Jan 15 Montage Music Hall Rochester, NY
Jan 16 The Agora Ballroom Cleveland, OH
Jan 17 The Altar Bar Pittsburgh, PA
Jan 18 Ace Of Cups Columbus, OH
Jan 20 The Token Lounge Westland, MI
Jan 21 Fubar St Louis, MO
Jan 22 The Tree Joliet, IL
Jan 23 The Metal Grill Cudahy, WI
Jan 24 Triple Rock Social Club Minneapolis, MN
Jan 25 Zoo Cabaret Winnipeg, MB
Jan 27 Nite Owl Calgary, AB
Jan 28 The Starlite Room Edmonton, Canada
Jan 30 Rickshaw Theatre Vancouver, Canada
Jan 31 Studio Seven Seattle, WA
Feb 01 Hawthorne Theatre Portland, OR
Feb 02 Thee Parkside San Francisco, CA
Feb 03 Whisky A Go Go West Hollywood, CA
Feb 04 Brick By Brick San Diego, CA
Feb 05 Club Red Theaters Mesa, AZ
Feb 06 LVCS Las Vegas, NV
Feb 08 In The Venue Salt Lake City, UT
Feb 09 Bluebird Theater Denver, CO
Feb 10 Aftershock Kansas City, KS
Feb 11 Red 7 Austin, TX
Feb 12 210 Kapone's Live San Antonio, TX
Feb 13 Scout Bar Houston, TX
Feb 14 Trees Dallas, TX
Feb 15 Siberia Nola New Orleans, LA
Feb 16 The Orpheum Tampa, FL
Feb 17 The Haven Orlando, FL
Feb 18 Masquerade Atlanta, GA
Feb 19 Expo Five Louisville, KY
Feb 20 Canal Club Richmond, VA