Published on October 9th, 2015 in: Current Faves, Feminism, Music, Music Reviews, Reissues, Retrovirus, Reviews |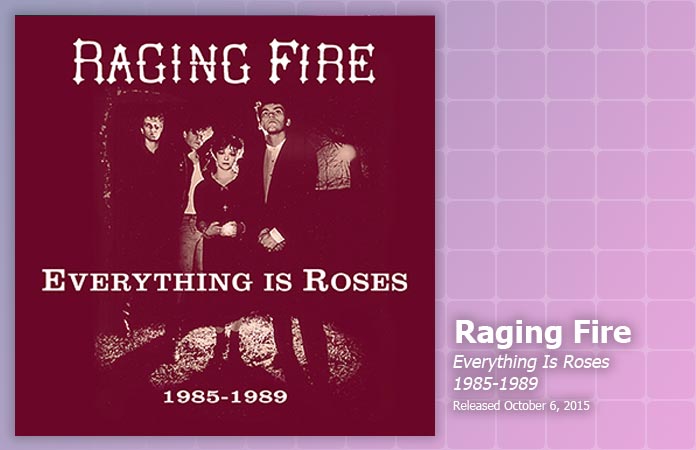 There's a line in Bruce McDonald's Hard Core Logo in which Pipefitter, drummer savant says, (and I'm paraphrasing wildly here) "No one ever writes checks to the bands who influenced them." Upon listening to Everything Is Roses 1985-1989, an anthology of Nashville's Raging Fire, it seems like a whole lot of bands should have written some checks. The music of Raging Fire sounds familiar (though I'd not heard them) because so many bands aped their style. Strong front women with their own eclectic voices owe a debt to Melora Zaner. She doesn't have a bombastic voice, but she makes you listen because of her nuance and passion. Without Raging Fire, a whole slew of bands wouldn't exist.
Everything Is Roses collects songs from EPs, LPs, and unreleased demos as well as a new track, all remastered and shiny, along with ephemera and copious liner notes into one tidy package. The result? A world of frustration. How can a band that was this good and this original not succeed? The answer is: the music business (often) blows. At the time Raging Fire was together, they were on the very precipice of making it. In 1986, they were voted (alongside the Pixies), as one of the best unsigned bands in the US in a CMJ Reader's Poll. They were scouted, they were courted, and still… A&R people didn't know how to market them. Who wants a punk band with a female singer? Why doesn't that female singer dump her band and record solo? (This all makes me want to scream it frustrates me so.)
And then, shortly after Raging Fire broke up, grunge happened. And grunge sounded a whole lot like what Raging Fire was doing. In fact, one of the things that's so striking about Everything Is Roses is how much it sounds like a meatier Sleater-Kinney album. It's uncanny.
Raging Fire's sound is a melange of things: it's a little bluesy, it's a lot of punk, it's got that early indie thing happening, and Zaner's voice is both confrontational and engaging. The lyrics are thoughtful and literate, sometimes straying into Southern-Gothic-with-a-boatload-of-family-dynamic-issues territory. Many of the songs are bass driven, like the blistering punk fury of "You Should Read More Books" or the sly "The One You Hate." Interestingly, the bass player was a revolving position, with Raging Fire's perpetual nexus being vocalist Zaner, guitarist Michael Godsey, and drummer Mark Medley.
Medley's drumming is often impressive, tossing in African rhythms (or perhaps Adam and the Ants-like rhythms) on "You And Me" (where Zaner is both snotty punk and girly sweet) and fascinating fills on the haunting and edgy "Nickels, Dimes and Quarters." Godsey's buzzsaw guitar ignites the track. His jittery work on "The Morning In Her," coupled with John Reed's juddering bass is arresting, though the lyrics are tough to decipher. The bluesy guitar work on the spare "After Loving One Man In Texas" is wonderful.
A live track (recorded with a single camera mic), "Angel a Blue" gives a glimpse into the power Raging Fire had onstage (complete with kicked over bottles on a concrete floor). They were tight, and Zaner was in fine voice. While she sometimes leaned heavily on a girlish timbre for her vocals, she could also let rip (but in a clear and pure way. She has such an interesting voice). Raging Fire's new track, "More Than This" is chunky and fierce. They've still got it.
Everything Is Roses 1985-1989 is fascinating and infuriating. Raging Fire was such an excellent band, obviously influential and ahead of their time. Perhaps now they will get their due. Or at least a hefty check.
Everything Is Roses 1985-1989 was released on October 6.