Published on August 31st, 2015 in: Documentaries, DVD, DVD/Blu-Ray Reviews, Movie Reviews, Movies, Music, Reviews |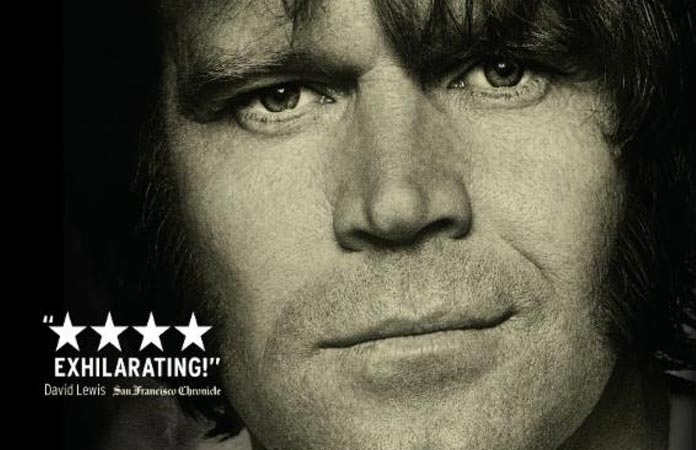 Though it is incredibly wrenching, the documentary I'll Be Me is such an important film. By allowing filmmaker James Keach unbridled access to himself and his family, Glen Campbell's battle with Alzheimer's disease is starkly delineated, from diagnosis to decline. It's intimate and human and so hard to watch.
In 2011, legendary country musician Glen Campbell was diagnosed with Alzheimer's disease. He was scheduled to tour in support of his album Ghost On The Canvas, and this, instead, became a Goodbye Tour. What began as a five-week tour swelled to 151 sold out shows. I'll Be Me chronicles the tour, as well as Campbell's devastating decline.
I'll Be Me begins with Glen Campbell and his wife Kim watching home movies. The Campbell depicted in the home movies is so vital and handsome, it's poignant to see him as an old man, not recognizing his family members or himself as Kim patiently recounts who is who. It's a clever way to remind viewers of just who Campbell is: an incredible musician, a film actor (he was in the original True Grit), and the star of his own variety show.
Watching Campbell's slide from frustration early in the film (receiving a mental status exam at his doctor's office, when he doesn't know the date, the season, or the first president of the United States) to his paranoia and rage as the film draws to a close is heartbreaking. His wife, Kim, is quite candid and honest in her interviews about the difficulties in taking care of someone who is slipping away inexorably.
On the tour, Campbell is joined by three of his children, talented musicians in their own right, in the band. His son Shannon is happy to be there, and glad, he says to "celebrate his (dad's) life while he's still around." Daughter Ashley is a force of nature and nurturing, with lovely moments of singing with her dad on the tour bus and gently helping him remember the names of his band members (including his children). She sings an especially moving tribute to her father in a gorgeous song that plays over more footage of home movies.
There were great moments of triumph in Campbell's 2011 tour. From the kick off and his amazing performance on The Tonight Show (setting aside Jay Leno's creepy comment about Campbell's daughter), to watching Campbell tear through incredible guitar solos, it was evident that there's something about music that endures, that helps the brain. The words to the songs might have been foggy, but the muscle memory of playing guitar was there. He was alive onstage and lucid, joking, and lively.
Midway through the film comes a devastating version of "Wichita Lineman" that is transcendent. His voice may have lost a bit of the purity, but the emotion is there. The warm embrace of the audience is a lovely thing to see. These people weren't coming out to see a potential train wreck, waiting for Campbell to fail. They were there to shower him with love and support and to see his reaction to the crowd adulation is a heartwarming thing.
Glen Campbell… I'll Be Me is a remarkable, painful film. The story that it tells is crucial, and gives a very public face to a devastating disease. If you haven't been directly affected by a family member with Alzheimer's, it's illuminating and horrifying. If you have, it's uncomfortably honest and all too familiar. The Campbell family, by sharing Glen's story, have created an intimate, personal dialogue with the world.
Glen Campbell… I'll Be Me will be available on VOD and DVD on September 1 from Virgil Films and PCH Films.