Published on August 17th, 2015 in: Current Faves, Music, Music Reviews, New Single, Upcoming Releases |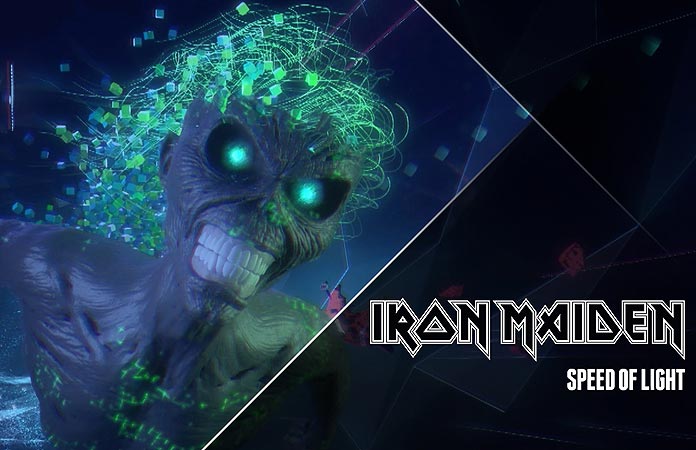 The venerable British heavy metal band Iron Maiden is returning with a new double album, The Book of Souls, and the first single, "Speed of Light," is a five-minute-long, arena-sized rollercoaster ride through a thunderstorm, with a hot riff so slinky, the Lord of Darkness could floss with it. It's a swift kick in the ass for a rock and roll scene grown stale and over-inflated with buttrock and pseudo-Satania. There's more energy in this one single than there has been in the last three Foo Fighters albums. Leave it to a bunch of 50-year-old Brits to rear back up and bring a whole genre back to life, like a collective of Victor Frankensteins.
That's pretty heavy praise for just one song, and I know that, but listen, you guys.
No, I mean, listen to the song.
This is not some kind of retread Eighties hair metal. Maiden has always been a higher level than that. It's my opinion that Iron Maiden is the best British band since The Who. They carefully construct and arrange their music and write about things besides sex and drugs and how awesome it is to be in Los Angeles. Even at the height of their popularity, while other bands while coming up with the worst sexual metaphors known to man ("Cherry Pie," anyone?), Iron Maiden was cranking out singles about World War I, the Greek myth of Icarus, and putting Coleridge's epic poem, "Rime of the Ancient Mariner," to music in a 14-minute long song, designed to make sure every metalhead in the world passed their English 101 classes.
That's been Iron Maiden's secret weapon all along. They're smart. Even their dumb songs are well constructed and thought out. "Speed of Light" is a dumb one. I think it's about Interstellar, but the song references Event Horizon, too. Anyway, it's about being lost in space.
While it may not be a lyrical classic, releasing this song first is a brilliant move on the band's part. No one is more critical of Iron Maiden than their fans. The fans needed to be reassured that the guys an still rock and, musically, this song is as solid and face-melting as anything off Powerslave or Piece of Mind.
Bruce Dickinson's voice sounds to be in great shape, still hitting high notes he was nailing 20 years ago, that great vibrato wavering perfectly on the edge of drama and camp. Steve Harris makes the bassline gallop like a rabid horse on meth while Nicko McBrain reminds the listener why he is the undisputed master of the drum fill. Hi-hats and cowbells abound on this track. The three guitarists weave their disparate lines around each other like a leather caduceus, coiling and winding ever higher.
Sure, we could do without lyrics like "I'll say a mass for you and wave / Shooting plasma from my grave," but if anyone's going to pull off a line like that, it's Bruce Dickinson, who infuses every line with sincerity and urgency.
Can Iron Maiden save rock and roll? That can't be answered until the full album comes out. But 2015 has been The Year of the Unexpectedly Bitchin' Comeback (see Failure, Veruca Salt, Wire, etc.) and if nothing else, this new Maiden track is a welcome 18-hole boot to the head.