Published on August 12th, 2015 in: In Development, Movies, Pop Culture News |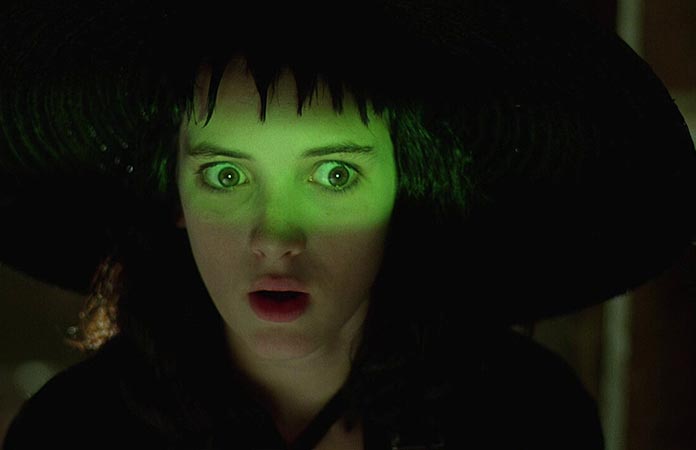 Winona Ryder has reportedly confirmed that Beetlejuice 2, the sequel no one has been asking for, is actually happening. Director Tim Burton and the old bio-exorcist himself, Michael Keaton, are also on board for the film.
Beetlejuice came out in 1988. That's 27 years ago.
What's the point? What loose ends are left from the original? What unresolved plot elements left audiences hoping for a conclusive wrap-up? And how long is too long between movies?
Ponder this.
The Wizard of Oz was originally released in 1939. It got an official filmed sequel, the nightmarish Return to Oz, in 1985. That's a whopping 46 years later. The hope was that families would flock to the film, ready to reinvest their emotions and assets into the wonderful world of Oz. Instead, they stayed away, indifferent to the $25M budget spent on this new vision. Those who did attend found themselves assaulted with scenes of children threatened with electroshock therapy and a Queen who furnished her castle with rows of human heads. So much for the Lollipop Guild. Domestically, Return to Oz only garnered $12M, only half the production budget.
While Return to Oz scarred a generation of children by taking their beloved fantasy land and essentially destroying it, a movie like Mad Max: Fury Road, which was released 30 years after its predecessor, Mad Max Beyond Thunderdome, dropped us directly into the same environment. Tom Hardy replaced an aging Mel Gibson as the titular character, but the change was barely noticeable. The story dealt mostly with the other characters, but the post-apocalyptic Outback environment, as much a character as any human in the series, remained constant.
The problem was that society had changed. A faction of internet fanboys shouted the film down for having too many feminist elements (like Thunderdome—with Tina Turner's Aunty Entity character looming over the whole scenario like a goddess—didn't send a strong feminist message). This line of thought asserts that women should only be sidekicks in action films, and never the one who saves the day. This kind of backwards thinking is why Hollywood still won't greenlight a Wonder Woman movie.
Mad Max: Fury Road did far better at the box office internationally than it did in North America. With a production budget of $150M, it only brought in $152M domestically. The rest of the world threw money at the film, to the tune of $216M.
To be fair, Mad Max: Fury Road was also competing against the second Avengers movie for the moviegoer's dollar. It's the superheroes that have the hearts of audiences now. The Marvel Universe and DC Comics have taken their comic book battle to the big screen, and the public is caught in the middle.
So where is the room for a project like Beetlejuice 2? Has it been greenlit to compete with the upcoming Ghostbusters reboot, which also has MRAs up in arms (so much estrogen!)? Is it a way to cash in on some perceived late Eighties nostalgia? Perhaps it's a studio move designed to capitalize on Michael Keaton's upswing in popularity, but doesn't this seem like a lateral move for the recently Oscar-nominated Keaton?
Realistically, we know that box office reports don't necessarily equal a quality film. But studios have a bottom line to consider. There's no business like show business, and a business it is. Unfortunately, that means the real important question here is: will moviegoers plunk down their hard earned money for a sequel that feels unnecessary? Beetlejuice has been out of the collective hot zone for quite a while now. The fact is even if Beetlejuice 2 ends up being really good, if the audience doesn't care, they won't be there.