Published on August 7th, 2015 in: Current Faves, Music, Music Reviews, New Single, Reviews |
By Tim Murr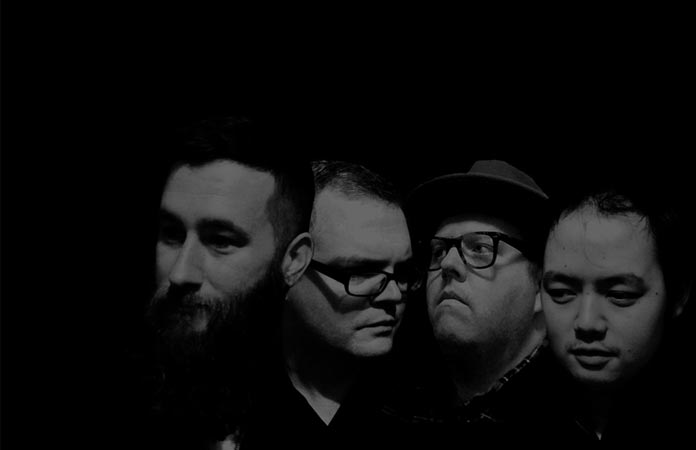 Oh, Dark Palms, where have you been all my life? Their new single, "Ghost Horse, is a post-punk, fuzzed-out trip into pure American noir. I'm officially very excited for Dark Palms' forthcoming debut album, Hoxbar Ghost Town on Rock Therapy Records.
Formed by Timothy Grisham after the end of his group Happy Noose, Dark Palms are reaching for a heavy but poppier style of post-punk and if "Ghost Horse" and the B-side "Locket" are any indication it should be a doozy of an album.
Something about "Ghost Horse" keeps giving me a Blue Velvet kind of vibe. I wasn't surprised to learn that Grisham is a David Lynch fan, because the song comes straight out of weird America, albeit with a dash of Samhain muscle.
With Grisham on guitars, Kenrick Ward on drums, Roger Landberg III on bass, and Laurence Goldenstar on vocals, Dark Palms is a tight and heavy unit that sounds like they've been together for years, though in actuality the band is only a few months old. The members have all served in other indie bands and seem to have no shortage of talent.
You can hear "Ghost Horse" over at Noisey and "Locket" at Popmatters.
I think you'll see these two tracks show a pretty good range and that Dark Palms will likely appeal to many different tastes. Certainly, fans of Coliseum, Titus Andronicus, and early Afghan Whigs should be first in line to embrace these guys.