Published on July 31st, 2015 in: Canadian Content, Current Faves, Feminism, Music, Reviews |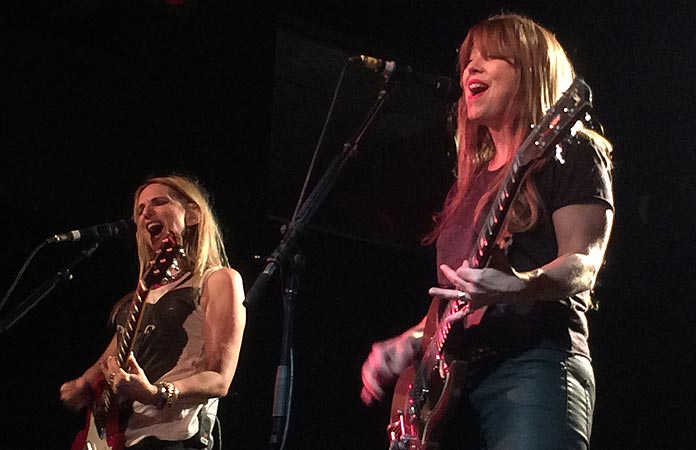 July 28, 2015
Toronto, ON
Imagine, if you will, the early 1990s. Back when alternative music was all the rage, indie wasn't a sonic genre, and bidding wars were still a thing, a time before blogs grabbed the reins of underground music writing away from printed fanzines and Facebook was just a gleam in Mark Zuckerberg's eye.
When I was nostalgic for the 1980s in the '90s, I never thought I'd be nostalgic for the last decade of the old millennium. Yet, here we are in 2015 and Veruca Salt has reformed with the original members, released a new album called Ghost Notes, and is currently wrapping up a North American tour.
You must understand: for a twentysomething music fangirl and fledging critic, the mere existence of Veruca Salt was amazing to me. There were a handful of bands back then who could both rock and roll with radio-friendly hooks as well as heavenly harmonies: Redd Kross, Teenage Fanclub, that dog, and Veruca Salt. To have one woman guitarist in a band, much less two, was damn exciting. They loved AC/DC, they slyly referenced The Beatles, they made swearing sound angelic.
Thus it was devastating when Veruca Salt splintered, the seemingly steadfast friendship of Nina Gordon and Louise Post coming to an acrimonious end for reasons about which we could only speculate in the years before social media. Trying to be optimistic and supportive, I saw the Louise Post version of the band at The Howlin' Wolf in New Orleans around 2001. When the show was 45 minutes late to start I got a bad feeling in the pit of my stomach. When Louise took to the stage it was so upsetting I had to leave after a few songs. She wasn't well and she wasn't happy and it felt like part of my youth had died.
Last night at Lee's Palace felt like redemption for all the shattered dreams and fractured friendships of the past: the dream of the '90s was truly alive in Toronto. It was my fourth time seeing Veruca Salt and by far the best. Easing into middle age with aplomb, they looked amazing and sounded incredible.
They opened with a new track, "Prince of Wales," and despite only having heard it once before (I know I know) I recognized it immediately. Of course they played "Volcano Girls" and "Seether." And "Straight" and "Earthcrosser" and "Forsythia" and "Spiderman '79," plus great new songs like "The Gospel According To Saint Me," "Black and Blonde," and "Come Clean, Dark Thing." They even dipped into deeper cuts like "I'm Taking Europe With Me" from their brilliant yet sadly out of print EP Blow It Out Your Ass It's Veruca Salt. There was no disconnect between the old and the new; all of the songs were of a piece with the Veruca Salt aesthetic.
And what an aesthetic, too! I can't believe I could ever have forgotten how much Veruca Salt kicks ass but they certainly reminded me. And not just Nina and Louise; it was great to see and hear Steve Lack and Jim Shapiro again. The band was relaxed yet jubilant, with Nina and Louise exchanging genuine smiles and knowing looks with each other and more than few times urging the crowd to sing along. They were glorious yet grateful, graceful yet badass, both shredding and headbanging in sync in a way that reminded me of Jeff and Steve McDonald from Redd Kross.
Speaking of reminders, I should mention that opening act Charly Bliss was impeccable, like a brilliant blend of early Weezer, The Muffs, and The Goops (remember The Goops?), with a delightful charming singer and guitarist in Eva Hendricks as well as singer and guitarist Spencer Fox. Their energy was infectious and their sound invigorating.
But oh, Veruca Salt. They loved the crowd and we loved them back. The encore was the type I like best, the dirgey, kinda depressing songs: "Shutterbug," "Shimmer Like A Girl," and "25." No one wanted them to leave, 20 years ago or last night. They proved that sometimes time does reverse and the shattered teacup can come back together.