Published on July 24th, 2015 in: Current Faves, Music, Music Reviews, Retrovirus, Reviews |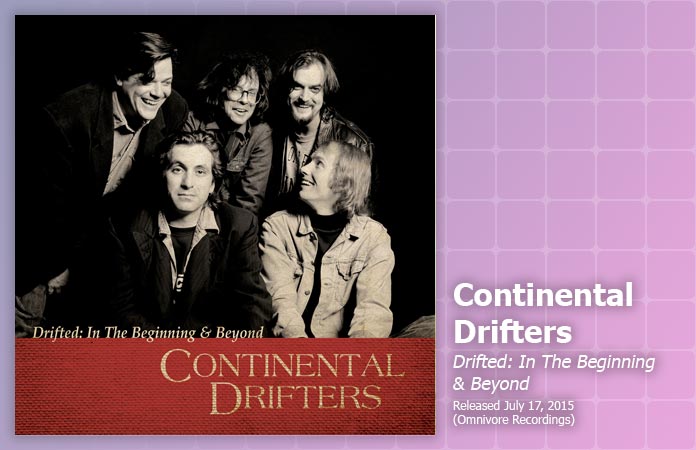 If you didn't know who the Continental Drifters were, and happened upon Drifted: In The Beginning & Beyond, you might be struck by the indelible, vivid lyrics of their songs, or perhaps the band's excellent playing. Maybe their fine harmonies might get you. Or it could be the various singers in the band, each with their own honed, matchless style. Perhaps you would be drawn to the hooky Americana or the eclectic, delightful cover songs on disc two of this collection.
If you did know who the Continental Drifters were, you would be flat-out giddy to discover that Drifted features early versions of songs that appeared on the band's later albums, live tracks, rare Europe-only releases, and a slew of Fairport Convention covers. You, the Continental Drifters fan, would know that the the band included many different, incredibly talented members over the years—like a pod of genius circulating through L.A. and New Orleans—and that some of those members were Gary Eaton, Carlo Nuccio, and Ray Ganucheau, who each provided lead vocals, and who each had such contrasting styles that the Continental Drifters could sound like an entirely different band, depending on who sang lead. You might also know that Peter Holsapple (the dB's), Mark Walton (The Dream Syndicate), Susan Cowsill (the Cowsills), and Vicki Peterson (The Bangles) were also members, each bringing important gifts to the table.
Drifted: In The Beginning & Beyond is a two-disc set (if that's how you get your tunes), and the first disc features unreleased and early renditions of tracks as well as transitions from an early version of the band to the more familiar group from 1998's Vermillion and 2001's Better Day. Drifted is packed tight with excellent, versatile song craft, from Carlo Nuccio's husky rasp on the country blues of "Side Steppin' The Fire" (complete with shivery harmonies), to the captivating "Match Made In Heaven" (with tempo shifts and thoughtful lyrics), or the layered and soulful "No One Cares" (with Peter Holsapple's keyboard virtuosity and a slinky earworm of a chorus). There is also the raw wonder of Vicki Peterson's vocals on "Who We Are, Where We Live." The song sets a mood with urgency, driving and dodging with brilliant interplay between multiple guitars.
The second disc on Drifted is like a box of candy, a wonderful, surprising collection of cover tunes and live tracks. "You Don't Miss Your Water" performed live at KCRW is stunning with painfully gorgeous harmonies. The Drifters' version of Gram Parsons' "A Song For You" is meaty and glorious with more delicious harmony. The Mike Nesmith-penned "Some Of Shelley's Blues (Campfire Mix)" becomes spacey and spare, focusing on the melody. "Farmer's Daughter" gives a glimpse into the band's live shows, with easy stage patter and a snippet of "Peter Gunn" thrown in. The harmony showcase of "Dedicated To The One I Love" is impossibly lovely. Rounding out disc two is The Drifters' love letter to Fairport Convention: eight covers, including their brilliant traditional "Matty Groves" and a sunny version of "I Want To See The Bright Lights Tonight."
If you weren't a fan of the Continental Drifters before Drifted: In The Beginning & Beyond, you will be one after hearing it. If you were already a Drifters fan, you will love Drifted.
Drifted: In The Beginning & Beyond was released through Omnivore Recordings on June 17.