Published on July 17th, 2015 in: Current Faves, Music, Music Reviews, New Single, Pop Culture News, Reviews, Upcoming Releases |
By Tim Murr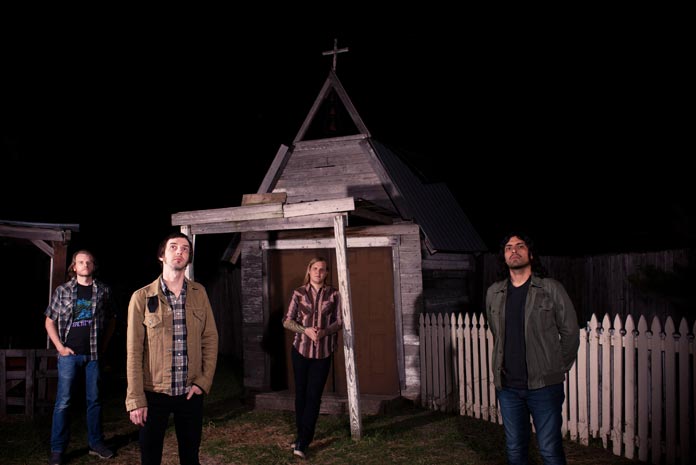 I was late discovering The Sword. I came across their album Warp Riders at the library last year and checked it out based solely on the fact that there were tracks called "The Chronomancer I" and "The Chronomancer II." Since I like a little sci-fi with my metal, I gave them a chance and just fell in love with the band's brand of classic stoner metal.
Another thing about The Sword that that won me over are the vocals of JD Cronise. He sings clearly and the band actually harmonizes, something I greatly appreciate. After reviewing so many death metal and grind core bands over the last couple of years, it's refreshing to hear metal in which you can understand the lyrics. Not that I'm disrespecting those other bands—I enjoy the hell outta them—but mixing it up now and then is healthy.
The Sword's new single is the title track from their forthcoming album High Country, and it's currently streaming on the band's website. Musically, "High Country" is tight: it's got a mid-tempo, chugging rhythm, guitars that seem to be conjuring something from old America, and infectious harmonies. If this is what the entire album is going to sound like, then I'm all in.
The Sword will release a limited edition 7" to record stores on July 20, with a non-album B side and a coupon for $2 off the purchase of the High Country album when it's released on August 21, through Razor & Tie. You can also preorder High Country on the band's website in multiple formats. In the meantime, you can also hear "Empty Temples" on Rolling Stone.
Tour Dates:
August 21 – Trondheim, Norway – Pstereo Festival
August 22 – Oslo, Norway – Parkteatret
August 23 – Goteborg, Sweden – Sticky Fingers
August 25 – Helsinki, Finland –Tavastia
August 27 – Stockholm, Sweden – Debaser Strand
August 28 – Malmo, Sweden – KB
August 29 – Copenhagen, Denmark – Lille Vega
August 30 – Hamburg, Germany – Rock Café St Pauli
August 31 – Berlin, Germany – Magnet
September 2 – Wien, Austria – Arena
September 3 – Munich, Germany – Magnet
September 4 – Milan, Italy – Legend
September 5 – Salzburg, Austria – Rockhouse
September 6 – Winterthur, Switzerland – Salzhaus
September 7 – Stuttgart, Germany – Universum
September 9 – Antwerp, Belgium – Trix Club
September 10 – Tilburg, Netherlands – Extase
September 11 – Cologne, Germany – Luxor
September 12 – Paris, France – La Boule Noire
September 14 – Nottingham, United Kingdom – Basement
September 15 – Glasgow, United Kingdom – King Tuts
September 16 – Manchester, United Kingdom – Academy 3
September 17 – Wolverhampton, United Kingdom – Slade Rooms
September 18 – London, United Kingdom – Underworld
September 19 – Bristol, United Kingdom – The Thekla