Published on July 17th, 2015 in: Book Reviews, Books, Current Faves, Horror, Reviews |
By Tim Murr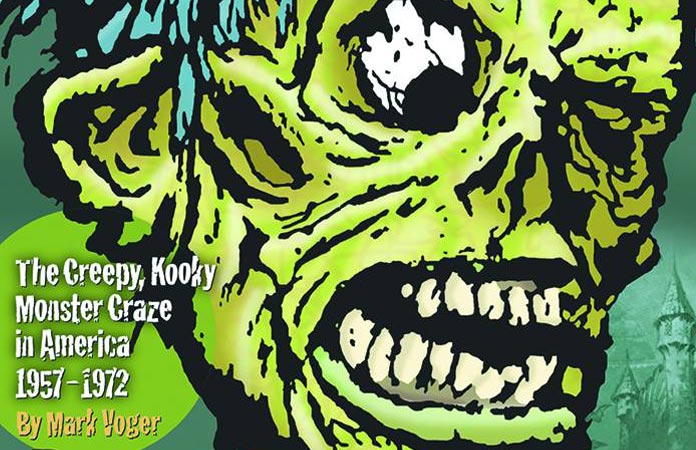 TwoMorrows Publishing is awesome. These dedicated fans began publishing magazines about comics in the mid-'90s, such as the authoritative series Jack Kirby Collector as well as Comic Book Artist and Alter Ego. They have also published books and DVDs, further preserving the far reaches of comics' history.
Monster Mash; The Creepy, Kooky Monster Craze in America 1957-1972 covers a fertile time in horror history during which Frankenstein got domesticated and the growing medium of television introduced a legion of kids to the world of monsters via creepy late night horror hosts like Vampira and Zacherley the "Cool Ghoul" (who wrote the foreword to this book). There was also an amazing array of toys, models, comics, and music. Old favorites, like Frank, Drac, the Wolfman, and the Mummy got new life in both bloody (Eerie Publications) and kid-friendly versions (The Munsters). Hell, I think Monster Mash includes examples of the inspiration for at least half of The Misfits' songs.
The lavishly illustrated coffee table book, full of interviews and stories, is a gorgeous sight to behold. As soon as you crack open the cover, you're treated to a two page black and white spread of various monster and sci-fi film posters. I found author Mark Voger's loving introduction quite relatable, despite us being separated by a generation. I think monster kids of any age are as tribal as punks and metal heads and we certainly all have overlapping tastes as well as stories that have led us down the paths of fandom. It's proven nearly every time I leave the house in my Bride of Frankenstein T-shirt. I almost always wind up chatting with some dude who could be my long lost brother and we find that we have all the same interests.
But would we all have gotten here without Universal getting their classic movies onto television in 1957 or without Forrest J Ackerman's Famous Monsters of Filmland? It's also interesting that this booming obsession with monsters coincided with a booming obsession with rock and roll, two fandoms which intersected almost from the get go.
Parents looked down their noses at this stuff. It was considered low-brow trash, but Voger shows how much heart and talent was behind these works. Yes, sometimes it was very cheap, sometimes it was pretty trashy, but it was still art. It also informed so much that came after 1972, when directors like Wes Craven, John Carpenter, and Tobe Hooper started taking their love for this era and shaping the future of horror cinema.
Every page of Monster Mash is full of amazing posters, covers, comic book art, advertisements, and photos, with each chapter focusing on specific aspects of monster history. It's clear that Monster Mash is a labor of love and Mark Voger is a hero for all his hard work.
Every journey has a beginning and for modern horror it began in 1957. Monster Mash is a wonderful, historic, panoramic snapshot of the journey and a worthy addition to your horror collection.
Monster Mash: The Creepy, Kooky Monster Craze in America 1957-1972 was published on June 30 through TwoMorrows Publishing.