Published on July 10th, 2015 in: Current Faves, Music, Music Reviews, Reissues, Retrovirus, Reviews |
By Tyler Hodg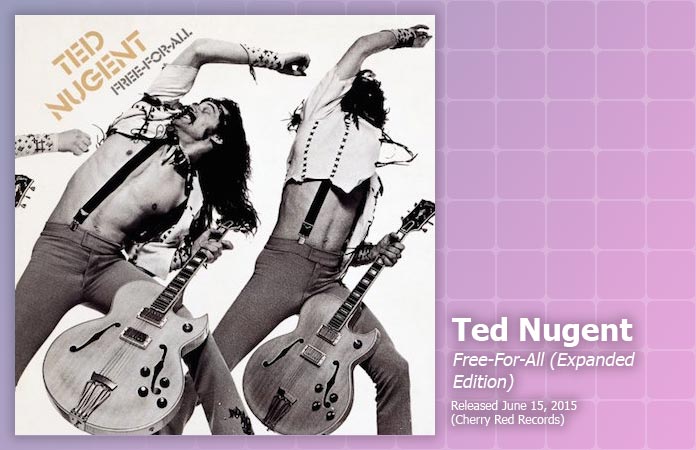 Before he was known as an outspoken, gunslinging political pundit, Ted Nugent was a platinum-selling artist, with his first hit album being 1976's Free-For-All. Nearly 40 years after its release, the album has been brought to back into the light in a polished remastered version. Free for All is arguably Ted Nugent's finest musical achievement, and it's only fitting that a celebration is called for on the eve of its 40th anniversary.
Free for All was Uncle Ted's second solo album since splitting from his previous band The Amboy Dukes, and it turned out to be a major commercial success, attaining multi-platinum status and peaking at 24 on the Billboard 200. This is an incredible achievement, but charting isn't the only reason Free For All has an everlasting legacy: 40 years later, it's the music itself that is remembered.
The unfortunate part about Free-For-All is that you only get one first listen. The album contains a certain captivating element that is hard to describe, although it's instantly found in the opening title track. It's impossible not to smile the moment the entire band kicks in after the guitar and vocal intro, because it just sounds so damn good. The album is balls to the walls rock'n'roll, but has enough variation from song to song that nothing seems stale or overplayed. Major differences in style can be found when comparing a song like "Turn it Up" to a song like "Light My Way," but not one track seems out of place on this completely realized rock album.
Fun fact: a young, fresh-faced Meat Loaf is featured on multiple songs including "Street Rats," "Together," "Hammerdown," "I Love You So I Told You A Lie," and the ever-so memorable "Writing on the Wall." The vocals on these tracks were previously performed by long-time Nuge collaborator Derek St. Holmes, before a rift with Nugent led to his departure. Although a fruitful relationship had come to an end, the situation did help create confidence in Meat Loaf, leading Epic Records to help birth a little album titled Bat Out Of Hell just one year later.
Free-For-All is a grossly underrated album that deserves much more credit than it has received. Classic songs like "Dog Eat Dog," along with the aforementioned "Turn it Up" and "Writing on the Wall" exemplify just how awesome Ted Nugent's early work was—and still is. Included in this expanded reissue are three terrific live tracks and an early version of "Street Rats" with Derek St. Holmes on vocals, which makes this package that more appealing. Free-For-All is an album that has influenced an uncountable number of musicians, and will continue to do so, due to an original, timeless feel that has never been matched.
Free-For-All (Expanded Edition) was reissued by Cherry Red Records on June 15.