Published on June 26th, 2015 in: Current Faves, LGBTQ, Music, Music Reviews, Reissues, Retrovirus, Reviews |
By Tim Murr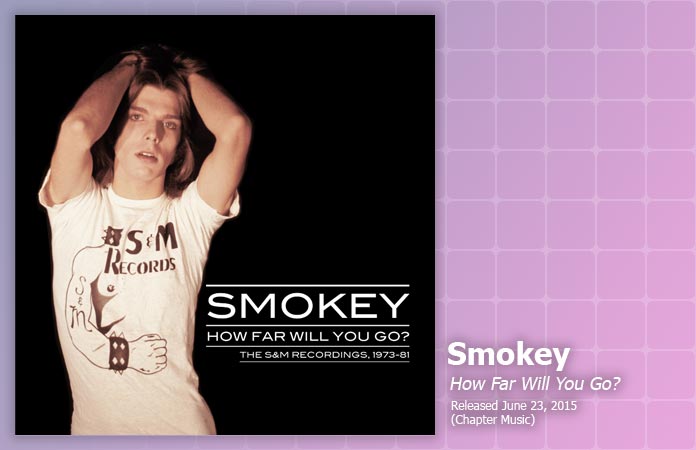 I find it hard to believe that there once existed a band that featured guest appearances from James Williamson (The Stooges) and a young Randy Rhoads (Quiet Riot, Ozzy Osbourne) that I've never heard of and you probably haven't, either. But it's true! The band is called Smokey.
Singer John Condon came from Baltimore, hung out with John Waters's crowd, and later hooked up with EJ Emmons, a record producer from New Jersey. Together they went to L.A., where they met The Doors' manager and cut their first single, "Leather." That single was a cool proto-New Wave track, Lou Reed-esque (think Sally Can't Dance era) track and it was brilliant. The song was backed by an equally cool tune, the bluesy, jazzy "Miss Ray." Given the quality of song writing and high production value and the mid-'70s time period, how was "Leather" not a hit?
Because it was super gay. It had none of that glam rock ambiguity. There was no teasing, no hinting, just "this is who I am, motherfucker."
Naturally "Leather" was turned down by all the labels who balked at the notion of releasing a gay record. So in true punk fashion, Smokey formed their own record label, S&M Records, and released five singles. Those singles, along with a bunch of unreleased recordings, have been criminally buried, hidden deep in the bloated history of rock and roll. EJ Emmons has saved the day by restoring this collection and providing extensive liner notes, although it sounds like Smokey needs a book.
Gay or not, I still have a hard time believing it took this long for these recordings to come out in full. I was a kid in the '80s and I loved the pop music of that era, especially sitting in front of MTV for hours. (This was before I hit middle school and discovered metal and got really narrow-minded for a few years.) It seemed, to pre-teen me, that part of being a dude in rock meant wearing make-up and dressing in ladies clothing. I got rebellious pretty early on and the delights of upsetting your parents or seeing disapproving eye rolls when Boy George or Prince came on TV were not lost on me.
Maybe I remember the '80s as more gay friendly (in pop culture, not where I grew up!) than it really was, but I just don't see How Far Will You Go? not being an important release at almost any point in the last 30 years. But I'm not a homophobe, so what do I know?
One of the cool things about this album is that it doesn't sound so much like an anthology as it does an album. The consistency from track to track, though recorded over the course of several years, makes them like they're all from the same era. Even disco work-outs like "DTNA" and "Piss Slave" don't sound out of place in the context of the album and its era. Besides, disco or not, it's still kinda punk: "I want to be your toilet / I need to feel your piss running down my throat." Reed and Bowie didn't have the balls (or perhaps the desire) to record anything so explicit.
Most of the tracks on How Far Will You Go? have a sexy, smoky blues feel with the faster songs adding a bit of funk. The aforementioned Sally Can't Dance or Coney Island Baby keep coming to mind as points of reference, but How Far is more consistently good than either of those albums, because those both ultimately suffer from too much filler. The "Puttin' On The Ritz" cover here, as well recorded as it is, seems like a poor choice, but I may be prejudiced against it because of how much I hate the '80s version from Taco.
Smokey isn't the first band to be cruelly ignored by the rock gods, but it is one of the better ones, which intensifies the injustice. But thanks to Emmons, the world gets a second chance (or really a first) to make sure this gem doesn't get overlooked again.
How Far Will You Go? was released on June 23 through Chapter Music.