Published on June 5th, 2015 in: Current Faves, LGBTQ, Music, Music Reviews, Reissues, Retrovirus, Reviews |
By Hanna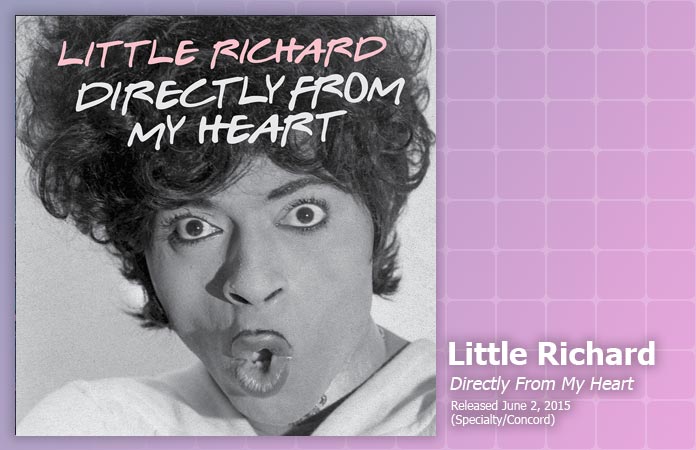 With so many musical legends gone, it's amazing that Little Richard is still with us. Now, his status as one of the greatest rock 'n' roll stars is firmly established. Even contestants on RuPaul's Drag Race have imitated him (Kennedy Davenport won this season's Snatch Game with her Little Richard impersonation), so that all parts of his career, including his part in LGBT history, are being celebrated.
That makes this release of his early work very timely. Directly From My Heart contains Little Richard's recordings from his signing at Specialty in 1955 to his comeback until 1964, and is comprised of the Specialty recordings and his recordings for Veejay Records. It's an interesting time for Little Richard; he did some of his most critically acclaimed recordings during these years.
The booklet included in the set contains a summary of this time period; the story of his career just before signing to Specialty—when he was playing the chitlin' and vaudeville circuit—his attempts to grab a record deal; and his lukewarm first recording with Specialty, the frustration of which in turn led to the recording of "Tutti Frutti." It moves on from the success of Here's Little Richard! and other recordings for Specialty to his decision to leave secular music soon after. The story is careful to describe the nature of the split; it meant a breach of contract leaving Specialty with the royalty rights to his recordings. That prompted them to release the leftover tracks from the sessions for his first two albums as a third album, The Fabulous Little Richard.
In the early sixties, a sense of competition with newer bands led Little Richard to return to performing secular music and then back to recording, and he did some tentative recordings with Specialty before moving to Veejay Records. This box set cuts off right in the middle of his comeback in the mid-sixties, at the re-establishment of his position as the head of rock.
The path of his career during this time is irregular and it shows in the songs. It starts with the rough, high-energy, classic Little Richard from the first albums and subsequent recordings. The first recordings made after his return from the church are, in comparison, of a much lower quality. He seems tentative in reassuming the boisterous earlier style in what are basically rewrites of his earlier songs such as "Bama Lama Bama Loo."
At the tail end of the compilation he seems to have found a new niche, with a more soul-oriented sound in the music, and he uses more of the range of his voice, putting to use what he learned during his time as a gospel singer.
Directly From My Heart kicks things off with tracks from the first three albums. The quality barely wavers between the songs themselves, although the songs that made up The Fabulous Little Richard suffer from odd production, with overdubs by a female vocal group which aren't bad, but just don't suit the musical style very well. This group of songs is covered on the first CD and most of the second. Also included on these discs are B-sides and rarities like "All Around the World" and "She Knows How To Rock." Despite the different style of the songs on The Fabulous Little Richard, the quality of the Specialty sessions is difficult to overstate.
Part of the second and third CD on Directly From My Heart cover Richard's comeback. This was one of Little Richard's most interesting periods, in terms of his image. He partially returned to the drag look of his chitlin' days, making his hair extra big and getting a wardrobe composed of things like a glittery cape with mirrors on it. His musical choices were equally chaotic and playful.
Besides songs that revisit his earlier songs, such as "Bama Lama Bama Loo," there are bluesier choices like "Annie is Back" and "Poor Boy Paul." His rock 'n' roll covers of songs like "Money Honey" and "Whole Lotta Shakin Goin' On" establish his position among and even above the new bands he was trying to compete with. A new vocal sound, lower and more gospel-influenced, creeps in on songs like "Cross Over" and "My Wheels Are Slippin' All The Way," before developing into a full-on soul extravaganza in songs like "Dancin' All Around the World" and the epic "I Don't Know What You've Got But It's Got Me." In variety and range, this latter part of his comeback career is particularly strong and his skill at mastering different styles and displaying emotions as well as energy becomes apparent.
A lot of the songs included in this box set have been compiled before, in earlier series or remastered by Specialty, but those compilations have usually been in groups focusing on one session or one record label. There is value in seeing them together, and being able to view his development as an artist in this important part of his career.
However, the most vital part of Directly From My Heart is the exceptional sound quality. I've heard most of these songs before, but the sound has always been fair to terrible. In this set, the Specialty sessions are of excellent quality, and it really transforms the songs and makes them seem new. The clipped, clean quality of the first three albums is a lot more noticeable when the audio is so clear. The Veejay recordings are also of much better quality than I've heard before.
The packaging of Directly From My Heart is great, as well. Not scared to make the most of Little Richard's second big camp phase, it's all pink and grey with pictures of Little Richard being young and beautiful or big haired and flamboyant. It looks fabulous, though my only qualm is that the colors and the font make the letters quite hard to read. Pictures of singles and candids are also included, as well as some promo shots I had not seen. However, the high point of the packaging is the cover. It is 100% how Little Richard should always look: beautiful and mildly terrifying, with towering hair.
Directly From My Heart is a special collection, giving listeners the chance to get to know this part of Little Richard's career and to experience familiar songs in a new way. Combined with the excellent quality of the recordings, this means that even for people who already own the music it will be a worthwhile purchase.
Directly From My Heart was released by Specialty/Concord on June 2.