Published on May 22nd, 2015 in: Horror, Movies, Music, Music Reviews, Reissues, Retrovirus, Reviews, Soundtracks and Scores |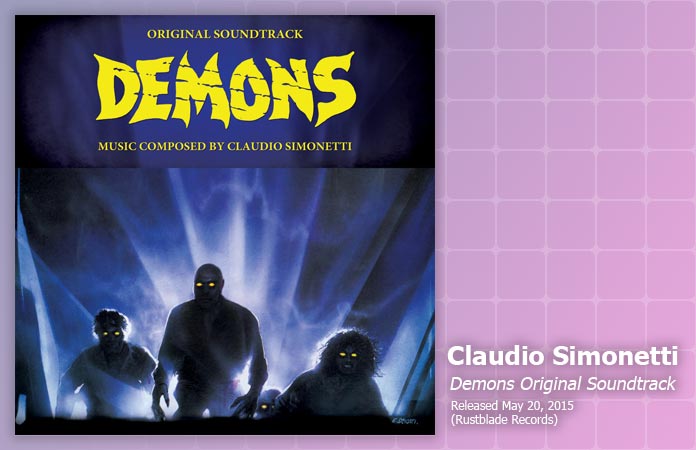 Lamberto Bava's 1985 monster movie Demons is a nasty, brutal affair, filled with sharp teeth, green blood, and enough stream of consciousness nonsense to make an absurdist's brain melt. It's also considered a minor classic by horror aficionados. One of the things that makes the film so effective is the ambitious soundtrack by Claudio Simonetti.
Simonetti is best known for his work with Italian prog-rockers, Goblin, who have scored some of Italy's most popular horror films, particularly ones directed by Dario Argento. Initially easy to pass off as just another synthesizer soundtrack from the Eighties, there's more to the Demons score than samples and electronic drums. It's Simonetti's second soundtrack working solo without a band behind him and it sounds like the change did him good, because there are interesting textural bits all over the place that make Demons a soundtrack worth rediscovering.
The main theme, "Demon," builds up slowly, layering percussive elements and low, guttural noises atop each other, until finally blossoming into a hard-driving synth beat. An odd ghostly melody floats over that bass line, and in the middle are a variety of sounds. Listen closely and you'll hear everything from a good old Frankie Goes to Hollywood "hoo-hah" to the loneliest harmonica this side of Ennio Morricone. "Cruel Demon," the second track, is a maelstrom of orchestral swirls and menace, in which one can hear the genesis of Goblin's soundtrack for Argento's film Non so honno, created 15 years later.
The entire soundtrack is unsettling, especially "The Evil One," which is completely backwards. This was hilariously relevant in the Eighties, when people believed Satanic messages could enter your head through dangerous music, played in reverse.
Since a majority of the music for the film came from other sources (Demons has an interesting non-orchestral soundtrack also, filled with such disparate artists as Mötley Crüe and Go West), Simonetti's score consists of only six themes. One would think that's not much to go on for a remastered re-release, but distributing label Rustblade has chosen their bonus features wisely.
After listening to the score proper, listeners can trace the history of the music. There are demos galore, a dance mix of "Demon," and finally, the hidden treasure of this set, a heavy live version of the main theme by Simonetti side project, Daemonia. Something about the live drums and full band adds an urgency and depth to Simonetti's music that synthesizers by themselves don't fully get across.
There are also remixes, the best one being a lovingly industrial take on the main theme by oGhr of Skinny Puppy. The Chris Alexander remix of "Killing" is also cool, adding just enough to not be a detriment.
It's always fun to recognize anniversaries and Rustblade really went for it with this one. Demons is available in digital formats, physical media inside a collectible tin box, numbered limited vinyl editions, and what the press release refers to as "gadgets." I have no idea what those are, having only received the digital copy for review, but who doesn't love a nice gadget? If you're a collector, some of these various items may be of interest.
But at the heart of all the packaging and the gadgets is a fascinating snapshot of a composer in transition, moving from a band setting to a solo career, expanding his range and creating some of the most stirring music of his career. We treasure Demons for withstanding the test of time, but the real gem here is Simonetti.
The 30th Anniversary re-release of the Demons soundtrack was released by Rustblade Records on May 20.