Published on February 27th, 2015 in: Current Faves, Music, Music Reviews, Reviews |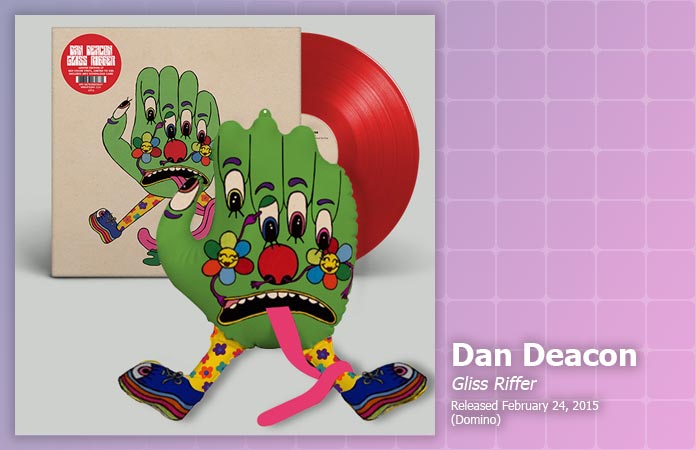 Electronic collage artist Dan Deacon has returned with another eclectic offering in the very appropriately titled Gliss Riffer. A play on the the word glissando (sliding from one note to another) and riff (a repeated motif in a piece), Gliss Riffer is full of swooping keyboards and repeated movements, disembodied voices and dance-ready rhythms. It's a heady mix.
Deacon embraces his own vocals to a new extent on Gliss Riffer. The opener, "Feel The Lightning," is awash in shimmering layers and sugary sweet, what-sounds-like female singing, but is actually Deacon's highly distorted vocals. Those are contrasted with chanting, almost militaristic vocals (also distorted, like a quite culturally aware robot). The result is hooky and hypnotic, perfect for blank-eyed swaying.
"Sheathed Wings" follows, pushing the dance beats further into jittery, quicker territory. Imagine Berlin's "The Metro" on (more) coke. It's carbonated and buoyant, with a chorus of Deacon's vocals melded together into an otherworldly chorus. The song has the effect of looking into a funhouse mirror; the melodies seem "normal" but the more closely you listen, the more warped it becomes.
"When I Was Done Dying" could be a sea shanty with a melody that bubbles and dives. There's what sounds like an accordion and clever percussion, a transcribed dream with swells of electricity.
When Deacon deconstructs a song midway through, like he does on "Mind On Fire," it becomes a fascinating exercise. There's a sparkling underlayer, and a layer of simmering vocals; these get picked apart and then reassembled to become a glittery triumph. It's not glittery in a campy way; instead, it sounds like a million stars twinkling. It's breathtaking.
Deacon's vocals are used as rhythm in "Learning To Relax." Layers and layers of vocals, layers of beeps, layers upon layers of synths; it all becomes a meditation.
Gliss Riffer is dreamy and electric. It's complicated and rich. Dan Deacon has created a sonic collage that compels feet to move and rewards deep listening. There's so much to hear and so much to think about.
Gliss Riffer was released on February 24 by Domino.
Tour Dates:
Feb 27 – Los Angeles, CA – Center for the Arts Eagle Rock
Feb 28 – San Francisco, CA – The Chapel (Noise Pop)