Published on January 9th, 2015 in: Concert Reviews, Current Faves, Music, Music Reviews |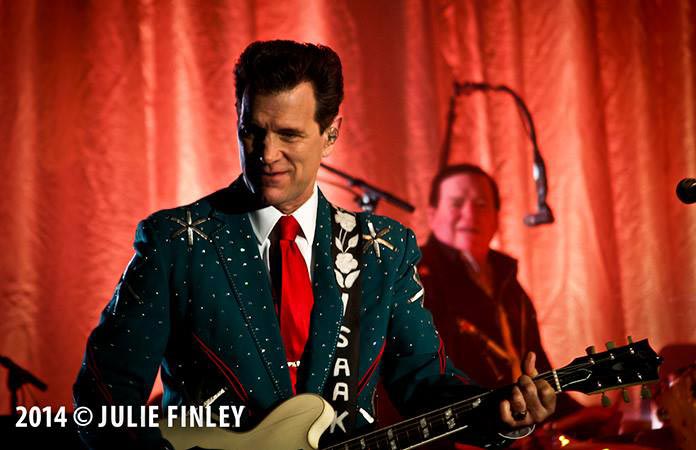 By Julie Finley
December 16, 2014
Kent, OH
I was quite pleased when I learned that Chris Isaak would be doing a live gig and not too far from my home. He has played the area before, but every time one of many life's obstacles has gotten in the way (usually work, illness, bad weather, lack of money, or a combo of the bunch). I remember reading that he would be playing The Kent Stage around Christmas of last year, but I was immobile, recovering from back surgery, AND there was a massive snowstorm, so I wasn't going anywhere! I was bummed, because the venue is just so close (and not in some hell hole.).
Getting my partner to agree to go to a concert is like pulling teeth! I've dragged him to way too many shows that he's had zero interest in, plus many that have caused him severe anxiety issues, so he had to put his foot down at some point—and I compromised (because I'm not a selfish jerk.) Chris Isaak happens to be one of his favorite musicians so his time, he was actually excited about going, and so was I. As someone that likes to shoot live photography, I think Chris Isaak is very easy on the eyes, so to speak. He has a striking visual presence, talent, likeability, and dresses well: perfect subject matter for the camera!
The show was a Christmas-themed show, and Chris was wearing an unbelievable suit (as you will see in the photos). There was also a clumsy/robotic life-sized Santa, that was set to be animated to the Christmas songs that Chris and his band had in their set list. The first three songs are actually not all that fresh in my memory, because I was concentrating on getting good photos, but I do know that he did perform one of his biggest hits, "Somebody's Crying" (and it was performed exquisitely).
Actually, that is one thing I will get out of the way with this review: Chris and his band are absolutely fantastic musicians, and they are so precise, it's almost hard to believe that they are performing live! Seriously! I have seen probably thousands of shows in my life, but the fastidiousness of musicianship within that group is sort of astonishing. I am not sure if whoever was doing their sound was their personal sound engineer or hired to work at The Kent Stage, but the sound was perfection. Nothing distorted, no accidental feedback, all voices were clear and not overpowered by the music: just truly flawless.
The venue is a small, old theatre; it's not a fancy opera house, but an intimate venue in the heart of Kent, Ohio's "Acorn Alley," a newly revamped district. It's a pleasant atmosphere to be around, nicely lit up for the holiday season, and with a secure and brand new public parking garage across the street. I bring this up because the older I have gotten, the more I appreciate a good venue. I've gotten to the point in life wherein I'm not going to some dump in the middle of a crime-infested 'hood, just to see a concert. Screw that. I value my safety! So besides giving credit to Chris Isaak, I feel that the venue itself provided a great atmosphere, only making this concert even more enjoyable.
Back to the performance itself. . . there is one thing I need to also point out about this show—and probably many of Isaak's other shows—Chris Isaak is comical! Since I'd never seen him live before, I wasn't expecting that much banter and interaction with the audience. I've seen him be comical in films (specifically playing "Vaughn" in John Waters's A Dirty Shame as well as his self-titled TV show that was on Showtime about 10 years ago), but I had no idea about his on-stage wit! I was laughing my ass off at some of the stuff he was saying, and he incorporates the band into his quips as well.
At one point, early in the show, he started talking about Christmas songs, and insisted that the song he and the band were about to perform was a Christmas Classic that everyone would recognize and the band went into "Light My Fire" by the Doors. Everyone started laughing out loud! Chris stopped the band and was like "WAIT A MINUTE, GUYS!" and then band switched gears, and went into "Rudolph the Red-nosed Reindeer" (in a very Gene Autry-like style). Chris walked through the aisles serenading us with the song about Ol'Rudolph, much to everyone's delight. It was the only time this season I liked hearing Christmas songs. Directly thereafter, he appropriately went into a cover of "Blue Christmas" that would have even made Elvis shed a tear.
The show wasn't all Christmas-themed, but Isaak did do one of his own Christmas carols called "Christmas on TV," a tune filled with black humor about a truly pathetic character. The show also included some treasures from his discography like: "Notice the Ring," "Let Me Down Easy," "American Boy," "San Francisco Days," "Forever Blue," "Blue Hotel," "Baby did a Bad Bad Thing," and of course "Wicked Game" (which made every woman in the house wet, har har har!). He also included a few more Elvis covers in his set like "I Forgot to Remember to Forget" and "Can't Help Falling in Love." Other very notable covers he performed were Johnny Cash's "Ring of Fire" and probably the best version I've ever heard of Roy Orbison's "Pretty Woman."
All in all, this show was excellent, and just what I needed to get me through these holidays. It also allowed me the chance to do some serious live photography. I am quite happy with the results, and I hope you are, too!
[TABLE=34]