Published on October 31st, 2014 in: Current Faves, Feminism, Music, Music Reviews, Reissues, Retrovirus, Reviews |
By Hanna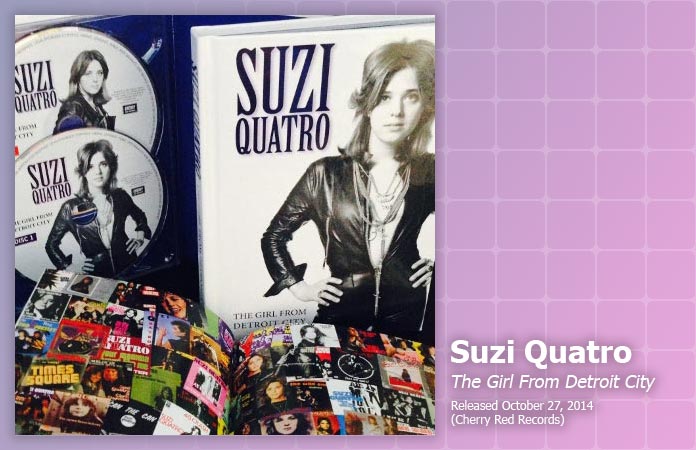 With Lynsey de Paul having passed away and Noosha Fox now running a restaurant, we only have Suzi Quatro to keep the flame of female Anglo glamrock alive, and I can think of no one who deserves to be its queen more than her. For all the acknowledgement that mainstream music criticism has given her, acknowledgement which is so often denied to female artists, she barely seems to care that she has it. In Performing Glam Rock, Philip Auslander's analysis of her subversion of the authenticity and masculinity of rock in both her gender performance and musical performance seemed almost too good to be true to me the first time I read it, and difficult to parse based on the German TV performances I knew of her. Only now, after hearing The Girl From Detroit City, do I realize that she's really even beyond what he describes.
Because, as this compilation shows, Suzi Quatro has never worried about attaining other people's standards, but has always taken risks, experimented, and taken advantage of the whole range of her talent. Furthermore, she has always done so in a way that seems completely and entirely fun, mocking naysayers and whatever else she feels like along the way. She doesn't just subvert norms of rock music in a subtle, gendered way, she does it overtly and even gleefully. She gains rock credibility, then does a musical, all the while covering music from all sorts of styles and periods. I really enjoyed that this compilation didn't gloss over bits of her career but gave a true impression of it.
This four-disc box set aims to give the full impact of of Suzi Quatro's musical career. Accordingly, it has music from every part of her career, from the 1960s songs with her sister, to the 1980s doldrums, to the hits of the 1970s and the 2000s comeback. The actual range and depth of the compilation is great, and there aren't many aspects that remained underlit or forgotten.
The four CDs are housed inside a book-sized cover, with a booklet sewn in the middle. The booklet is a bit of a wonder, containing a prose history of her life as well as a list of the songs on each CD with comments from the compiler and from Suzi Quatro herself. This was a lot of fun to read, but also very informative. It was good for checking facts, and for finding out more about songs I didn't know before.
The first CD covers the time period from her start with her band The Pleasure Seekers, up to and including "Your mama won't like me," and a couple of songs off Aggro-Phobia. That seems like an odd point to stop, but that's because there was a "lost" album from 1976, which was aborted as Mickie Most and Mike Chapman stopped working together, before Chapman moved to the US. Some songs from that album are included on Aggro-Phobia as well, marking the cut off point for this disc.
It's an interesting development to chart. There are three Pleasure Seekers songs, two singles, and one cancelled single. They're really interesting stomping '60s blues rock, especially "Light of Love," in which the chirpy, soulful '60s garage sound works well with Suzi's rough vocals.
After that, come the huge Chinnichap singles as well as a mixture of Chin/Chapman songs and songs written by Quatro and her guitarist/boyfriend Tuckey. The Chinnichap singles ("Can the Can," "48 Crash," "Devil Gate Drive," "Daytona Demon," etc.) are reliably great, although her own songs from this period, written with Tuckey, are also good. "Michael" is especially good, a song which wasn't released as a single in Europe but is still played on the radio here, as people like it so much. A lot of Chinnichap can be campy to the point of being goofy in the hands of other artists, but the particular blend of their songwriting and Suzi's playing and singing gives these songs a fierce edge, a mixture between fun and roughness.
This also shows in the more satirical songs. "Ain't ya something honey," in true female glamrocker fashion, bemoans an effeminate and useless boyfriend, while some other songs, like "I May Be Too Young," have a playful look at being a trashy girl. I was also pleased to find out "Glycerine Queen" is about an actual drag queen.
The second CD still has some Chinn/Chapman songs on it, leftovers from what would have been the next album, and Quatro/Tuckey songs, from the late '70s into the '80s. These are the songs which make Suzi Quatro still a staple of German and Dutch radio. It's easy to see why they have such a wide appeal, with a slightly more poppy style and bent towards power ballads. On the whole, it's not the greatest phase of her career, but there are still some gems in here, particularly the excellent "Hollywood" and "Ego in the Night," both biting satires—the former of people deluded by glamour, the latter of overly confident, douchey men.
After this there is a turn into a softer, more country style on songs from the album Main Attraction, as well as some songs for an album which didn't get released in 1983, as Quatro had lost her record deal. These are more or less in the same style, and the CD ends with a barmy and extremely '80s cover version of "Wild Thing."
The third CD is easily my favorite, both for the variety of musical styles it contains and its high quality. It might seem odd, considering how it covers the wilderness years, but this disc is where Quatro's range truly begins to show. It starts off with two songs from her 1986 run in Annie Get Your Gun. As it turns out, she has a great Broadway voice, very Betty Hutton in style but more expressive. The production of the songs seems a little too slick, though; Annie Get Your Gun should be loud and brassy. Yet the vocal performance is so good it doesn't really matter.
After this is a mid-'90s acoustic version of "If You Can't Give Me Love," which is a nice surprise, and another example of her experimentation in this period. The CD then goes back to a chronological order, with "Baby You're A Star," a swinging rock number mocking arrogant musicians, and one I'm proud of since it was written by Dutch songwriting wonders Bolland & Bolland. It's actually a shame there isn't more from the Oh, Suzi Q. album included here, since it's a very strong album. It's probably because it was only released in Europe, but honestly it deserves a wider audience. It was written with Rhiannon Wolfe, her songwriting partner at the time. Suzi really liked working with her, and it's some of the best work of her career.
After "Baby You're a Star" and the follow-up "Kiss Me Goodbye," there's a 15-year gap until the 2006 Back to the Drive album, produced by the Sweet's Andy Scott, which provides the next batch of songs. Some of the songs are also by Mike Chapman, and it's a fantastic mix of modern rock and retro glam. The selections from it are superlative, too, from thoughtful songs like "No Choice" and "I'll Walk Through The Fire With You," to fun rock like "Fifteen Minutes of Fame."
The tail end of disc three has some tracks off 2011's In The Spotlight, and some oddities like a Rihanna cover ("Breaking Dishes") which works surprisingly well as a fuzzy rock song, and an ABBA cover ("Does your mama know?") recorded for an RTL (German TV) special, performed wonderfully with Andy Scott. Then there's the cover version of Goldfrapp's "Strict Machine," which famously contains some lines from "Can the Can," to point out the tribute element in the song. It's rather gritty, but it works. (I always thought it sounded more like "Roxy Roller," but for all I know that was also based on "Can the Can.")
CD Three ends with "Girl From Detroit City," a remarkable, previously unreleased song, looking back at Suzi's career ("not bad for a girl") mocking some of the attitudes people have had towards her. Oddly, it's written by Chapman, but then again, he's witnessed so much of her life and career that maybe he has some special outsider insights.
The fourth disc has more rarities and oddities. The first two songs, "Curly Hair For Sale" and "Sugar Flash Rapper," are from the interlude between Quatro moving to the UK and finding her image. They're both really difficult to place, and oddly modern sounding. Following this are some covers and unreleased tracks from sessions from the '70s and '80s, and three songs from her time writing with Rhiannon Wolfe, including a demo version of "What goes around" which is better than the released version, having no backing vocals but more instrumentation. Then there's the world's creepiest cover version of "Warm Leatherette" from 1980 (Suzi: "I was indulging Mike Chapman's fantasies"), and a number of demos from a session in 2000 for the cancelled album Naked Under Leather. These are all fairly standard sounding rock songs, not really up to her usual level, but a nice way of winding down the compilation.
One of the great advantages of this box set, for people who already have a lot of Suzi Quatro's back catalogue, is the collection of rarities, demos, and unreleased tracks. That was wonderful to discover, and it's educational as an overview combined with her other work as well. The notes add a lot of information and insights.
On the whole, The Girl From Detroit City is well worth getting, either for a beginning fan who is familiar with some of Suzi Quatro's music but wants to delve further, or for hardcore fans who just want something extra, or something to make them think.
The Girl From Detroit City was released by Cherry Red Records on October 27.