Published on July 25th, 2014 in: Music, Music Reviews, Reissues, Retrovirus, Reviews |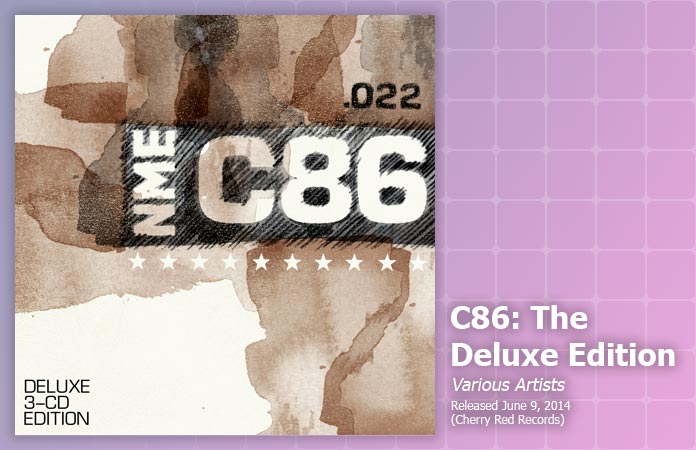 "C86 was introduced to the world on 3 May 1986 when the NME revealed that the next tape to be released in its highly-popular and long-running cassette series would be a compilation of indie bands." So begins Neil Taylor's extensive, exhaustive liner notes for the deluxe edition of C86, now expanded from its original 22 songs into three discs' worth of music. If you weren't around for the original version, The Deluxe Edition should give you hours of listening enjoyment as well as the excuse to delve into the discographies of dozens of bands.
Out of the impressive 75 bands included, there are a few names you've likely heard before, but perhaps surprisingly only a scant 14 are still around (and in some cases, have broken up and reformed at least once). If you're familiar with the later output of some of the more well-known bands, these early tracks might very well blow your mind a little bit.
As former NME writer Neil Taylor takes great pains to point out, it's probably best not to try and codify the sounds any of the bands on this box set into any one genre or more specifically, as part of a unified scene. Listening to the discs, this claim bears out. While there are certainly recurring styles of music within, the collection varies wildly.
There is, of course, that earnest, jangly, guitar-driven (and at times, twee) sound that would eventually come to dominate what people think of as Indie Pop, particularly in the early to mid-1990s. The opening track on the original tape, Primal Scream's "Velocity Girl" is perhaps the best example of this, and remains one of the best songs on all three of the discs. There's even an eerie resemblance to The Smiths in Mighty Mighty's "Law." Still, the legacy of angular, off kilter post-punk (for lack of a better term) had a far reach indeed, with bands like Age of Chance, Half Man Half Biscuit, McKenzies, Big Flame, The Shrubs, Blue Aeroplanes, and Noseflutes holding the torch high.
Some bands are, to echo Taylor's statement once again, completely unclassifiable. King of the Slums' "Spider Psychiatry" is one of the weirdest, most unlistenable songs I've ever heard (and that's saying something, although a perusal of their oeuvre on YouTube reveals they actually had some better tracks). More immediately appealing, but still genre defying, are Stump, Bogshed, A Witness, Pigbros, and Happy Mondays, whose "Freaky Dancin'" is as bizarre as you might expect.
It's not all oddities, however. The Mighty Lemon Drops, The Pastels, Close Lobsters, The Primitives, The Dentists, The Weather Prophets, That Petrol Emotion, and Treebound Story provide some stellar examples of why people steadfastly cling to the ideals of the DIY movement. With varying degrees of pop and polish, these songs are among the best on the collection. There's also the excellent "You Didn't Love Me Then" by The Hit Parade, which might be my favorite undiscovered gem out of all of the songs.
While you can hear the nascent stylistic flourishes of what bands like the aforementioned Close Lobsters and The Mighty Lemon Drops would eventually become, as soon as track 19 on disc two queues up there is no mistaking The Jesus & Mary Chain. "Inside Me" proves that the band's core aesthetic was in place long before the video for "Never Understand" aired on MTV and entranced American teens. It's also amusing to witness how incredibly different bands like Primal Scream, The Soup Dragons, and Pop Would Eat Itself sounded back in the day. Without looking at the track list, I would never have recognized them.
Despite Taylor's insistence that UK indie music during this time period wasn't sexist, it's disheartening how few of the bands include women as members (16 by my count). Without any further discussion on the matter, it's difficult to determine the reasons why. And if I had to choose, disc three is the weakest of the bunch, dominated by lightweight tunes that I can only describe as "so college radio" and the twee end of the indie spectrum that was never my favorite, even when it was current.
Still, there are enough terrific songs on this collection to make it worth your while, and for those whose formative years were heavily influenced by the bands included within, The Deluxe Edition is a must have, especially if your old cassettes have long since broken beyond repair.
C86: The Deluxe Edition was released by Cherry Red Records on June 9.