Published on July 11th, 2014 in: Music, Music Reviews, Reviews |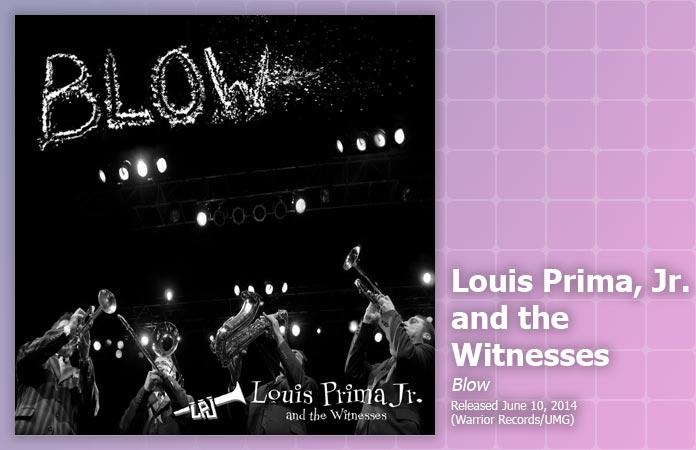 It's got to be tough to be in the same racket as your old man. If you were brought up in his footsteps and following his path, and heaven forbid, if you have the same name as him, then there's always going to be that comparison, that competition. Then imagine if you were a musician and you made the same kind of music that your Pops made, and that he was one of the greatest jazz/swing musicians of all time. You'd really have to bring your A-game always.
On their second release, Blow, Louis Prima, Jr. and The Witnesses sometimes do bring their A-game, and when they do, it's pretty amazing. Sometimes, however, they don't. And it's not.
That's not to say that Blow isn't fun. It's a mostly lively party album, full of big band sounds, jazzy horns, and energetic tunes. There are a few misfires, though, and there are times when the tempo just drags. They hit that not so sweet spot between exciting and "eh."
Things get off to a rollicking start with the title track, featuring a ripping sax solo from Marco Palos. The intensity doesn't let up on "Go Let's Go," a call and response with Hawaiian slide guitar flourishes and a passing resemblance to an Adam Ant song (but more on that later). The funky "Fame And Glory" is a thrilling and propulsive song that uses the phrase "Got the devil by the short hairs," which might be my new favorite line in anything ever. Its start/stop rhythm and wailing horns highlight what a tight band Louis Prima, Jr. and The Witnesses are.
Vocalist Leslie Spencer fronts the band on the classic ballad, "Someday." She has an outstanding voice, pure and rich. She goes full-on sassy on "I Just Wanna Have Fun." She's got a nice range, and such a soulful voice that it's a shame that this party song is a bit lackluster. If the tempo was a tiny bit quicker, or perhaps if the backup vocals were a little less . . . boozy? Unexcited?
Louis Prima is never far from his son's music, and on the digital duet, "That's My Home," he makes an appearance. Prima Sr.'s vocals and trumpet solo from the 1959 recording of "That's My Home" are combined with music from The Witnesses, and then joined by his son's vocals and trumpet. The interplay of the trumpets is lovely and delightful. The band's take on Prima Sr.'s fantastic "Robin Hood" doesn't add much, though it is a fun and giddy version.
A more ill-advised cover version is Adam Ant's classic, "Goody Two Shoes." When you consider how much "Go Let's Go" sounded like an Adam Ant tune, it's not surprising. This "Goody Two Shoes," though, is bloodless. It lacks the sly charm and wit of the original, and the horns are workmanlike.
Blow ends on a sweet note. The relaxed and dear love song "Those Million Things" swings in just the right way, with finger-snaps and elegance. It could be a Dean Martin song; Prima Jr. exudes that much charm.
Louis Prima, Jr. And The Witnesses have an excellent horn section, and an amazing vocalist in Leslie Spencer (not that Prima Jr. is a slouch, however. He's fine, but she's stellar). Blow is a fun record with moments of pure excellence that certainly does the Prima name proud.
Blow was released on June 10 by Warrior Records/UMG.