Published on May 30th, 2014 in: Current Faves, Music, Music Reviews, Reviews |
By Hanna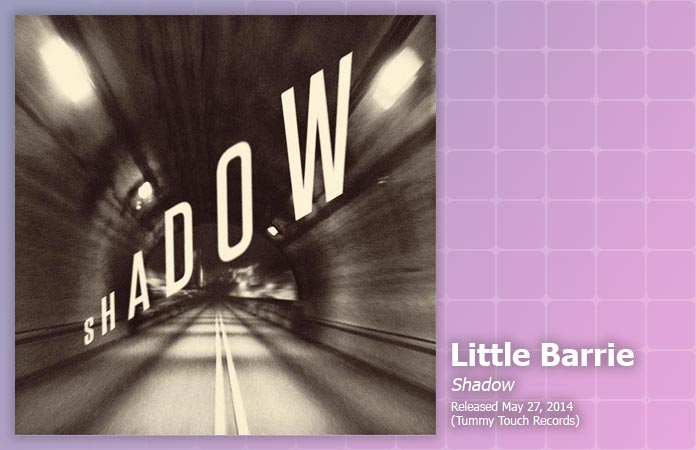 Shadow is the fourth Little Barrie album and their first release after a pause in activity for the band; their last album, King of the Waves, was released in 2011. In the meantime, several members of the band have been working for other bands, notably Primal Scream, while Virgil Howe has joined as drummer. These changes are audible in this new album, as Shadow is different from their previous albums.
While Little Barrie have always been a garage band, Shadow reminded me more of '60s jazz-inspired rock, from bands like Soft Machine or The Monks; or even '60s-inspired '90s grunge music. It therefore fits quite well into the current musical trend of '60s psychedelica revival, which has produced bands such as Temples and The Wytches. This is reflected in the drum sound and the fuzzy guitars, as well as the looser structure of the songs. Previously, Little Barrie's music had more of a rock or even soul influence, based more on hooks, and with clearer pop structures. Now, the songs sometimes have no verse/chorus structure, or meander from theme to theme. An example of this is "Realise," which uses guitar riffs and solos as the backbone of the song, and builds up into a long instrumental part at the end.
There is also a real change in the drumming to a looser, more jazz style, which I think is an especially important contributor to the different sound of the album. Vocals are also often turned down in the mix of the album, and the bass and drums turned up. With occasional dreamy background vocals, a lot of fuzz and reverb effects, and organ parts, some songs, like "Bonneville" or "Sworn In," could be straight from a '60s freakbeat or garage compilation.
However, the blues and garage rock sound is also still there, just a bit subtler. Songs like "Pauline," "Stop or Die," and "It Don't Count" sound more similar to Little Barrie's established style, with catchy guitar hooks and a laid back blues style. My favorite track off the album is "Fuzz Bomb," which is exactly what it sounds like. It's a great combination of '60s and '90s revival influence, full of heavy fuzz but with a '60s groove to it.
I've seen some people say they think Shadow will take the band into a more mainstream audience. This seems unlikely to me, because I think the heavier and fuzzier style of the album is more inaccessible than Little Barrie's previous work, but the fuzzy psychedelica revival does provide an environment in which it is possible.
Shadow was released on May 27 through Tummy Touch Records.
Tour Dates:
June 3 Sound Control (Manchester,UK)
June 4 King Tut's Wah Wah Hut (Glasgow, UK0
June 7 Sunflower Lounge (Birmingham, UK)
June 8 Louisiana (Bristol, UK)
June 10 100 Club (London, UK)
June 11 The Cockpit 2 ( Leeds, UK)
June 12 Bermuda Triangle (Brighton, UK)
June 13 Cellar (Southampton, UK)
June 16 Lucerna Music Bar (Prague, Czech Republic)
June 18 La Maroquinerie (Paris, France)
June 19 Rock Cafe (Hamburg, Germany)
June 20 Blue Shell (Cologne, Germany)
June 22 Magnet (Berlin, Germany)
June 24 Ideal Bar (Copenhagen, Denmark)
July 18 Oh See festival (Zurich, Switzerland)