Published on March 28th, 2014 in: Current Faves, Music, Music Reviews, Retrovirus, Reviews |
By Hanna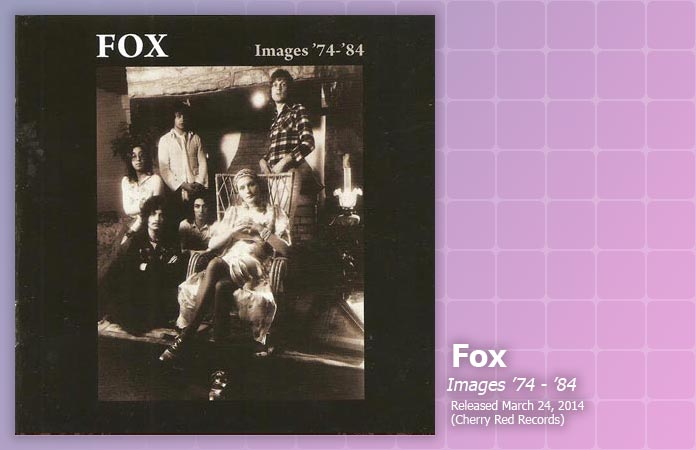 Fox is one of the few bands that have truly crossed over from junkshop glam into mainstream glam rock over the past decade or so. They always had people—notably Steve Wright—lobbying for them, but it wasn't until Cherry Red started re-issuing the albums and YouTube allowed them to be rediscovered that they took their proper place in the genre. That initial wave of interest has only become stronger, and with this compilation most of their known music is now available. The three albums (Fox, Tails of Illusion, and Blue Hotel) were previously re-issued by Cherry Red, and there have been a number of compilations by various companies, but none as comprehensive as this one.
The singles and the album tracks included here provide an overview of the best already-available material, with unreleased material and B-sides making the compilation interesting to established fans. Though I think the quality of the recording and the selection of the tracks are very good, there are several things that are confusing about the way the compilation was set up.
The compilation is divided into two CDs. The first CD is called A's & B's and the second has no name. The first CD, true to what the press release states and to its title, has all the singles and nearly all B-sides on it. As far as I can tell based on the press release and my own knowledge, the second CD is made up of album tracks, some B-sides, and a bunch of unreleased tracks. The booklet has a list of other compilations, according to which the unreleased tracks were also on a 1996 compilation by Wise Buy. The booklet also lists song authors and record companies, but since nearly all the songs are by the same companies and there are no years of release included, this doesn't really tell you that much.
Another puzzler is how exactly the solo career of Noosha Fox worked. In the liner notes, Kenny Young describes Fox as lasting from 1974 to 1977, and calls "Georgina Bailey" the last Fox single, though it was released under the name of Noosha Fox solo, not under the name Fox. "Georgina Bailey" and its B-side "Pretty Boy" are both included on this compilation, but the rest of her solo work isn't. I'm guessing that this is because the rest of her solo work, in as far as it was known, was recorded later on and released via Chrysalis and Earlobe, while "Georgina Bailey" was released on GTO.
Also, in the list of their singles included in the booklet, the last Fox single is "My Old Man's Away" and "Georgina Bailey" is not listed. Where the band ends and the solo career starts is not explained here. Nor is the relationship clear between any of the unreleased material included on the second CD and her solo album, which was recorded but never released. Although I think that probably none of this material comes from the solo album material, there is no way to be sure. I've seen people argue that, e.g., "Captain of Your Ship" was intended for it so it's not beyond the realm of possibilities.
Finally, the dates of the compilation seem to have been chosen at random. I suppose it's nice to have a clean cut off date of a decade, but according to the liner notes, Fox stopped recording in 1977. The single released in 1981 is not explained anywhere, though it is listed and included, and what happened between 1981 and 1984 to make 1984 the cut-off date instead of 1981 is anyone's guess. There was (supposedly) another brief reunion in the early '90s which is not mentioned at all.
With an artist who is more generally known, this would not matter much, but in this case there are few sources of information and therefore reissues are quite important. I actually really love a number of the unreleased tracks and would very much like to know what they are. I (along with a lot of other people) would also love the chance to hear the Noosha Fox singles and solo album, and it would be great to have clarity about whether any of the unreleased tracks are actually from that album, or to at least know the relationship between the whole solo career thing and the band.
In any case, none of this takes away from the music, which is as brilliant as ever, and this is actually a great compilation judging from the material included. The first CD is the most accessible one and the one with the most consistent quality. It features almost all the singles and B-sides, and really shows how great a songwriter Kenny Young was and how well suited he was to the glam rock genre. The songs have a consistent sound even outside of Noosha Fox's vocals: quirky, poppy, glam rock with elaborate harmonies of overlaid vocals, and experimental elements such as the use of electronic instruments and musical styles from the Caribbean. The lyrics have a shared style as well: sometimes surreal and dreamy (for instance "Love Ship" or "The Juggler"), sometimes suggestive or mocking (such as the classics "S-s-s-single bed" and "Georgina Bailey").
Anyone familiar with the big singles will enjoy the first CD a lot, because basically every other song on it is as good as those singles, and I think this compilation will be worth buying for casual listeners on the basis of that alone.
While it's a bit more patchy in quality, the second CD has a lot of gems, including some of the best album tracks the band has done, such as "Red Letter Day" and my personal favorite Fox song, "Spirit." The unreleased tracks are a mixed bag. Some sound just like regular Fox songs, like "Almond Eyes" and "Model in a Leotard," and there are ballads like "Kupu Kupu." There is also a really beautiful cover of the 1945 standard "Love Letters." "Me Without You" is a country song for no reason and stands out for it, but the oddest song is the cover of "Captain of Your Ship," a song Kenny Young wrote for Reparata and the Delrons in the '60s. However, this is a weird experimental rave version, which I suppose could be 1981-1984, but really sounds more the late '80s or even early '90s.
There are also number of really interesting electronic songs that were taken from the 1996 compilation: "Dancing with an Alien," "Teyo," "Temple of Love," and "Torn Between Two Worlds." They are very different from all the other Fox music, and sound rather like '80s dark wave, Depeche Mode, or late '80s Duran Duran. "Teyo" features darker imagery, possibly about a drug trip, and an orchestral sound, while "Torn Between Two Worlds" has a heavy bass line and jungle influence. It seems a natural progression from glam rock to New Wave electronic music, and I think it is compatible with the style of the band overall. These songs were a great surprise, and it's a shame that they haven't had a wider release.
Sensibly, over the whole compilation, few Kenny Young-sung songs are included, although the ones that are there are fine. Noosha Fox's vocals are well known for their unique, drawling, Dietrich style delivery, but she also has a really powerful and clear voice when she sings in a more straightforward folk style on some songs. Her presence, diction, and way of performing add a lot to the sound, enhancing the humorous tone and adding a detached glamour without which I think the songs really wouldn't come across.
The material on this compilation is fantastic, and the selection is also good. It's just a shame there isn't more information included about where a number of the songs come from and the history of the band. But content-wise, this is an excellent compilation. If you're a casual fan you will enjoy the singles and B-sides, and maybe the unreleased material as well, and if you already have the albums you will love the B-sides and unreleased tracks included.
Images '74 – '84 was released by Cherry Red Records on March 24.