Published on March 21st, 2014 in: Current Faves, Music, Music Reviews, Reviews |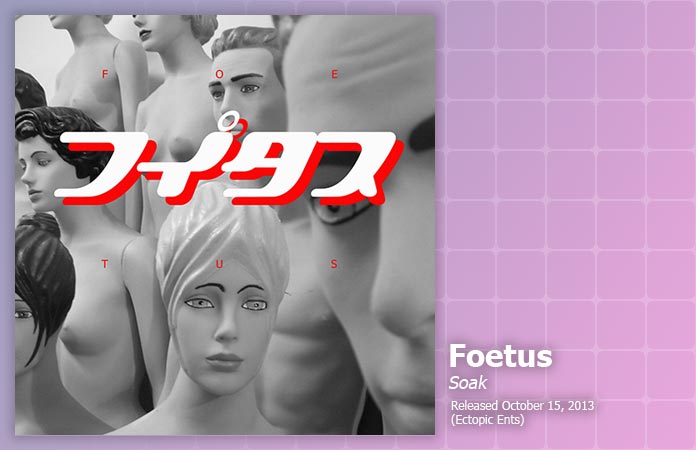 For another perspective on Soak, check out Julie Finley's review from December 2013.
"I can't control the wind and rain, but I control the thermostat."
—From "Kamikaze"
The newest Foetus release, Soak, is a companion album to a previous release, in this case, 2011's Hide (review). (Calling it Seek would have been way too obvious for a guy like JG Thirlwell. You have to work for it.) And like 2006's Damp (itself a companion to the previous year's Love), it's something of a Foetus sampler and not a straightforward "album" in Foetus terms. It's also the first Foetus release in a long time that I didn't love immediately. This is not to say that it's a bad album—far from it—but it takes a bit more time to sink in. Despite being so obviously a Thirlwell production (could he be mistaken for anyone else ever?) the songs are all quite varied in sound and scope with the connections between them slowly revealing themselves to be sly and subtle.
A much creepier album than the previous three, Soak features some of the more unpleasant, enigmatic characters in the new millennial Foetus repertoire, recalling the protagonists from 1988's Thaw or the Wiseblood releases. The songs touch upon somewhat straightforward topics like religion, climate change, terrorism, and suicide. If you're unfamiliar with JG Thirlwell's Foetus discography these may seem like the kinds of heavy subjects best avoided at family gatherings, but if you've been around a while, you'll understand that no matter how histrionic the music (and content) may seem, there's always The Thirlwell Touch of levity.
Soak gets off and running with opening track "Red and Grey and Black and White," with so many Foetus hallmarks distilled into a glorious two minutes and 46 seconds, it's almost hilarious: psychotic horns, snappy percussion, tribal drums, and chanting of the sort found in old African American spirituals that recalls the vocal exuberance of Foetus efforts like "Hauss On Fah" and "The Only Good Christian Is A Dead Christian." And the lyrics! There are so many layers—from the ongoing JGT color scheme to contract law to allusions to nationalism and probably more things that I missed—it's ripe for a good old fashioned, lie down in front of the speakers and ponder over it for a few hours-style deconstruction.
But not yet; there's no time. We're whisked into the sinister synth intro of "Pratheism" and the wordplay inherent in the title. It's a nonexistent word, possibly a portmanteau of "pray" and "atheism" with all the contradiction and ironic humor that implies: "we agree to disagree." As befits a song clearly disgusted by the oppressiveness of religion, there's a lot of Latin—some of it real (bona notabilia) and some of it just funny (narcoleptum diabetum). Musically, the song continues the spirit of much of Hide, with the contributions of opera singer Natalie Galpern punctuating biting lyrics about "glory holes" and the ongoing bloodshed between Israel and Palestine. (Maybe.)
Like an effective horror movie, "Alabaster" is both specific ("slightly breathing lying prone on the floor") and vague enough to be thoroughly chilling and the lovely vocal harmony that appears twice suffuses the song with surprising beauty, making it that much more malevolent.
The first of two brilliant covers on Soak (three if you count the reimagining of the Halloween theme), "Warm Leatherette" is jaw-droppingly great. It's one JG paying homage to another. It's not so much a cover as it is a hostile takeover, way more visceral and erotic than The Normal's original, itself an homage to Ballard's 1973 novel Crash. Rarely do a song and a performer synthesize so perfectly; it's like Daniel Miller wrote it under the influence of sonic prognostication.
If the opening piano of "Kamikaze" sounds familiar, that's because it strongly resembles Hide's "Paper Slippers." At first. The song is one of the best ones Thirlwell has ever done, sounding like the spiritual successor to Bowie's "Life On Mars" (music) and Cheap Trick's "Auf Wiedersehen" (lyrics). It's also the catchiest, most accessible Foetus song ever, and one fondly recalls a time that this could have been played on the radio and been joyously received. The whiff of melisma in the final word of the lyric "I regret I have one life to give" is unexpected and frankly, genius. After about five minutes the song transforms into something far more muscular, but the shift in tone is so perfectly balanced, it takes your breath away.
A different kind of breathtaking occurs in "Halloween/Turbulence," and with all the musical nods that Thirlwell has given soundtracks in the past, it's a wonder that John Carpenter's iconic theme hasn't shown up before now. With the distorted, robotic vocals conveying the stress of air travel and the insidious inefficiencies of the TSA, it manages to merge two different kinds of horror into one.
"La Rua Madureira," the Nino Ferrer tune sung from the point of view of a man whose lover dies in a plane crash, is well placed. Like the original, this one is sung in French, something we've longed for since Love's "Mon Agonie Douce." This version has a far more haunting, emotional impact than the original. The instrumental break actually sounds like a plane careening wildly through the sky and the final lyric is sung with genuine pathos.
Unfortunately, the next three songs—"Danger Global Warming," "Spat," and the Secret Chiefs 3 remix of Hide's "Cosmetics"—each increase in length, which makes the second part of Soak feel a bit draggy. "Danger Global Warming" is a "reworked version" of Thirlwell's original contribution to the project of the same name, which was itself an interpretation (or "recycling" according to versions from other contributing artists). Despite the temporal issues, there is a tie-in with the two previous songs, this time in the form of air travel and carbon footprints.
It's a shame that the ambitious "Spat" feels a bit buried between the surrounding songs, because it's another one that deserves a thorough unpacking. The narrator is not only unreliable, but also thoroughly unpleasant ("if it bleeds, it breeds"). You must appreciate an intentional malapropism like, "don't burn your bridges before they've hatched." The maddeningly familiar but unidentifiable instrumental chorus is the kind of earworm that will produce a lightbulb moment at some point in the future when I hear whatever its borrowed from, but there's a distinct Jerry Fielding vibe going on.
The remix of "Cosmetics" is actually slightly shorter than the original on Hide, with the guitar parts amped up and Abby Fischer's vocals pushed to the background. It's a fine interpretation, but I still prefer the original.
Soak ends with another seeming portmanteau in "Mesmerin," which blurs the distinction between "mesmerize" and "memory" and possibly the benzodiazepene Mesmerin, with an eerie description of the effects of Ativan, Xanax, and their ilk: "Live your life thru your dreams but the body is numb." The repeated "la la la" is appropriately spooky and somnambulant, somewhat like the theme to Rosemary's Baby.
Like all Foetus companion albums, Soak has something for everyone: long time fanatics, those who only got into Thirlwell because of his work scoring the Venture Bros., and music junkies who crave something out of the ordinary. It can be challenging listening, but like the rest of Thirlwell's oeuvre, the payoff is spectacular.
Soak was released on October 15, 2013 via Ectopic Ents and can be purchased on Foetus.org.