Published on January 10th, 2014 in: Best Of Lists, Comics |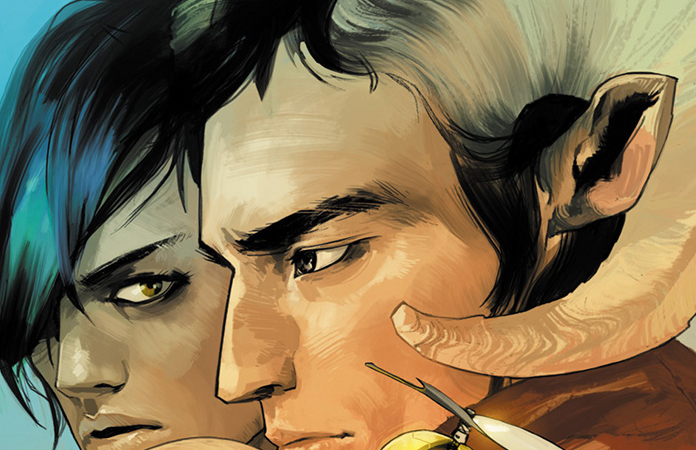 Though there's been a lot of gloomy talk about the state of the comics industry, I actually find myself overwhelmed by the number of good comics I'm interested in reading. So instead of doing a straightforward best of list, which I admit I'm terrible at anyway, here's my list of best comics of 2013 by category.
Best Comics Grounded In A Painful History
Rep. John Lewis, Andrew Aydin and Nate Powell, The March, Vol. I (Top Shelf, 2013); and Gene Yang's two-volume graphic novel, Boxers & Saints (First Second, 2013)
In The March, US Congressional Representative John Lewis shares his experiences in the Civil Rights movement, from sitting-in at lunch counters to the Selma to Montgomery March, where Lewis was beaten by police on the Edmund Pettis Bridge. The story shifts between Barack Obama's 2008 inauguration and events from Lewis's life and American history. It also reveals Lewis's fondness for chickens, which just makes me way too happy.
Gene Yang's Boxers & Saints presents the incredibly painful history of The Boxer Rebellion in very human terms. Boxers tells the story of Bao, a young boy inspired by the heroic tales of Chinese Opera to become a hero himself. He begins by fighting Christian bandits and goes on to invade Beijing in an attempt to drive the Eight Nation Alliance from China. Saints follows Four-Girl/Vibiana, a young girl who was never named by her family. Vibiana is not certain what she wants to be and converts to Christianity in an attempt to become the true "devil" her grandfather considers her to be. This story empathizes with both characters and their choices in the overwhelming and contested history of foreign influence in China.
Best Comic That I Am So Glad Exists
Brian K. Vaughan and Fiona Staples, Saga (Image)
Brian K. Vaughan and Fiona Staples's Saga has been going for just over a year now, but it remains always and constantly good. If you don't have a have a particular genre affiliation or if you like genre bending and science fiction, you might want to read Saga. Two soldiers on the opposite side of a war fall in love and have a child. That might sound saccharine, but it is, in fact, amazing. Saga has a panel of a robot prince (Prince Robot IV) reading a romance novel on the toilet. In many ways, this is an excellent synecdoche for Saga.
Best Returning Comics
Neil Gaiman and J.H. Williams III, Sandman: Overture (Vertigo) and Kurt Busiek and Brent Anderson (with Alex Ross), Astro City (Vertigo)
Neil Gaiman is writing new issues of Sandman and J.H. Williams III is doing the art. I only have the first issue but that collaboration is so promising that I'm going off half-cocked and putting it in this here list. Neil Gaiman is Neil Gaiman. And Williams's work on Batwoman (DC) and Promethea (America's Best) was so lush and phantasmagoric, I really can't think of a more perfect pair to tell more stories of the Lord of Dreams.
Astro City is a celebration of superhero comics and their history. The stories center on the titular city, which attracts superpowered beings like nobody's business. And it reads like a love letter to supehero comics. Though there is a lot of continuity, it's not intrusive. You can spend all your time figuring out the complex history of Astro City and its heroes and villains, or you can enjoy different stories, told in different styles or genres. I'm glad Astro City's back.
Best Comic That Is Ending
Joe Hill and Gabriel Rodriguez, Locke & Key: Alpha and Omega (IDW Publishing, 2013)
Locke & Key is the story of the Locke family and their ancestral home, Keyhouse in Lovecraft, Massachusetts. Special keys open different doors in Keyhouse and have different effects. One lets you pass through a door to anywhere you want to go. Another transforms you into an animal. Like all such families and houses, there are secrets and history that have been forgotten. It's well grounded in character and it trades more in dread and horror than fright. Also, it looks fantastic. The whole story is available in collections now, so it is a good time to pick it up.
Best Comics with Teenage Girls who Come to Terms with Their Sexuality while Sitting in the Bathtub
Julie Maroh, Blue Is The Warmest Color (Arsenal Pulp Press, 2013); and Matt Fraction and Chip Zdarsky, Sex Criminals (Image)
In Blue Is The Warmest Color, Clementine and Emma fall in love when they pass each other on the street. Clementine isn't so sure about her feelings and Emma isn't so sure about Clementine's feelings, either. It's definitely melodrama familiar to anyone who's read a Lesbian romance novel, but it is gorgeous melodrama.
Sex Criminals is pretty much what the title announces. Suzie and John have discovered that their orgasms stop time. Once they meet up, Suzie and John get to thinking what they can do with this power.
Most Interesting Super People Comics
Jeff Parker and Jonathan Case, Batman '66 (DC); Matt Fraction and Mike Allred, FF (Marvel); Matt Fraction and David Aja, Hawkeye (Marvel); and Kieron Gillen and Jamie McKelvie, Young Avengers (Marvel)
Parker and Case bring back 1960s/Adam West Batman, which is already ginchy enough, but Case's art is fabulously Pop.
Like all Fantastic Four comics, FF deals with family, but in a much less traditional way. There's a Trans-Mole-girl, a floating disembodied Mole person head, Atlantean fish people, a boy destined to be a supervillain, She-Hulk and. . . you get the idea. As a villain tells them, "You pale before our heteronormative, cisgendered classification of family!" I love its Trans-positiveness and I love Mike Allred's art.
Hawkeye is a very pretty comic about Hawkeye Clint Barton on his days off from the Avengers. He has trouble with his landlord, tries to mentor the other Hawkeye, Kate Bishop, and picks up a stray dog who loves pizza. Also, it's pretty and has interesting layouts and great coloring by Matt Hollingsworth.
Young Avengers is a lot like if the cast of Gillen and McKelvie's Phonogram had superpowers instead of magical powers—and never made it to the club because they were fighting alien invasions and such. If you haven't read Phonogram, Gillen brings a love of music, fun, clever dialogue, and some fine Queer representation to the world of superpowered young people. Plus, Young Avengers has Kid Loki and Kid Loki is a hoot.
Most Charming Thief
Paul Tobin and Colleen Coover, Bandette (Monkeybrain/Dark Horse)
Bandette is the perfectly charming story of a young thief, Bandette. If you enjoy derring-do, ramen, scooters, fencing, French things, and street urchins battling against injustice, you will very likely enjoy Bandette. It's available in single issues digitally and issues #1 through 5 are collected in a hardcover edition published by Dark Horse.
Best Children's Comics
Ben Hatke, Legends of Zita The Spacegirl (First Second)
Legends of Zita The Spacegirl is the second of a series of graphic novels about Zita, a girl from earth who ended up trapped on an alien planet She's searching for a way back home, but, in the meantime, she's become a hero. In Legends, she's gotten so tired of fame that she lets a robot take her place at an event. Unfortunately, the robot really likes being a hero. This is another incredibly charming book.
I'm also going to mention Boom Studio's Adventure Time franchise here. Ryan North's main Adventure Time book is consistently imaginative and entertaining. The secondary titles (Fiona and Cake; Playing with Fire; Marcelline and the Scream Queens; Pixel Princesses; Candy Capers) have been featuring a lot of indie and webcomic artists/writers and a whole lot of female creators.
Best Comic I Would Never Expect To Buy
Gail Simone and Walter Geovani, Red Sonja (Dynamite)
I just never thought I would buy a Red Sonja comic, but then Gail Simone wrote one and I really like it. If you want barbarian stories without the painful sexism or racism, here's a comic for you.
Best Comic Giving Me The Sense That Hell Is A-Coming
Kelly Sue DeConnick and Emma Rios, Pretty Deadly (Image)
I am a total sucker for Weird Westerns—Westerns that mix in a little horror with their gunfighters of questionable loyalty and bandits. In Pretty Deadly, Death had a daughter named Ginny and if you have been wronged, you sing her song and she will come avenge you. What could possibly go wrong? Jordie Bellaire's colors are lovely and Rios's fine linework reminds me a bit of Akino Kondo and Yun Mi-Kyung's work.
Best Comic About Vampires
Scott Snyder and Rafael Albuquerque, American Vampire (Vertigo)
I also really like flappers. American Vampire has both Weird Western elements and flappers as it follows a new breed of vampire from the old West through 1920s Los Angeles and into the 1950s. You just can't beat a vampire flapper.
Best Comics So Wrong They're Right
Art Baltazar and Franco, Itty Bitty Hellboy (Dark Horse, 2013); and Roberto Aguirre-Sacasa and Francesco Francavilla, Afterlife with Archie (Archie Comics)
Baltazar and Franco made these really cute kids comics for DC—Tiny Titans and The Superman Family. They were entertaining, clever, cute, and paced almost as a series of daily strips. DC being DC, they canceled both. So what did Baltazar and Franco do? They teamed up with Mike Mignola and Dark Horse to write a very cute, kid-friendly comic about the characters of Hellboy and B.P.R.D. And, by Hecate, Itty Bitty Hellboy works.
Like DC and Marvel, Archie Comics has been struggling with having a long legacy. And Archie has a central dynamic that was seemingly unchangeable—the eternal love triangle of Archie, Betty, and Veronica. Except they decided that instead of treating this as a problem and "rebooting," they'd riff on it. So some very interesting things have been happening at Archie Comics in the last five years or so. The most recent instance is Afterlife With Archie, a very adult Archie comic in which Riverdale is overrun by exceedingly gory zombies. And it works. Archie and old 1950s and 1960s horror comic sensibilities work together. And Francesco Francavilla's artwork is, as always, gorgeous—though it really is pretty gory. Seriously, not for young children.
Comic I'd Most Like To See Made Into An Animated Series
Kurtis J. Wiebe and Roc Upchurch, Rat Queens (Image)
The Rat Queens are an all-female party of adventures in a small town. They cause a lot of trouble and they get into a lot of trouble. The comic reads like the best imagining of a night of role-playing games, one played by silly people. With its crass anachronistic (as if that makes sense in a fantasy setting) jokes and banter, its plotting and snazzy drawings, I'd just really enjoy watching this on Adult Swim or FX. And not just because I really like the idea of a cleric raised in a Cthulhu-esque cult who's lost her faith but still has her powers. But maybe because I really like her Cthulhu-esque cursing.
Best Nemesis
Dr. Dinosaur from Brian Clevenger and Scott Wegener, Atomic Robo: The Savage Sword of Doctor Dinosaur (Red 5)
Dr. Dinosaur is a dinosaur superscientist time-traveler who has come from the past to remove the blight of mammalian idiocy from the earth—using crystals. That's good enough for me.
Carol is Evil Overlord at The Cultural Gutter and editor of the TIFF Midnight Madness and Vanguard Programme Blogs. She's also a proud agent of The Mysterious Order of the Skeleton Suit and brings the wrong on her own time.