Published on November 25th, 2013 in: Current Faves, LGBTQ, Music, Music Reviews, Reviews |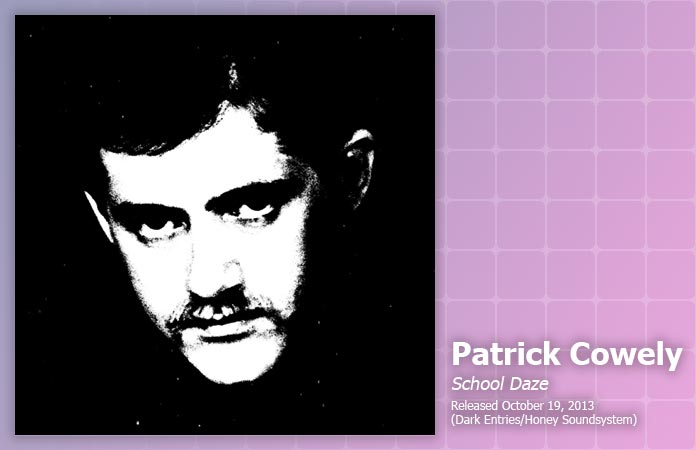 As a big disco fan, I'm ashamed to admit that Sylvester is not a name I mention when discussing my favorite tunes of the genre. "You Make Me Feel (Mighty Real)" and "Do You Wanna Funk" are two of Sylvester's biggest hits and besides being fantastic tracks, have another thing in common. They were both composed and produced by Patrick Cowely.
Cowely, who played drums in bands in the Rochester, NY area before studying English at Niagara University and University at Buffalo, went on to study music at City College of San Francisco. His concentration? Synthesizers. He was one of four students in the Electronic Music Lab, created by faculty member Jerry Mueller.
Cowely's official biographer, Daniel Heinzmann, notes what kind of technology Mueller and the students at the Lab had to work with:
At the time there were only three brands of synthesizers available: "Moog," which was the name that most people associated with music synthesis and which was expensive, "Buchla," also expensive, and "Putney," made in England and relatively cheap. So they bought a "Putney"; it had a pin-matrix instead of patch cords, but it worked quite well. Later, they switched to an E-mu system (which Patrick used) and finally to a "Serge" synthesizer, which was, and still is, excellent; It's the only analog piece of equipment left in the City College's digital studio nowadays.
This gives an indication of the level of mastery Cowely would soon attain on synthesizers. Says Mueller:
"Patrick was a master of the E-mu system, but he did it intuitively. Everyone else could talk the lingo: 'This oscillator is modulating the filter.' but Patrick couldn't tell you how he got his sounds; he just did it. One day, I came into the studio and heard a tune called 'A White Shade Of Pale.' I assumed Patrick was playing a tape, but it turned out he'd synthesized the whole thing! Not an easy thing to do!"
It's this kind of expertise and ingenuity that led to Patrick helping to create what would come to be known as Hi-NRG—essentially disco without a funk component. This also led to Patrick working with Sylvester in the late 1970s and continuing to develop his own unique style, known as "The San Francisco Sound."
Cowely would have additional success under his own name with tracks like "Menergy" and "Megatron Man" rising to the two top spots on the Billboard Hot Dance Music/Club Play charts in 1981. That same year, gay porn producer John Colleti offered Cowely the opportunity to contribute music to some of the Fox Studio films. Coletti "used a variable speed oscillator to adjust the pitch and speed of Patrick's songs in-sync with the film scene." This is what comprises School Daze.
The music found on School Daze was not written specifically for the Fox Studio films, but was drawn from Cowely's foray into the experimental throughout the 1970s, with his "collection of synthesizers, modified guitars and self-constructed equipment." Although it shares a kinship with the dance hits he wrote for Sylvester, School Daze is far more avant garde.
The heavy keyboards and aggressive beat of "Zygote" will probably bring Giorgio Moroder and Harold Faltermeyer to mind, but "Mockingbird Dream" sounds nothing like either. It starts with an ominous vibe, with layers of sound revealing and then hiding themselves as the music progresses. Still, there is a soothing melody atop everything else and a definite New Romantic feeling.
"Nightcrawler" is absolutely sinister, featuring a synth like the one used in Japan's "The Experience of Swimming" (1980) to create a similar underwater feeling. The end introduces drums and tambourines as well as a more steady rhythm. On the other hand, "Pagan Rhythms" is as jarring as "Nightcrawler" is seductive, with distorted, repeated percussion.
The intro to "Seven Sacred Pools" sounds like Pink Floyd's "Echoes" or like the score to a particularly eerie sci fi movie. It then transforms into something more hypnotic and pleasant featuring a consistent melody that is made manifest through various types of electronic instrumentation before vanishing into a more freeform series of sounds.
The title track, "School Daze," is extremely funky and raunchy, with what sounds like sampled vocals, while "He's Like You" includes instruments akin to xylophones or steel drums and gets nearly atonal about halfway through.
A juice harp with a whirring noise like a helicopter in the background introduces the next track, "Journey Home," before a steady beat, punctuated by blasts of synth and twinkley noises in the chromatic scale, comes into play. A melody seeps in after about three minutes.
"Out of Body" is another unsettling track, its beginning sounding like spaceships landing or an alien war, until a new melody introduces itself halfway through. This is what I want playing if I ever have an out of body experience.
In "Primordial Landscape," piercing noises introduce ten minutes of truly atmospheric sound; you can hear the spaces between the noises. There's a twangy, bassy melody with a great chord change, then percussion and some glitchy bits. There's yet another melody that echoes the original one towards the end.
With the final track, "Tides of Man," synth sounds similar to those on "Nightcrawler" show up in the beginning, but are far more insistent and spooky, as they increase in volume and take over the other noises.
Sadly, the same year that Coletti approached Cowely to contribute music to the Fox Studio films, Patrick would be hospitalized for a mysterious illness that would later become known as AIDS. Despite his illness, he continued to write, produce, and record, even landing one more hit for Sylvester with 1982's "Do You Wanna Funk." He would pass away on November 12, 1982 at the age of 32. It's a tragic ending to a fascinating story. One can only speculate what amazing music Cowely would have continued to create if he'd lived.
Patrick Cowely's journey is as fascinating as the one you'll take listening to School Daze, and hopefully, the music within will introduce others to his ingenuity.
School Daze was released on a double vinyl album with a gatefold sleeve by Dark Entries and Honey Soundsystem on October 19, which would have been Patrick's 63rd birthday. All proceeds from School Daze will be donated to the San Francisco AIDS Foundation, who have been committed to ending the pandemic and human suffering caused by HIV since 1982. For more on Patrick Cowely, including his other musical endeavors, please visit the Tribal Rites website.