Published on November 12th, 2013 in: Current Faves, Music, Music Reviews, New Music Tuesday, Retrovirus, Reviews |
By Hanna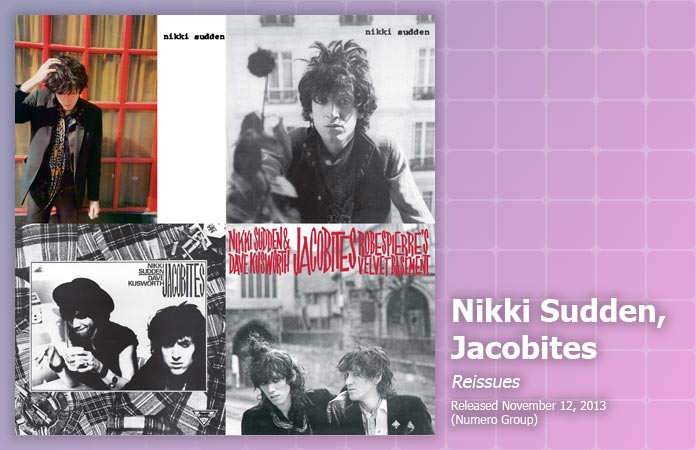 The re-issue of these four albums is part of a seven-album Nikki Sudden oeuvre re-issue from Numero Group. This, the first part, consists of the first two Nikki Sudden solo albums (Waiting on Egypt, Bible Belt), and the first two Jacobites albums, (Jacobites, Robespierre's Velvet Basement). Together, they give an overview of Nikki Sudden's work directly after Swell Maps.

Nikki Sudden, Waiting on Egypt (1982) and Bible Belt (1983)
Moving through these albums chronologically, the first two solo Nikki Sudden albums are more similar to his Swell Maps work. On Waiting on Egypt, his first solo album, this similarity is the strongest. However, it is also a very blues-influenced album, and that, combined with the saxophone parts, make it sound a little like X-Ray Spex sometimes. It's also the more experimental of these two solo albums. Songs mostly veer between rough punk styles ("New York," "Stuck on China") and a garage sound ("Channel Steamer," "Ringing On My Train"). "Knife My Heart" even has a drum solo towards the end, while "Back to the Coast" has haunting background harmonies.
The lyrics are complicated, dealing with all sorts of issues, from music history and the selling out of '60s idealism ("Johnny Smiled Slowly"), boredom ("Back to the Coast," "Ringing On My Train") to emotional distance in a relationship ("Fashion Cult"). There are also some more ethereal songs with imagery from history and mythology, like "Stuck on China" and "Channel Steamer." "Channel Steamer" is my favorite song on this album, because it has rich metaphysical lyrics but also more emotionally direct parts, and a 1950s retro feeling in the music which suits the words.
The Bible Belt album is less sophisticated. The main themes in the lyrics are loneliness, boredom, and a feeling of exile. I find them quite sparse and easy to analyze, but I think the album suffers as a whole from a lack of similar cohesive musical themes. Sometimes it moves towards being folk, sometimes towards blues styles, sometimes into very odd places, which is where some of the best songs on this album come from. This was apparently Nikki Sudden's first collaboration with Dave Kusworth (Subterranean Hawks), but I couldn't find a lot of his musical influence on the album.
"The Angels Are Calling" has a dialogue with a female vocalist (Lizard, a.k.a. back-up singer Max Edie), which I think would have been more successful had it been either more epic (in a "Summer Wine" kind of way) or more folk. The two voices are very dissimilar and this makes it sound confused. "Missionary Boy" has the same problem.
This album does have some memorable songs, such as "The Road of Broken Dreams," which is a reliable blues rock song with really superb rhythm guitar parts. "Bethlehem Castle" is a return to punk, with wonderful, biting lyrics about being fed up: "Don't you ever want to sleep with every single boy? Don't you ever want to sleep with every single girl? I know I don't."
The amazing "English Girls" is weirdly like a Sailor (the '70s novelty glamrock act) song, with a lurching calypso tempo and lyrics about girls, girls, girls, in foreign places, except the narrator is bored and annoyed by it all rather than excited. "Six Hip Princes" is a funk song, and a great one, too, in which the female vocals really work. This also goes for "Chelsea Embankment," which is more of a folk ballad, and "Cathy," which also features a mellow, bluesy saxophone.
Jacobites, Jacobites (1984) and Robespierre's Velvet Basement (1985)
The two Jacobites albums that have been re-issued—Jacobites and Robespierre's Velvet Basement—are both excellent. I have wanted to hear them for years, because I was really intrigued by the songs I'd been able to get from them. They are very hard to find, and this was the first time I've been able to listen to both these albums in their entirety. Now, I think that they are probably the best things Nikki Sudden ever did.
Partly, this is because I love Dave Kusworth's guitar work and song writing, which is emotionally evocative with an old school, rambling blues style. He pairs well with Nikki Sudden's distinctive, faltering vocal style. On these albums, I think you really hear his influence, which I didn't really find on Bible Belt.
Jacobites has themes of loss, with lyrics that concentrate on water (rivers flowing and running dry, rain falling), moving from place to place, roses, and heartache all linked together to express feelings of separation and wandering. The musical sound is mostly mellow blues-rock in a meandering style, relying on repetition and instrumental improvisation rather than rock song structure.
Some songs lean towards blues-influenced glamrock, like "Kings and Queens," which is lyrically and musically similar to a Mott the Hoople song, including its potential queer reference in the lyric and title ("Kings and queens are out tonight/riding their black horses in the night"). "Little Bird" is unexpectedly tender and optimistic, while "For The Roses" deals with being the subject of family disappointment ("And even my wife thinks I'm a failure"). "Hurt Me More" has a long, really cool guitar battle at the end, while "Silver Street" has a reference to "moving out of the Bible Belt", which seems like a reference to the Bible Belt album, and one that betrays a personal sense of moving on.
Robespierre's Velvet Basement is lighter in tone, almost jokey sometimes, with nonsense lyrics in songs like "Big Store" (another version of a song also on Jacobites). "Silken Sheets" is almost a normal power pop song, including catchy chorus and twinkly guitars. This kind of sound is also on "Hearts Are Like Flowers" and again on "Son of a French Nobleman," amplified with jaunty organ and grand, harmonized background vocals which swell towards the end of the song.
"he Never Believes" is more like an early Lou Reed track, and "Fortune of Fame" uses a '0s glamrock style with harmonicas and wailing guitar solos. The standout for me, though, is "One More String of Pearls", which has a more traditional blues rock structure and lyrics talking about disillusionment in a direct and personal way.
"All the Dark Rags" is a similar track, but more low key; that and a couple of other songs seem like they could just as well be on the Jacobites album, such as "I am Just a Broken Heart" and "Where the Rivers End." "It'll All End Up In Tears" is reminiscent of these songs, but it has more of an emotional punch than the others.
On the whole this is an album that richly deserves its cult status, featuring a greater variety of styles and stronger lyrics than the Jacobites album, while also further developing the style of sound already established on that album. I also enjoyed hearing Tyla's characteristic guitar work on some tracks.
The choice to re-issue these albums at the same time is a good one. Stylistically, the solo albums and the Jacobites albums do differ quite a lot, but it is a chance to see a true musical development. The solo albums will probably sound better to someone more into Swell Maps, or blues-influenced punk.
The Jacobites albums, compared to the solo albums, offer more variety, a warmer atmosphere, and more relatable lyrics. There is a feeling of romantic waste which emanates from everything on these albums, and particularly strongly on Robespierre's Velvet Basement. That is the best album in this re-issue series so far, and it's one of those albums on the favorite albums list of everyone who has a copy. If this re-issue doesn't revive this album for the mainstream, it will at least make it easier for people to listen to it, and on the original format.
The Nikki Sudden and Jacobites reissues are out today from Numero Group.