Published on November 1st, 2013 in: Book Reviews, Books, Current Faves, Music, Reviews |
By J Howell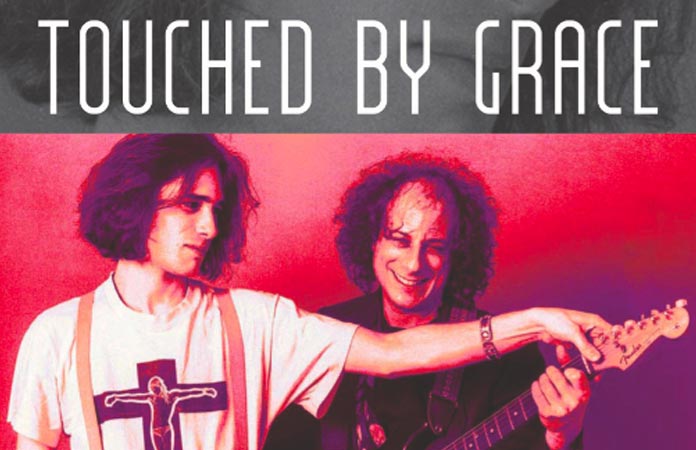 Gary Lucas duly notes early on in Touched By Grace that the book is neither a biography of Jeff Buckley nor Lucas himself. It is, however, a remarkable peek from Lucas's perspective of a brief, tumultuous period in the author's life, a time of promise and disappointment on a scale that seems overwhelming in retrospect. While the gravitas of the situation may not be readily apparent to non- (or even casual) fans of Buckley or Lucas, considering the lasting impact Grace has made on so many lives, Touched By Grace is an inside look at, frankly, kind of a big deal. Or at least a really big part of a big deal.
Touched By Grace is imperfect on a number of levels, but that may be part of its charm. The characters are imperfect, and it's one guy's side of a very interesting story, albeit one Lucas tells pretty well. That said—and no slight against Lucas intended—it IS his side of the story, the good, bad, ugly, and wonderful included. While readers may remind themselves that Buckley is no longer with us to defend or explain himself, on balance, Lucas seems pretty fair throughout the book.
Buckley uberfans may have a hard time accepting that their angel-voiced golden boy did some of the out-and-out dickish things Lucas recounts in Touched By Grace. Lucas bares his own faults and failings pretty much equally though, and reminds us of Buckley's relatively young age at the time of their falling out. There are places in which Gary Lucas comes across as perhaps a little more prickly than he really is: in text, inflection is sometimes lost, and hearing Lucas say some of the things he writes verbatim via YouTube clips makes a rather large difference. In the end, though, it's clear that Lucas loved Buckley very much, and cherishes their friendship and collaboration, warts and all.
It's interesting how much things have changed in the music business since the early Nineties, a period which most of Touched By Grace focuses on, particularly the seeming all-importance of the Major Label Deal, which is a recurring theme of the book. In fact, should one propose a drinking game in which everyone has a shot whenever that phrase rears its now-anachronistic head, you'd be plastered well beyond being coherent enough to read by halfway through the book. For readers who have come up in the post-CD age of the Internet, it may be a bit difficult to fully grasp the gravity of the Major Label Deal in the not-so-distant way back when of the music industry's former prevailing business model.
On the other hand, the now-famous Steve Albini rant against that model (entitled "The Problem With Music" but popularly known as "Some Of Your Friends Are Probably Already This Fucked") was making its initial rounds in the music world around the time Grace came out, or certainly within another year or two. To be fair, Lucas came up in a time when acts like Captain Beefheart—with whom he first came to recognition—could somehow make it onto a major label, but his disdain for independent labels at the time feels just a tad off-putting in the necessarily DIY present.
Speaking of majors, Lucas's recounting of his decade-plus work as a copy writer for CBS Records is enjoyable, as he coasts through the drudgery of a tedious day job perpetually stoned, heroically gaming the system a bit to perform with and briefly manage Beefheart from his office. Interesting aside: Gary Lucas is apparently responsible for dubbing the Clash "The Only Band That Matters" during his time at CBS.
Aside from (or concurrent with) his association with Buckley during the period recounted in Touched By Grace, Lucas recounts other associations that some fans of both Buckley and Lucas in his own right may have been unaware of, such as performing with Nick Cave, whom Buckley perhaps erroneously perceives a slight from. After Buckley essentially forced Lucas to fire the rhythm section of his band Gods and Monsters on what seems like a whim, Tony Maimone (most notably of Pere Ubu, Book of Knots, and current proprietor of the legendary Studio G in Brooklyn) joined on bass and former Lounge Lizard and Golden Palomino Anton Fier (and more recently, producer of Jim Campilongo's spectacular Orange) assumed drum duties. It seems like a small world, even in a place as big as New York City.
The complexities of creative working relationships, particularly in a community that from Lucas's perspective can be viciously derisive, compounded by the politics of big-business music, make for an interesting story. The tension inherent in dealing with a personality and talent as larger-than-life (and seemingly self-contradictory at times) as Jeff Buckley's, pitted against the glorious release that comes with creating truly moving, beautiful art together—Lucas calls it "going for the Godhead"—is what makes Touched By Grace a compelling read.
Touched By Grace: My Time With Jeff Buckley was published by Jawbone Press on October 25.