Published on October 28th, 2013 in: Current Faves, Music, Music Reviews, Reviews |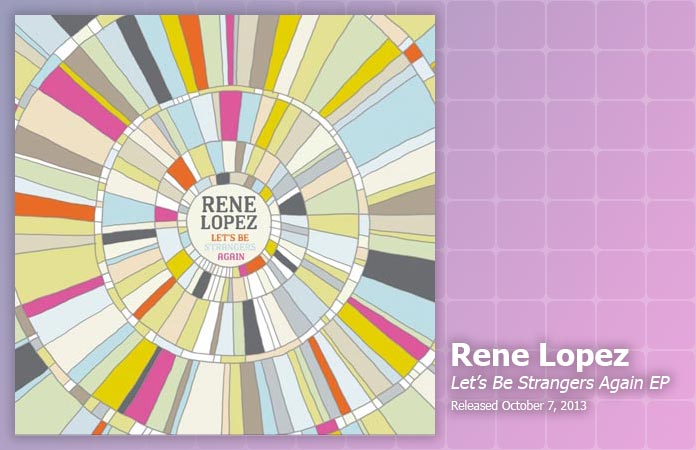 Could Rene Lopez be headed for Broadway? A cursory listen to his EP, Let's Be Strangers Again, suggests a passing familiarity with contemporary show tunes. He writes songs with melodies so memorable you'll be singing along and dancing down the street before the song has ended. His strong, sure baritone ably catches the ear, and his songs encompass conga drums, polyrhythms, and horn charts that suggest both Fania and 42nd Street. The slick yet straightforward production gives the album an inviting sound.
Though Lopez's songs are accessible to tourist and Brahmin alike, he doesn't dumb down his material for a wider audience. He incorporates instruments and arrangements associated with 1970s Latin funk into pop songs in a way that both honors his heritage and makes these sounds accessible to mainstream listeners. The warmth of the production—which sounds as though it was recorded to tape—does a great job of bringing listeners into his world.
As a longtime session musician, Lopez has developed a wide musical palette and a great musical versatility that rings through these five songs. The closing track, "Let's Be Strangers Again," starts off as a mid-tempo rocker with an insistent rhythm, but lapses into a sprawling instrumental bridge replete with sitar, spiraling guitar solo, and a prayer-like spoken word track buried under layers of instrumentation. After a few minutes of weaving this atmosphere, Lopez and his band snap back into a triumphant final chorus.
Though he has a great gift for arrangements and works with a skilled band, Lopez's most useful skill is crafting songs that showcase his band mates' musical abilities without sacrificing his catchy melodies. The long instrumental interludes that open the songs—particularly "Don't You Change Your Heart"—are a testament to the great backing band with whom he's collaborated. His skill with putting a song together also comes through in his vocal arrangements, as with the undulating female vocal on the ballad "Midnight Love."
Let's Be Strangers Again gives a perfect showcase for Rene Lopez's musical acuity and the diverse array of influences he brings to the table. The polished presentation he puts forth on this EP gives it a larger-than-life feel that would translate well to the Broadway stage. Fans of Lin-Manuel Miranda's musical In The Heights would do well to check out Rene Lopez.
Let's Be Strangers Again was released on October 7.