Published on October 10th, 2013 in: Music, Retrovirus, Video |
By Julie Finley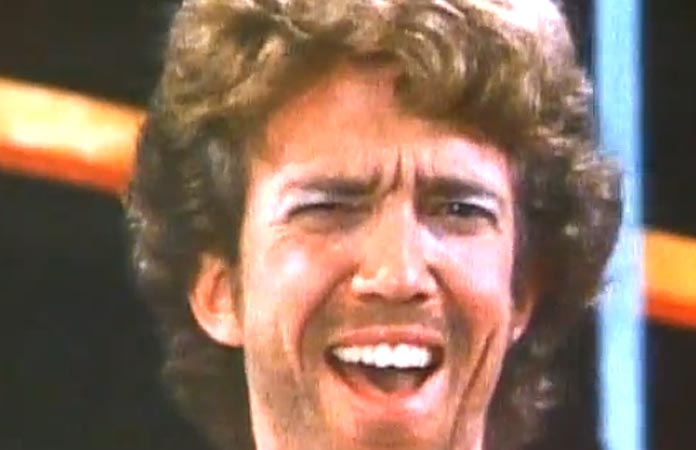 This is the fifth installment of a series of visual and aural assaults found on the web. My partner, Jim R. Clark, wrote the first four but since I am currently crippled due to a massive herniated disc in my lumbar region (and I go in for surgery soon), I have a laptop, and a lot of free time on my hands. I have taken the over the reins on this chapter, but to be fair, both of us have found these various videos in this collection. There are no specific genres here; this is crap culled from every toilet bowl!
1. CHP, "They All Lie and Cheat"
This beauty comes from the former lead guitarist of W.A.S.P., Chris Holmes. I am not sure why there is green screen in this video, but there is. There is so much here to find fault with, I don't even know where to start! I am also not sure why it is over six minutes long, but it must be his swan song . . . his epic disaster-piece. Lyrically, it's absolutely hilarious. Musically, the timing is off. The addition of the taunting female was also a nice touch.
2. Bob Welch, "I'll Dance Alone"
This ditty comes from a '70s loser named Bob Welch. When I go vinyl hunting, I always find more used copies of his records in the dollar bin than anything else, and by listening to this, it's pretty obvious as to why! I don't feel good about dancing on this guy's grave (since he passed away within the past few years), but . . . no shit you'll "Dance Alone" Bob! You look like Buffalo Bill from Silence of the Lambs with cirrhosis of the liver! Nice wig, too! Also, what is with the facial expression at 0:38 into this?
3. Mammoth, "Fat Man"
I guess this is fat-guy '80s metal? Oh, what a treasure! I am wondering how many metal-heads back in the '80s were sitting thinking, "FINALLY! A metal band that talks about being overweight! YESSSS!!!" This band is really proud of their obesity and lack of health. I suspect at least one of these guys is probably no longer with us.
4. Boys From Brazil, "Hot Stuff"
A cover of the Donna Summer classic, but done by the poor man's Bronski Beat! What more could you ask for? I don't think I've seen a singer so sullen, yet, begging for some! He doesn't look that ridiculous (except for the shoulder pads), but look how pathetic his bleating is! The drummer looks like a fill-in for the Culture Club, and the other guy is wearing enough pizzazz and accoutrements, that no one will probably recognize him. This one comes from Germany… and you have to wonder what Germans are more embarrassed by: the Holocaust . . . or this?
5. Complete, "Dream-ing"
Without a doubt, the best band EVER! Even the description of this video confirms this! The front man is amaz-ing and the musicians are just so in sync with one another!
6. Paul Lekakis, "Boom Boom Boom (Live)"
I'm surprised this wasn't already in prior lists, because this is one that Jim and I have been laughing hysterically at for years. It isn't an official video for this classic (I'm not sure if there ever was an official video for this), but it is a song that many of us have already heard. I first heard it in an AIDS/HIV PSA during the '80s that used to be featured on MTV (one of those classic scare-tactic PSAs). Anyhow, I had to include this because . . . just watch how spastic he is. Too much coke and bufu!
7. Butch Willis & The Rocks, performing "The Garden's Outside" and "The Girl's on My Mind"
Oh LUCKY YOU!!! You get two songs for the price of one! A true BOGO offer! This truly has to be seen, and is sadly, so underrated! Butch Willis & the Rocks are true virtuosos, and only a public access show in Forestville, Maryland had the sense to showcase such talent!
8. Silicon Dream, "Marcello the Mastroianni"
Apparently this is what happens when you splice the DNA of Cesar Romero (playing the Joker), with Taco, and with Amadeus: you get Silicon Dream. His Solid Gold dancers with the trumpets are a sight to behold.
9. Gino Vanelli, "Living Inside Myself"
When did Juan Epstein from Welcome Back Kotter cut a record? This over-the-top ballad truly has it all, when it comes to corniness! Gino Vanelli hails from Quebec, and according to this song, it's really hard to be him! Maybe it's just hard for him to maintain his hair, and he's making a mountain out of a molehill. Dude . . . just get some activator!
10. Kix, "Body Talk"
I'd be lying if I didn't admit to actually really loving this song. Too bad Kix didn't stay like this (a disco-tinged Cheap Trick-ish act), because this is actually really good. Very catchy, and sticks in your head. HOWEVER, the video. . . is what it is! Just watch. It's just so icky—jailbait meets Fame meets Fast Times at Ridgemont High.
11. Dow Jones, "Just a Techno Groove"
OK, so I guess Nasdaq wasn't as memorable of a name. Just call him Dow Jones, I guess! This one comes from Belgium, and Dow Jones looks like he's hosting a workout video, but hired both Kristin Scott-Thomas and Sean Young as back-up dancers/singers . . . and boy are they rocking the "Mom Jeans." So HOT!
12. Exile, "Kiss You All Over"
We've all heard this shitty song on the radio over the years, but did you ever know who actually did it, or what they looked like? Well, now you do, and I bet you were as grossed out as I was! I'd rather make-out with a pile of dog shit, then let that guy "kiss all over." YUCK!
13. Thor, "Keep the Dogs Away"
Speaking of dogs . . . He-Man (aka Thor) comes at you with a pack of them, as well as a pack of abs! I have to admit, I quite like this. This is not only unintentionally hilarious, but it's actually not even bad musically. Thor doesn't even have a bad voice, but he looks like he should be battling Skeletor!
14. Tigertailz, "Love Bomb Baby"
The video notes that this came out in 1990, and that is actually a bit too late for the wave of '80s glam metal, which is a shame because this one really should've been huge! This one is so beguiling! Tigertailz were from Wales, and they had all of the energy and the right look. They could've been a big deal had this come out in 1986. You'll be humming this one for the rest of the day, I guarantee it!
And finally . . .
15. Samantha Fox, "Touch Me"
You have probably already seen this video before, but when is the last time you've watched it? Everything about this is the epitome of cringe-inducing. Pay attention to her band, especially the guitarist who is really into it and the fringe on the keyboardist! They all do a synchronized dance, which is nothing more than turning from one side to another. Then we have a Martin Gore/Limahl hybrid get up on stage and grind up against her all haphazardly. At 2:35, we see Samantha groaning into the camera looking like she's been dropped on her head. This was really controversial in the '80s, and I am trying to figure out why, because it was more comical than sexual.
And there you have it. Fifteen more videos to laugh at. This should keep you all entertained for a while. I am not sure if there will be another edition to this, because YouTube is blocking and removing so many videos as of late, I hope these will all still be viewable by the time you get around to watching them!