Published on October 8th, 2013 in: Book Reviews, Books, Current Faves, Feminism, LGBTQ, Teh Sex |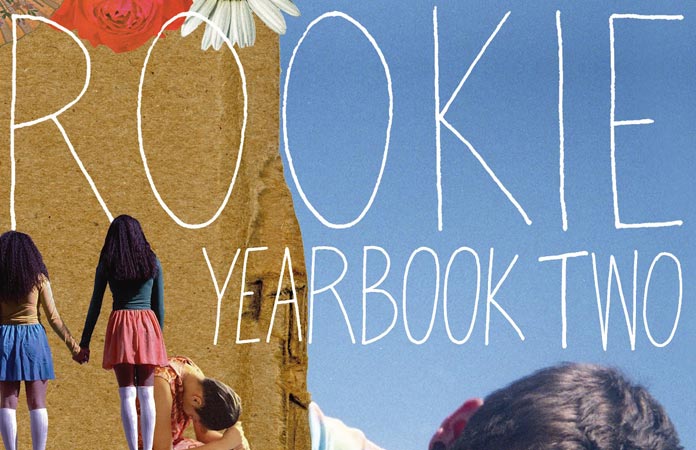 If ever there was a website that required a print counterpart, that website would be Rookie. The smart, bracingly honest site founded by wunderkind Tavi Gevinson has in part made its name on its gorgeous photography, endearing handwritten content, kaleidoscopic collages, and lovingly curated vintage images.
Holding Rookie Yearbook Two between the palms of your hands and idly flipping through its pages is a satisfying experience. The opening and closing papers contain autographs from some of Rookie's bold-faced friends and contributors, like comedienne Julie Klausner, photographer Autumn de Wilde, and punk rock renaissance woman Carrie Brownstein; the book is printed on heavy matte-finish vellum paper, and the shifting, girly page backgrounds of quilts and textiles gives the book an inviting appearance. Tavi and her colleagues even included some pages to rip out, like a mini-tarot deck of photos from a photo shoot and a foldout of stickers for a build-your-own-shrine feature.
Writing this much about the appearance of a book—down to the card stock pages on which it was printed—might sound a note of foreboding that the images might outshine the words. Nothing could be further from the truth. Though Rookie's graphic design, online and in print, will enchant readers, the content will engage them past the first glimmers of glamour.
In its digital form, Rookie publishes articles aimed at teenage girls about a variety of topics, both deadly serious and deeply silly, through a feminist lens. Their egalitarian philosophy about women's rights can be summed up in bell hooks's epigram: "feminism is for everybody." The articles reprinted in Rookie Yearbook Two look at friendships among women (in a moving essay about Stevie Nicks and Christine McVie), dealing with racism through humor, and living with mental illness. The easy-to-parse language and straightforward, pragmatic perspective makes feminist issues accessible not just to its target audience, but to those whose definition of feminism is evolving and who are trying to parse out what they believe.
I found a series of essays about the trans* experience by the single-named writer Tyler especially interesting, because the experiences of trans* people can seem so foreign and not always easy to grasp. Tyler's observations on hir transitioning and hir experiences on both sides of the male gaze, as well as on performing masculinity, made the trans* experience more understandable – Tyler put the readers in hir headspace in a really effective and heartbreaking way.
The feminist, genderqueer experience further informs the fashion shoots that punctuate the book's essays. While the fashion industry has a reputation for a lack of body diversity and for exoticizing non-white and non-cisgender people, Rookie's photo spreads celebrate the diversity of human appearance. The photo series "Me and You and Everyone We Know" features an array of genderqueer young people presenting themselves as they would like others to see them, in both words and pictures. Other spreads turn fashion on its head by presenting clothing and makeup that makes a statement instead of flattering the wearer or alluring the reader. (Zombie eye makeup and milky white contacts? Sure, why not.) Even in the more traditional photo spreads, Rookie celebrates every body and depicts Black and Asian models not as exotic and heavily ethnicized, but as girls you might want to emulate or even hang out with.
In addition to the stickers and cootie catcher, Rookie Yearbook Two features some exclusive content. Fans of Mindy Kaling and Lena Dunham will enjoy an interview between the two, and Judy Blume's brief essay reveals some tantalizing new material about her forthcoming novel. A series of illustrations from electronica siren Grimes's sketchbook provided the most interesting element of the bonus material.
Rookie Yearbook Two was published on October 1 via Drawn and Quarterly Press.