Published on October 1st, 2013 in: Current Faves, Music, Music Reviews, New Music Tuesday, Reviews |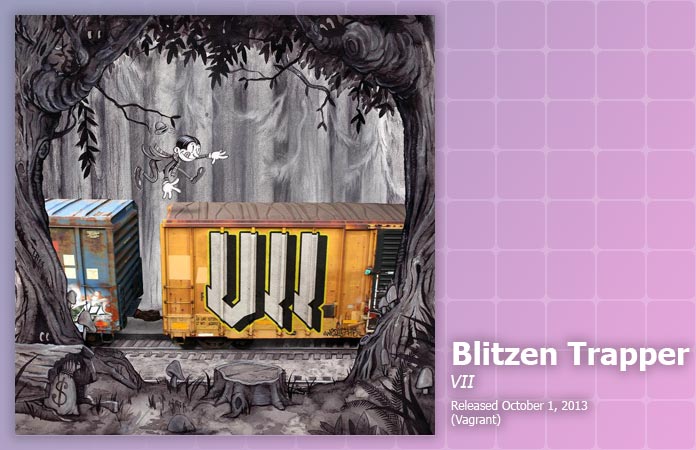 Blitzen Trapper's Eric Earley has a story to tell. Loads of them, in fact. Blitzen Trapper's seventh studio album has a seriously Southern Gothic vibe, which is pretty damn amazing for a guy from Portland, Oregon. VII is full of tantalizing, vivid details and stories that evoke dusty roads and swamplands and rusted out cars. It's one hell of a ride.
There's not a bum song on the album. "Shine On" is urgent and driving with a nice hefty guitar. The backing female vocals are sublime. On the cool "Thirsty Man," Earley affects a Dylanesque rasp and evokes empty nighttime highways. "Valley Of Death" is another desolate, open road sort of song with tight harmonies. It wouldn't be out of place on an episode of that show where the handsome brothers fight monsters or a movie that happens mostly at night and everyone has a beard.
The jet-powered "Neck Tatts, Cadillacs," is greatness. This bit of lyric—"Walked like a hurricane/Sting like a bee/got the crookedest teeth that I ever did see"—is genuinely brilliant, and then it's backed up with tidy harmonies and a female singer that will sear your face off with her awesomeness.
"Heart Attack" has Eric Earley sliding into Eagles territory, but the Eagles when they were good. He's got a great rock voice and his reach to the highest notes here sounds like a cakewalk. It's paired with a nice twin guitar attack and a solo that sounds as if it's played through a rusty screen door, it's so filthy. "Heart Attack" devolves into a bit of a jam, but not in an annoying way.
"Drive On Up" could be a lost Grateful Dead song, steeped in '70s FM rock radio. "Faces Of You" is also a throwback to the super sounds of the '70s, but the slinky, sexy '70s on AM. It's intimate and hushed with bits of bongo and fuzzy guitar and organ. Everything works together so well.
The album ends with the warm, country-tinged "Don't Be A Stranger," full of banjos and strummed guitar. It's sweet Americana, a perfect campfire song.
VII is a trip up and down your radio dial. AM Gold, hip hop, country, folk, AOR awesomeness—it's all here, thrown in a blender and filtered through a beard.
VII is out today from Vagrant.
Tour Dates:
Thu, Oct 03 Brooklyn NY Music Hall of Williamsburg
Fri, Oct 04 Buffalo NY Tralf Music Hall
Sat, Oct 05 Toronto ON Lee's Palace
Mon, Oct 07 Chicago IL Lincoln Hall
Tue, Oct 08 Milwaukee WI Turner Hall
Wed, Oct 09 Minneapolis MN First Avenue
Thu, Oct 10 Fargo ND The Aquarium
Sat, Oct 12 Bozeman MT The Filling Station
Sun, Oct 13 Missoula MT Top Hat